50 Years After Ich Bin ein Berliner, Obama Urges 'Peace With Justice'
In a major speech at the Brandenburg Gate, the president called for a reduction in nuclear weapons.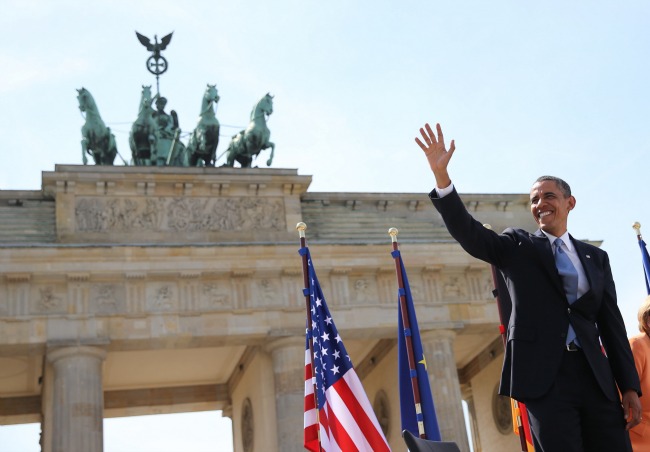 Over the centuries, it's been the site of grandiose military displays under the Kaisers, the symbol of East and West German division during the Cold War, and the setting for "Tear down this wall." And today, President Obama channeled Kennedy as he finally got his own chance to speak at Berlin's historic Brandenburg Gate.
In a wide-ranging speech, Obama called on Americans and Europeans to work together to solve the world's biggest challenges, including climate change, youth unemployment, and political oppression.
Echoing the words of JFK, who said he was "a citizen of Berlin" in the city 50 years ago on June 26, Obama implored the audience to remember those suffering from poverty and war.
"They are who you were," he said. "They deserve our support, for they too, in their own way, are citizens of Berlin. And we have to help them every day."
Obama used the event to call for reductions in deployed nuclear warheads, saying the world should aim to cut existing nukes by one-third. The New START treaty, signed in April 2010 between the U.S. and Russia, limited the number of deployed nuclear warheads to 1,550.
He also called for treaties that would ban nuclear tests and the production of fissile materials, and for reductions in U.S. and Russian tactical weapons in Europe.
"We may no longer live in fear of global annihilation, but so long as nuclear weapons exist, we are not truly safe," Obama said.
The president also echoed Kennedy's 1963 call to look "to the day of peace with justice, beyond yourselves and ourselves to all mankind." Obama said fostering "peace with justice" means promoting tolerance, investments in education, and meeting moral obligations on public health.
"The greatest tribute that we can pay to those who came before us," he said, "is by carrying on their work to pursue peace and justice not only in our countries but for all mankind."