After Six Years of Bloodshed, Mexico's Drug War Shows Little Sign of Waning
The horrors of daily life with the cartels.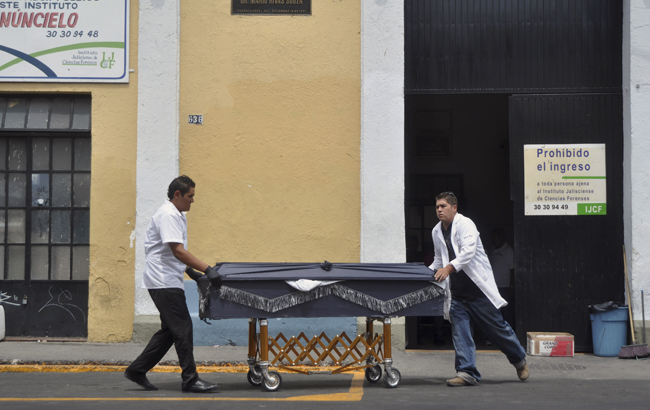 It was roughly 8 a.m., on Jan. 3, 2007. Mexican President Felipe Calderon had just landed at the airport in Uruapan, in the central state of Michoacan. He had come to check on the troops involved in counter-drug operations, to give them a morale boost; they had been deployed just weeks earlier to fight the narcos, as Mexico's drug traffickers are known.
Calderon had donned an olive-green military jacket - adorned with five stars - and beige pants. He wore a military cap. He was dressed like a soldier. A general. A commander-in-chief.
Calderon was flanked by Gen. Guillermo Galvan Galvan and the head of the Navy, Adm. Mariano Francisco Saynez Mendoza.
Reporters at the scene took note. Previous presidents had dressed themselves in military garb, but only on special occasions -- official military ceremonies, for instance.
"I come here as your commander-in-chief," the president declared, "to recognize your work, to urge you to continue onward with resolve... and to tell you that we are with you."
The conservative president, one who had campaigned on a promise to create jobs, not conflict, had become the president of "war."
Just five months earlier, Uruapan had come to Calderon's attention. It was a Saturday night at the Sol y Sombra, the most popular nightclub in Uruapan. On the lower level, prostitutes waited by the bar for eager -- or desperate -- customers. On the television screens, sports programs were interspersed with porno films.
Stairs led to the upper level, where couples, groups of friends, and even families were sitting around a black and white, checkered dance floor. Beer flowed readily at the tables. On one wall, behind the area reserved for the live band, was a colorful drawing of a sun and a moon - Sol y Sombra.
A group of masked gunmen stormed past the prostitutes, straight to the upper level of the club.
They fired a round of shots into the air. They emptied a bag onto the floor; five heads rolled out.
They fired a few more rounds, before leaving behind a handwritten message: "La Familia doesn't kill for money, doesn't kill women, doesn't kill innocent people -- only those who deserve to die... This is divine justice."
The note was signed: "La Familia."
The authorities were caught off guard. They didn't know much about La Familia: Were these guys just thugs? Were they established? Were they a cartel? Did they have intelligence networks like the other cartels? Had they infiltrated the police corps and officialdom in Michoacan? Were they, as some officials in the Attorney General's Office (PGR) initially suspected, allied with the paramilitary group known as Los Zetas?
It didn't take long for the authorities to get a grasp on La Familia's modus operandi. They learned that the group had been winning over the hearts and minds of the local population in Michoacan towns like Apatzingan, Uruapan, Zamora, and even the state capital of Morelia. On occasions like Children's Day, suspected members of La Familia had been delivering truckloads full of toys; at other public functions and celebrations, members had been spotted handing out leaflets, describing their mission.
La Familia claimed to be a vigilante group: It said it wanted to eradicate methamphetamine use in the state, which it had blamed on the powerful Sinaloa cartel from northwestern Mexico. One La Familia leaflet deplored the evils of methamphetamine and other hard drugs, as well as moonshine allegedly made in Tepito, a barrio in Mexico City known for its gangs and illicit trade. La Familia condemned the kidnappings, homicides, and robberies that were making their state unsafe.
In just a couple of years, La Familia's membership had grown to about 4,000.
The authorities, however, didn't buy the group's public statements. There had been 500 homicides that year in Michoacan, and Attorney General Daniel Cabeza de Vaca dismissed any notion that La Familia had any good intentions whatsoever. This group, he said, was condemning the distribution of drugs in public while peddling them on the side. It was engaging in kidnappings and other illicit activity. This wasn't a case of La Familia being better than the Sinaloa cartel, it was a case of them being on the wrong side of the law.
Something had to be done. President Calderon, a Michoacan native, deployed 7,000 soldiers and federal policemen to the state just days after taking office. Helicopters hovered over dozens of military humvees, as law enforcement officials moved into position throughout the state. They began to set up roadblocks on main thoroughfares. The military deployed dozens of light planes, helicopters, and armored humvees throughout Michoacan. A command and control center was set up in the barracks of the 43rd Military Zone, in Apatzingan - the reputed home base of La Familia.
In Washington, agents from the Drug Enforcement Administration (DEA) were watching. Something had to be done on their end, and they knew it. Calderon was to be commended for going it alone, even if critics in Mexico argued that he had been pressured to launch the war by Washington. The U.S. would have to help out on the ground, somehow. "If somebody didn't take on these knuckleheads, Mexico could well have devolved into a narco-state," former DEA Chief of Operations Michael Braun told me.
---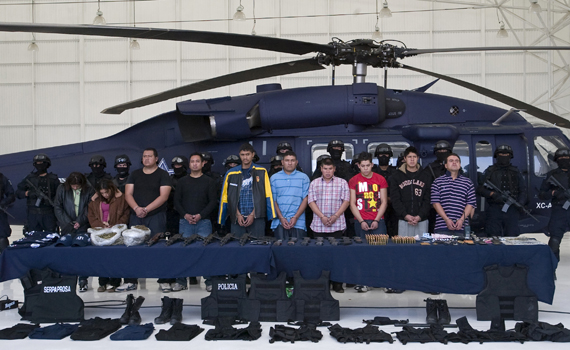 ---
The DEA has operated in Mexico since the mid-1970s. It has offices in Mexico City, Guadalajara, Hermosillo, Ciudad Juarez, Matamoros, Mazatlan, Merida, Monterrey, Nogales, Nuevo Laredo, and Tijuana. The DEA's agents are in Mexico with an advisory role, but they also train vetted units of federal cops and feed them intel in order to bring down the kingpins.
When tragedy occurs, they usually have to sit on the sidelines and simply assess the situation; their hands are effectively tied when it comes to doing law enforcement grunt work.
It was Sept. 15, 2008 -- the night before Mexican Independence Day. The Michoacan city of Morelia was celebrating, so the explosion sounded just like fireworks.
Mexican Congressman Felipe Díaz Garibay was standing just a few meters behind Michoacán Gov. Leonel Godoy, near the balcony of the governor's palace. He heard the explosion; he and the other VIP guests ignored it, continuing with their idle chatter.
Michoacan's chief of police ran into the room. A grenade had exploded, he said. At least one person had been killed.
Heated discussion followed, Garibay would recall in an interview with me a few days later. Question after question -- but very few answers. Was it a political group? A mob of hired thugs trying to put pressure on the left-wing Godoy? A botched assassination attempt? Drug traffickers? Was it indeed the local group known as "La Familia?"
"No one imagined such an attack," Garibay said. "It was narco-terrorism."
Calderon's military offensive had failed to contain La Familia. Far from it: by late 2008, around the time of the Morelia tragedy, the organization was believed to be operating in 77 counties in Michoacan, or nearly 60 percent of the state. Eight people died in Morelia that night in September; more than 100 were injured. Two grenades had been detonated; three suspects allegedly linked to Los Zetas were arrested. The paramilitaries-cum-thugs had also moved into Michoacan, to challenge La Familia.
Stateside, the DEA went to work, launching an international sweep of alleged affiliates of the Gulf cartel and Los Zetas called "Project Reckoning." Agents in Colombia, Guatemala, Panama, Italy and of course, Mexico, also provided intelligence for the raids, which netted a total of 200 suspects.
Michoacan would not stay out of the spotlight. On May 26, 2009, Mexican law enforcement went after the mayors of 12 Michoacan counties, also arresting another 16 civil servants and a judge on charges of being linked to organized crime.
Just a few months later, 2,500 extra soldiers were deployed to the central Mexican state. But little notable progress would be made; within a year, all of the officials who had been arrested would be free, lacking evidence to retain them.
The DEA was working on La Familia's U.S. connections. On Oct. 21, 2009, U.S. law enforcement arrested 303 people in 19 U.S. states, all believed to be members of the organization. More than 3,000 agents took part in the raids, which also resulted in the seizure of vast amounts of cocaine, methamphetamine and marijuana, not to mention hundreds of weapons, vehicles, and two clandestine drug labs.
But La Familia wasn't finished - nowhere near. In 2010, there were 2029 homicides in Michoacan; in 2011, there were a quarter more. Homicide counts in many parts of Mexico -- Michoacan included -- are notoriously difficult to trust, given lack of solid investigations and a historical penchant for fudging data, but in 2012, more people died than they had two years before.
In spite of law enforcement efforts, La Familia is still thought to hold sway in Michoacan while violence and insecurity reign. Elements of the cartel are believed to have split and formed their own offshoot, the Knights Templar, which is now battling the remnants of La Familia.
On May 22, 2013, troops were once again deployed to the troubled central state, with the promise that they wouldn't leave until the violence ebbed.
It was a promise that had been made many times before.
---
---
"If I had to do everything I've done in the past again, I'd do it differently, because I am a better leader, human being, and manager than I was before." Mexican Ambassador to the United Kingdom Eduardo Medina Mora was reflecting on his tenure as attorney general during the Calderon administration. It was late 2010; he had served as the nation's top prosecutor for four years prior to taking up the ambassadorship.
He had pledged to crack down on corruption. He had seen a top organized crime prosecutor arrested for links to drug traffickers. He had pledged to crack down on the cartels; he had seen more than 60,000 people in his country die.
Throughout Calderon's tenure, the authorities in Mexico have been involved in a game of whack-a-mole that most experts admit will never be won. Following the U.S.-backed kingpin strategy -- and operating on intel provided by the DEA -- the Mexican military managed to nail several high-ranking drug lords. Among them: the entire Arellano Felix clan in Tijuana and the Beltran Leyva brothers from Sinaloa. These captures could hardly be discounted, but every time a higher-up narco was captured or killed, violence would flare. Someone would take the kingpin's place. Business continued as usual.
Trust in the authorities was waning fast. Victor Gerardo Garay was a top Mexican federal police commander tapped by the DEA as a stand-up guy, a man they could trust to feed their precious information.
It was Oct. 15, 2008. Garay had led a raid that day on a mansion in Mexico City. He and his men had arrested 11 Colombians, two Mexicans, an American and a Uruguayan, all on suspicion of drug trafficking. The narcos in question had been throwing a party at the mansion, taking full advantage of its swimming pools and private game rooms decorated to the height of kitsch. One room was decorated with faux stalactites; a knight in armor was placed in the corner of another. Two lions, two tigers and two black jaguars, among other animals, paced back and forth in a private zoo. Some 30 prostitutes had been invited to the party.
After the alleged narcos had been hauled off to jail, Garay allowed his men to hold their own little shindig at the house. They kept some of the prostitutes for their own entertainment, and snorted some of the seized cocaine. Garay was arrested and charged with more than just a slip-up; the PGR's investigations suggested he had deep ties to the cartels. He would serve three years in jail.
It would only get worse. A 2011 Human Rights Watch report entitled "Neither Rights Nor Security: Killings, Torture, and Disappearances in Mexico's 'War on Drugs" highlighted more than 170 cases of torture, 39 "disappearances," and 24 extrajudicial killings by the Mexican military and police.
In the military's defense, generals like Noe Sandoval Ramirez (in charge of anti-drug operations in Sinaloa) struggled daily to keep morale high as his soldiers fought a seemingly endless battle against well-armed and increasingly fearless narcos. While the soldiers were simply trying to make arrests and keep the peace, the narcos were waging all-out war at a cost of some 100 lives each month in Sinaloa alone. The soldiers weren't necessarily welcome in the streets, let alone inside people's homes.
On one occasion, acting on Gen. Sandoval's orders, five soldiers banged on the door of the house of Mercedes Murillo, a Culiacan-based human rights activist with good standing in the community.
We want to check up on the house, the soldiers told her. They were searching for a vehicle registered to that address.
She refused to let them in; they could come back in the morning.
A military convoy turned up; they kept up the pressure to search her residence.
Murillo, who has long documented military violations in Sinaloa, was furious. "The military authorities are teaching their members to violate the law; there is nothing to justify their midnight arrival at your house," she said. "Whether it's the general, Saint Peter or the president of the Republic who has sent them, it's illegal for them to be there."
Shortly after, Gen. Sandoval's men conducted yet another controversial raid on a personal residence, searching for guns and explosives. This time, it was the home of a fisherman they believed to be trafficking drugs. The problem was, the owner turned out to be just what he claimed to be -- a fisherman.
The frustration simply mounted. One night, a young soldier returned to the Culiacan barracks after letting off steam at the bar. He was drunk; the soldiers at the entrance were on their guard. They began to argue, the drunk soldier pulled out his gun. So did the other, and bullets flew. One soldier died, three were injured.
The drunk grunt who started it all then shot himself.
With mounting evidence that they were failing to make ground against the narcos; the general's battle to maintain morale and hold onto the hearts and minds of the public was never-ending. "In the past, external interests came to snatch our territory; today, crime wants to strip us of our valor, our youth," Gen. Sandoval said in a speech in Culiacan at one point during the Calderon administration. "There is no doubt, organized crime now represents the same threats as in the past."
Narcos don't offer "paradise," he continued. "For criminals, there are only two roads -- death or jail."
Tragically, it appeared that an increasing amount of innocents caught up the drug war had less control over their fates. According to the rights group Red por los Derechos de la Infancia en Mexico (literally, the Network for the Rights of Children in Mexico, known by its acronym REDIM), some 1800 children died during Calderon's tenure as a direct result of the war on organized crime. Since 2010, a young adult or child had been killed every 36 hours, according to REDIM.
It was five minutes past midnight, Jan. 1, 2008. Mia Alvarado Rodriguez was tucked up in her bed, asleep, in Ciudad Juarez.
Her father heard a cry. He ran to the bedroom Mia shared with her three siblings. Mia was standing up, or at least, trying to. Blood was streaming down her front.
She had been hit by a stray bullet from an AK-47. Mia Alvaro Rodriguez would die six days later.
She was only three years old.
---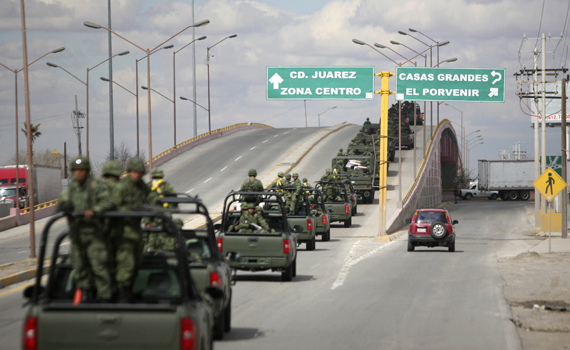 ---
As attorney general, Medina Mora would see his main counterpart in the war --federal police chief Genaro Garcia Luna -- repeatedly denounced as corrupt by critics in the press. (Garcia Luna has vehemently denied all allegations.) He would see the confidence of his military counterparts shattered: according to some media estimates, tens of thousands of soldiers had deserted; it's quite possible some had joined forces with Los Zetas, who had brazenly posted recruitment posters in the streets advertising better salaries and benefits.
Medina Mora would see generals tumble from their pedestals, too. In early 2012, four Mexican generals were arrested for alleged links to drug traffickers; around the same time, a retired general, who had allegedly been deployed as an envoy to negotiate a peace with Sinaloa cartel leader Joaquin "El Chapo" Guzman, was shot in the head. Yet another general, stationed in the southeastern state of Yucatan, had felt unable to continue his mission and committed suicide.
Medina Mora knew the best hope for Mexico was for the cartels to simply find it so difficult to navigate that they would find new trafficking routes elsewhere. He knew that hoping to eradicate drug trafficking altogether was impossible, but making a mess of their operations was feasible. "There's still a long way ahead of us, we need to continue, to keep going, to nurture our efforts," he told me. "This will be a long-term struggle that will require significant effort and resources."
By 2012, thanks to major arrests under the kingpin strategy, the cartels were believed to be splintering. Los Zetas were still considered a serious threat, particularly given their penchant for what appeared to be completely arbitrary acts of violence. The Juarez and Gulf cartels were believed to be leaderless and floundering -- a dangerous combination in terms of propensity for violence and possibility for other criminal groups to take advantage of a power vacuum.
It was April 24, 2012. Blanca Elena, 10, Gustavo Adolfo, 8, Jesus Alberto Gutierrez Alvarez, 7, and Samuel Vazquez Gomez, 7, were walking home from school in the town of Tacotalpa, in the southeastern state of Tabasco. They were abducted and with no ransom forthcoming, simply buried in a clandestine grave near the state capital of Villahermosa. Tabasco, formerly controlled by the once-powerful but now shattered Gulf cartel, was being overrun by opportunistic thugs.
The Sinaloa cartel, meanwhile, was expanding.
---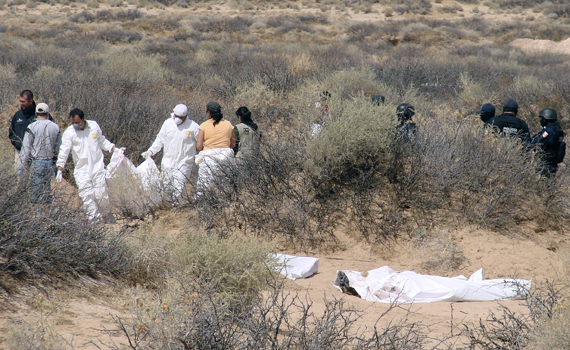 ---
"[Joaquin "El Chapo"] Guzman is the new Al Capone of Chicago." DEA Special Agent Jack Riley was highlighting the threat the Sinaloa cartel posed to his city. Riley had issued these warnings before, just as Mexican authorities and journalists had warned of the alleged Sinaloa cartel leader's ambition to expand.
Guzman, born in Sinaloa in 1957, had come to the authorities' attention in the early 1990s. He'd pioneered the use of drug tunnels under the border (he employed a man known as "The Architect" to design them) and had become notorious after a shootout at Guadalajara airport that left an archbishop dead and led to him spending eight years in prison. His escape from the maximum-security penitentiary in 2001 -- reputedly in a laundry cart -- was the stuff of Hollywood movies and only served his notoriety as he rose to the top of the powerful Sinaloa cartel.
Guzman was ambitious; he made alliances with other drug trafficking organizations and waged war at the opportune moment. But he didn't attract attention -- while his rivals were beheading each other and attracting the media's watchful eye, Chapo was quietly building himself an empire.
The Sinaloa cartel is believed to operate on every continent. It dominates the U.S. market; its operatives are believed to be working in at least 75 cities.
Chicago was ripe for a takeover. Home to members of every cartel in Mexico in large part due to exploitation of disenfranchised members of a large Hispanic immigrant community and a vast network of gangs, Chicago was perfect for the Sinaloa cartel. The city has always been a distribution hub for commercial goods; organized crime groups going as far back as Capone have simply hopped on the bandwagon and used the same network of trains to move their product.
Chicago was clearly fertile ground for the Sinaloa cartel. The ongoing Windy City trial of Vicente Zambada-Niebla, allegedly a high-ranking member of the Sinaloa cartel and the son of alleged kingpin Ismael "El Mayo" Zambada, will likely reveal just how deep the northwestern Mexican cartel's roots run there.
Calls for a new approach to the drug war were mounting. Beheadings had become commonplace; a man nicknamed "El Pozolero" -- literally, the stew maker -- had been arrested for dissolving more than 300 bodies in vats of caustic soda.
On Jan. 1, 2010, the body of a man believed to be working for rivals of the Sinaloa cartel, 36-year-old Hugo Hernandez, was discovered in the streets of the Sinaloan city of Los Mochis. His face had been carved off and stitched onto a soccer ball. Accompanying the head was a note: "Happy New Year, because this is [your] last."
Countering protests throughout Mexico, the government once again sought to communicate its message. The drug war will not be won overnight, officials proclaimed; it will be a long and costly struggle. National Security Adviser Alejandro Poire told me that he was juggling the daily task of explaining strategy, debunking rumors and theories, and communicating the government's actions to the people. He had launched a blog on the presidential web site in a bid to debunk the "myths" about the war on organized crime. He and others in the administration had sought an agreement with major media outlets to try to regulate coverage of the violence; this had only prompted cries of censorship from journalists and critics in left-wing quarters.
The backlash had been expected, but Poire insisted that something had to be done. "It's very hard for a country in which you're having incredible growth of free media," he said. "The broad challenge is to recognize that in a very rapidly changing media environment, we need to help people understand a very complex phenomenon."
Still, the government was clearly failing to get its message across. Perhaps worse still, political cries for action were getting louder from the U.S.- Mexico border, even as relations between Washington and Mexico City were better than they had been for decades. A grenade and machine gun attack on the U.S. consulate in Monterrey, the gunning down of a U.S. consulate employee in Ciudad Juarez, and the throwing of an unexploded grenade at the U.S. consulate in Nuevo Laredo had prompted cries of "insurgency" in various quarters in Washington.
Then-Mexican Ambassador to the United States Arturo Sarukhan resisted talk of insurgency -- initiated by various Republican congressmen and echoed by then-Secretary of State Hillary Clinton. He didn't want the wrong policies to be implemented simply because the situation had been misinterpreted. Mexico wasn't Colombia in the 1990s, Sarukhan insisted. It wasn't an insurgency.
Part of the problem with the situation in Mexico, of course, was that it wasn't always crystal clear what it was. The cartels and their offshoots were fighting for trafficking turf, spilling blood, while the military sought to both splinter the cartels and clean up corrupt police corps nationwide. That much was clear. But just how consolidated were these cartels in the first place? At certain times in the past, high-ranking leaders of the Sinaloa cartel had worked with the rival Juarez cartel in order to forge a mutually beneficial relationship. Due to the fluidity of the trafficking industry itself, it wasn't uncommon for a Juarez foot soldier to switch over to the Sinaloa cartel overnight, for the right price. The importance of keeping business going kept violence to a minimum. Los Zetas had once been furiously loyal paramilitaries for the Gulf cartel in Tamaulipas, but with the fall of kingpin Osiel Cardenas Guillen, they had branched out independently. From around 2008 onward, however, it wasn't uncommon for any young thug with a crewcut and a few visible scars to wander into a small town and proclaim himself a Zeta. Officials called these opportunists "young turks," and optimistically hoped they might be the downfall of the cartels -- after all, their penchant for violence and apparent inability to think before acting could well have been their demise.
I met one such man in Tapachula, along Mexico's southern border with Guatemala, in late 2008.
"I am a Zeta," said the man who went by the name of Angel. His two henchmen sat next to him at the nondescript, family-run restaurant in the city. All three had guns.
With short black hair, combed back neatly, slight stubble, a thin gold chain around his neck and a worn tattoo showing on account of his short-sleeved, slightly unbuttoned blue shirt, the man in his 20s didn't look like the other two. One cohort -- about a head taller, with close-cropped hair -- appeared to be the muscle, while the third was scrawny, the kind of guy one might see trolling the city streets at night, or lingering in a plaza waiting for a customer to approach. He sells drugs.
Angel -- not his real name, but one he goes by in his world -- was born and raised near Tapachula. He fell into criminal activity as a teenager, he claimed, stealing car parts, usually. A local gang reeled him in, he said, and he began dealing in drugs and pirated CDs, DVDs, electronics, and clothes.
His group of about 20 members was always locally run. Until early 2008, that is, when Los Zetas approached them and bought them out of business.
Now, he works for them, he told me. Angel insisted he didn't kill people; he claimed to simply be a regional supervisor. But whether he was telling the truth or not was impossible to really know; I deemed a trip to the local police station too risky to check on his story, due to the alleged infiltration of local police departments in the region by Los Zetas themselves.
Through interviews with alleged members of the Sinaloa cartel in jails from Culiacan, Sinaloa, to Ciudad Juarez, I discovered that many drug traffickers rarely knew who exactly they were working for. Other journalists have come to the same conclusions, as have some law enforcement agencies in Mexico. These men -- and they were mostly men, contrary to reports about an increasing number of women working in the drug trade -- operated in cell-like groups, working for whoever offered them opportunities, which ranged from making a drug haul up to the border, to killing a rival, to kidnapping for ransom. As many as 500,000 people in Mexico work in the drug trade, according to estimates by the Ministry of Defense. In the hills of Sinaloa, young boys often act as lookouts while their fathers and uncles work in the poppy fields up in the hills; the mothers and daughters stay home and cook food for the workers and keep a watchful eye out for the authorities. Throughout drug-dominated areas, teenagers are hired as halcones (literally, hawks; or lookouts) and anyone from a taxi driver or gas station attendant could be in the pockets of the narcos. During the Calderon administration, in parts of Sinaloa, narcos wearing military uniforms cruised the streets in military-style humvees to both confuse the authorities and instill fear in the general public. Interpreting grenade attacks on official buildings or even stunts like the catapulting of marijuana across the border became increasingly difficult during the Calderon administration; were these serious threats or just the actions of a few numbskulls trying to capitalize on the prevailing insecurity?
Back in Washington, Ambassador Sarukhan also found himself defending the U.S.-Mexico relationship, as cries for more security grew along the border. Even as perception of the bilateral relationship worsened along the border, he saw relations between Washington and Mexico City prospering.
Time will tell whether Sarukhan -- who has been replaced in Washington by Medina Mora -- proves to be correct. The Calderon administration is now out of office. Calderon himself is thousands of miles away, teaching at Harvard. The new president, Enrique Pena Nieto, has pledged to focus police efforts on reducing violence in the streets rather than going after the cartels.
New efforts to reform the police and overhaul the nation's security apparatus are underway, but experts have been skeptical of the efficacy of such efforts in the past. "They've been trying to reform the police for 15 years," former federal prosecutor Samuel Gonzalez Ruiz told me at one point during Calderon's presidency. "It's not a matter of making up rules, it's that [the policemen] don't follow them."
According to recent reports in the Washington Post and The New York Times, some U.S. officials worry that the new administration will back away from the current modus operandi -- which relies heavily on U.S. assistance -- and perhaps draw up an unofficial truce with the cartels themselves.
In the meantime, calls for the drug war to end continue. So far this year, there have been roughly 5,000 homicides in Mexico -- a 17 percent drop from last year, but still, a figure that puts campaign promises to shame.
On Jan. 9, 2013, 11-year-old Julio Abraham Cisneros Garcia was playing soccer with a group of friends in a rough Ciudad Juarez neighborhood. Gunfire erupted nearby. Cisneros Garcia fell to the ground. He had been hit by a stray bullet.
He died instantly.