Why Ireland Has Lagged Behind the Rest of Europe on Reproductive Rights
The country's traditional mores have sparked recent ideological battles, as well as a few national embarrassments.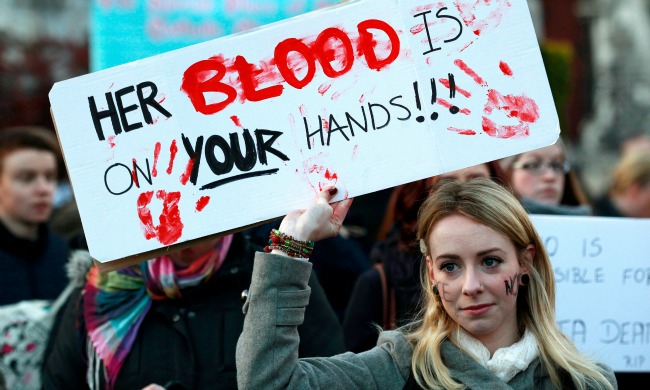 Irish website SpunOut.ie recently caused a political furor with an article outlining tips for teenagers on how to keep threesome sex safe and enjoyable. The site came under fire after the Sunday Independent alleged the site was promoting the practice by writing about it.
The condemnation was swift and immediate. "The idea that people are dispensable and that you can objectify them for your own sexual gratification is incredibly regressive," the center-right Fine Gael politician Michelle Mulherin wrote in the Irish Independent. Irish Health Minister Dr. James Reilly soon joined the chorus of politicians expressing their disgruntlement. "From my personal point of view as a doctor as well as a politician I just think this is not the appropriate sort of information that the state should be putting out there," said O'Relly, referring to the fact that the news site received partial funding from the Irish Health Service. Reilly later said that the Health Service Executive would be reviewing the site.
SpunOut.ie describe themselves as a resource for 16- to 25-year-olds that provides "solutions to some of the big, or small, problems facing Irish society," as well as offering "information and skills to deal with the difficult things life throws at us and lends a megaphone for our voices to be heard to change our own lives and the world". Their articles range from helping teens support friends battling depression to advice on how to say sorry.
"I don't think we expected the reaction the article received," says SpunOut.ie spokesman Ian Power. "We had no expectation that the article would gain such notoriety."
In fact, the article (and "article" is a stretch, it's mostly a set of bullet points) was written, as Power outlined in the immediate aftermath, by a former editor who had "liberal views on sex". Every news outlet running the story highlighted that the former editor happened to be an American woman.
Ireland's staunchly Catholic history garnishes it a reputation as a religious stronghold, with a liberal American viewpoint of sex being at odds with the Irish way. It was interesting to see how the "other-ness" of American society when it comes to sex was played up by the Irish media.
This religious stereotype is not necessarily true at ground level, though. As SpunOut stated in their official statement on the back of the threesome article controversy, "Young people are having sex whether the Sunday Independent or Deputy Michelle Mulherin like it or not." They went on to say, "Education needs to begin earlier than the age of first sex and it is widely accepted that sexual education in Irish schools is both of poor quality and inconsistent."
They have a point. A global poll by condom maker Durex last year showed that 55 percent of Irish 18-year-olds said that they would graduate from school without any formal sex education , while only one in five surveyed said that their major source of sex education was from school. The plurality -- 41 percent -- claimed most of their knowledge came from friends. With such statistics, Ireland leaves itself open to being charged as an unprogressive first world country when compared to other European nations.
"The degree of difference is in some ways significant," says Patrick Molloy, president of Young Fine Gael, the political party's youth wing, about the culture gap between young Irish people and their parents compared with other developed nations. "The nature of the challenges faced by this generation are very different from those faced by previous generations. The circumstances in which this generation is growing up and starting work also is distinctly different in many ways due to the fundamental changes that have occurred throughout the period of the boom."
While a buoyant economy in the nineties and early 2000s did much to transform Ireland into a more cosmopolitan society in many ways, the SpunOut episode is just one in a long list of recent political clashes as Ireland's leaders struggle to adjust to a changing society. These days, younger generations in Ireland are attempting to rid themselves of the shackles of taboos instilled by centuries of strong-arm Catholic influence.
The incidents have veered from the ridiculous -- like Galway Senator Fidelma Healy Eames' bizarre outburst that "fraping" is "where you're raped on Facebook" -- to the tragic, like the death of Indian dentist Savita Halappanavar, who was denied an abortion as she writhed in agony. Halappanavar died shortly after miscarrying at University Hospital Galway in October after suffering from septicaemia, having been admitted to the hospital while 17 weeks pregnant. She had been told by her midwife that a termination was not possible because "this is a Catholic country".
Savita Halappanavar's death ignited mass protests across the country, made international headlines, and brought the Irish public face-to-face with an issue that the government had spent over two decades sleeping on. On February 17, 1992, a 14 year old girl, known as "X", became the subject of a High Court injunction forbidding her from leaving the country. Pregnant as a result of rape, her parents sought to take her to the U.K. to receive an abortion (many women quietly make the trip, seeking refuge across the Irish sea where abortion is legal). However, her movement was restricted when Attorney General Harry Whelehan sought an injunction preventing her from having the procedure. Two weeks later, the Supreme Court ruled that when a pregnant woman's life is in danger, including from the risk of suicide, she has the right to an abortion. Still, it's now 20 years later and Irish women are still waiting for legislation to allow them access to abortion to be approved in cases when their life is in danger.
That Ireland lags behind the rest of the Western world in reproductive rights is not surprising when you consider the recent history of religion in public policy. Divorce was only legalized in 1996. And just last February, Irish Prime Minister Enda Kenny issued an apology to 10,000 women and girls confined in Catholic Church-run establishments known as the Magdalene Laundries, where they were treated as slaves. More than a quarter of the Magdalene inmates - mostly made up of unmarried mothers, girls from broken homes, and others deemed to have "fallen" - were ordered there by the state, and almost 40 percent were sent by the church. The last such institute did not close until 1996. Kenny described the laundries as "the nation's shame."
Such dark days are thankfully in the past, but is Ireland moving into the 21st century as fast as might be expected? Healy-Eames is not the only elected official seemingly struggling to wrap their head around the internet. Senator Eamon Coghlan had a novel idea on how to stop fraudulent posting on socal media pages: "If somebody wants to post something on the internet, should they actually pay to post something on the internet," he said, according to a report on radio station Newstalk.
So are Ireland's politicians struggling to connect with emerging generations? "I think there is a risk that some of our legislators have left us open to this perception as a result of statements which may not necessarily have been fully thought through," says SpunOut.ie's Ian Power. "I think we would say that these views would not be fully representative of the views Irish society."
Meanwhile, an inquest into Savita Halappanavar's death recently returned a judgement of death by medical mishap, with midwife Anna Marie Burke expressing regret at telling the patient she couldn't get a termination "because Ireland is a Catholic country".
Coroner Ciaran McLoughlin said the words "went around the world."
After the inquest, the government has proposed legislation that would allow abortions in cases where there was a threat to a woman's life, including from suicide. Though opposed by the county's influential anti-abortion movement, the bill is expected to be approved.
However, Kenny has ruled out any potential referendum that would introduce wider abortion laws, telling the Irish Sun that the legislation will "deal with the X case and will do so without bringing any new rights here."