Why Assad Is Winning
If the Obama administration and its European and Arab allies want to support the rebels, they must do so now.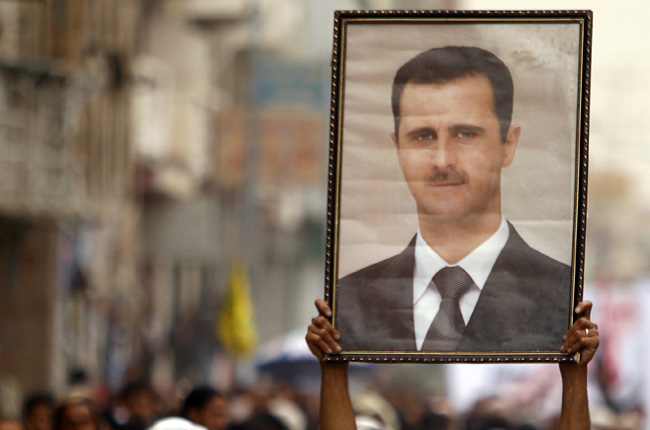 AMMAN, Jordan - Secretary of State John Kerry and 10 European and Arab foreign ministers gathered here Wednesday night to again talk about helping Syria's rebels.
Even as the international community discussed "grand strategy," Syrian President Bashar al-Assad was taking decisive action. With the help of thousands of fighters from Hezbollah, Iran and Iraq, he was close to achieving some of his largest military gains in two years.
Kerry played down Assad's military advances as "very temporary." In truth, the Syrian leader and his foreign backers are gaining the upper hand in the conflict.
The Syrian opposition is in disarray; approving a major American military intervention is politically impossible in post-Iraq Washington; and a rift between Saudi Arabia and Qatar has slowed their delivery of weaponry to the rebels. Diplomatically, Washington's key interlocutor is Russian Foreign Minister Sergey Lavrov, one of Assad's primary international defenders.
One key factor favors Assad's survival. Assad, his Allawite allies, Hezbollah and Iran are "all-in" inside Syria. They are hurling vast amounts of manpower, weaponry and money into the fight.
On the other side, supporters of Syria's rebels are still trying to decide just how much assistance to offer. There is a strategy, but it is incremental.
The American "grand strategy" is threefold. First, increase military aid to the rebels, but not American aid.
Last month in Istanbul, Saudi Arabia and Qatar promised additional military assistance to General Salam Idris, the military leader of moderate Syrian opposition forces. They also pledged to curtail their support to the hard-line Islamist fighters who now dominate the opposition on the ground in Syria.
A senior State Department official who spoke on condition of anonymity said the Saudis and Qataris appear to be keeping their word. They have supplied weaponry to Idris's force and their shipments to hard-line Islamists appear to be slowing.
"Indicators are good," the official said, "but we want to see more."
Meanwhile, American diplomats are trying to unite Syria's fractious opposition. Since the head of the Syrian National Coalition, Ahmed Moaz al-Khatib, resigned last month, the group has struggled to name a leader. In Syria, the Istanbul-based coalition is still regarded as ineffectual.
This week, the opposition council will expand from 60 representatives to between 90 and 100 members. This larger group will then choose a prime minister and other leaders.
Finally, Kerry and Russian Foreign Minister Lavrov will host peace talks next month in Geneva. Theoretically, the opposition will be more militarily powerful and politically united.
At the same time, Russian officials have said that Assad's prime minister, Wael al-Halqi, will attend peace talks in Geneva. The United States has also quietly dropped its objections to Iran being allowed to have some role in the talks.
In a best-case scenario, increased military support for the rebels and Russian pressure will force Assad to bargain seriously. The centrifugal forces now unraveling Syria - sectarian tensions, jihadist fighters and foreign funding - will ebb.
"We don't need more proof that now is the time to act," Kerry said in his opening statements at the talks here. "What we need to do is act."
American officials agree that their strategy depends on changing Assad's calculation. "The balance of power on the ground must change," said the senior State Department official.
Given the massive support Assad is receiving from his allies, that appears unlikely. Hezbollah fighters are playing a crucial role in the battle to take the strategic town of Qusayr. Iranians are now advising Syrian government units in Qusayr and around Damascus. Members of Iraqi Shia militias are fighting alongside Assad's forces in several battles.
Assad and the Iranians are winning. If the Obama administration and its European and Arab allies want to defeat Assad, they must increase military aid to the rebels now. For the last two years, Washington and its allies have carried out, in essence, a half intervention. Enough aid is provided to the rebels to prolong the conflict but not enough for them to win it.
If the Obama administration and its allies are not going to decisively back the rebels, their talk of assistance should end. More empty rhetoric simply prolongs the bloodshed.
---
This article also appears at Reuters.com, an Atlantic partner site.