Turkish Troops Face Torture and Suicide in NATO's Second-Largest Army
More Turkish soldiers have perished from suicide and abuse than from combat in the last decade, but the EU aspirant has done little to stem the crisis.
ISTANBUL -- The night private Ugur Kantar died in an Ankara military hospital, his father Aydin Kantar knew all too well who his son's killers were.
He also knew that he would never see them in jail, because the men who had ordered Ugur's torture - which lasted for three days and ended with Ugur in a coma, abandoned and handcuffed to a chair in the blinding Mediterranean sun - were high ranking military officers and effectively above the law.
Two years after his son's death, Aydin says the officers suspected in the incident are still no closer to facing trial, a bitter example of the thousands of unsettled rights abuses in NATO's second-largest army.
Work by activists in recent months has exposed a long list of foul play against conscripts in Turkey's 700,000-strong armed forces, including a tradition of physical abuse, rare but life-threatening torture, and a suicide epidemic which has claimed 965 lives in the last decade - more than the 601 troops killed fighting Kurdish separatists in the same period.
Criminal trials involving those incidents can drag on for years, laments Aydin, who says his son's case is still idling in a military court and that his family is "waiting for justice so we can begin to grieve."
That wait comes as Turkey's ruling Justice and Development Party (AKP) has claimed major victories in improving civilian oversight of its military.
This May, the government is set to conclude a trial of top brass accused of planning to overthrow the moderate Islamist AKP government, for which state prosecutors have suggested life sentences for several key players -- a verdict once inconceivable in a country known for its untouchable military and history of army coups.
But as Ankara claims that the high-profile coup trial, known as the Ergenekon case, has improved civilian oversight of the military - and as critics call it a bid by the AKP to imprison innocent secular journalists and academics - the trial has camouflaged deeper reforms needed in the EU aspirant's military, argues Lale Kemal, a journalist who specializes in civil-military relations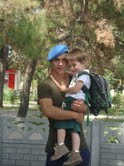 "At heart, the Turkish army is a cold war era, conscription-based military that hasn't yet entered the 21st century," she said. "Its secretive culture allows very grave rights abuses, but amid the larger political battle, those concerns have remained the military's internal affairs."
Military foul play is increasingly brought to light by conscript rights activists, but "nobody knows how widespread abuse is, and our group can't keep up with the known cases," said Tolga Islam, head of the newly opened abuse watchdog Soldier Rights' Platform.
The group has documented 1,399 claims of maltreatment since it opened two years ago, and it says incidents range from episodes of minor hazing to cases like Ugur's, with around 40 percent of instances involving physical violence by superiors or senior troops.
While the death of Ugur in 2011 and private Murat Polat in 2005 are the only widely accepted cases of fatal beatings, Islam claims that beatings and other comparatively minor punishments "instill a feeling of arbitrary control," among conscripts and prevent troops from reporting mistreatment.
"Your superiors control the tiny world of your barracks," said one active-duty conscript who claims his sergeant beat him in May 2012. "It's best to forget and carry on."
The chilling effect is reinforced by the procedure for reporting abuse, said retired military judge Umit Kardas. "A soldier can only complain to the officer directly above the person who abused him, so he is likely appealing to someone who already knows about the mistreatment," he said. "The system is designed to protect career officers."
The army's culture of secrecy and impunity is reinforced by its own court system, which allows officers to remain above legal suspicion in criminal trials.
Conscripts who served with Ugur in northern Cyprus have testified in the torture trial that his commanding officer, first lieutenant Serdar Akdemir, routinely sent troops to the military prison where Ugur and others were tortured, and that base commander Bergay Turgut ignored complaints of mistreatment happening under his command.
But the court has declined to investigate those claims, and the six troops currently facing trial for Ugur's death are all former enlisted soldiers who manned the base prison.
"The trial has forced people to speak openly of torture," said Aydin. "But while the court acknowledges what happened it is still helping the people at root of this system escape punishment."
Even when superiors are found guilty of misconduct, their punishments are typically pecuniary.
In 2009 private Orhan Abravci was beaten so severely by his sergeant that he sustained near-paralyzing spinal injuries.
The sergeant was fined 630 euro by a court, while Abravci's lieutenant, who witnessed the attack, was acquitted. "Both these men are still serving in the military," adds Islam.
Crimes between fellow conscripts can similarly remain unaddressed, Islam stresses, pointing to the slaying of Turkish-Armenian private Sevag Balikci by fellow private Kivanc Agaoglu in 2011.
A military court concluded in March that Agaoglu mistakenly killed Balikci while "joking around" during a drill, but Turkey's small Armenian community claims that the incident - which occurred on the 96th anniversary of the mass killings of Armenians by Ottoman forces in 1915 -- was more likely a hate crime.
The military's rights issues also include an epidemic of conscript suicides, which have numbered 965 in the last 10 years.
When 20-year-old private Emre Tanik committed suicide in late 2012, his brother Sakir Tanik said he was "immediately pressured" during a meeting with Emre's commander to conclude "everything had been done to prevent his 'tragic' death."
The version of events enraged Sakir, who said that Emre -- an American citizen who spent his teenage years in California -- had been turned down by the U.S. military for depression and should have never served in the Turkish army.
Turkish doctors indeed flagged Emre for depression when he entered the army and prescribed him anti-depressants, but then repeatedly denied a request to renew his medication.
Out of medicine and suffering from withdrawal, Emre told Sakir over Skype that a psychiatrist had suggested he "wait for another appointment in a month" when he told the doctor he had recurring thoughts of suicide.
"He was giving very clear signals that he was suicidal, and our mother even drove out to warn Emre's commander that something was terribly wrong," said Sakir.
Just days after his doctor's appointment, Emre was ordered to serve a solitary eight-hour guard duty, during which he killed himself with his service rifle.
Emre's death is an example of why suicide rates are 2.5 times higher among conscripts than other Turkish males in the same age group, said retired military psychiatrist Nevzat Tarhan.
Tarhan claims that army doctors usually get five to ten minutes to council a patient for mental heath issues and may see more than 50 patients in a day.
"Depressed conscripts are on their own. The military doesn't take mental health seriously, and psychiatrists only give medicine, not treatment," he said.
That is unlikely to change as long as the military sees abuse cases as accidents and suicides as tragedies, said journalist Kemal. "There's a deep lack of accountability in army ranks that will only change if the army justice system changes."
Kemal also emphasizes, however, that the military's political weakening has allowed victims of military abuse to speak out, winning at least one important rights victory.
Last year, testimony by Aydin and other victims before parliament's rights commission led that body to shut down the military prisons where Ugur and others were tortured.
"But a decades-old culture of impunity can only be limited, not reversed by closing down a building," said Islam.
The rights activist also voiced concern over a decision this year that Ankara's forthcoming ombudsman's office, which will track rights abuses in the government, will not be allowed to cover military cases.
Ex-army judge Kardas agrees that an independent investigator is essential for overseeing the military justice system, but he also suggests that abuse and suicide cases might simply be transferred to civil courts. "Most victims are ultimately civilians in uniform," he said.
Even if such a change comes too late to change his son's trial, Aydin believes it would help put his family's sufferings to rest. "I buried my suffering to speak out against this injustice," he said. "I don't want it to happen to another family's son ever again."