The Kurds' Last Battle in Turkey: Teaching Kids Kurdish
As Turkey's biggest minority makes peace with the Erdoğan government, the classroom turns into a nationalist battlefield.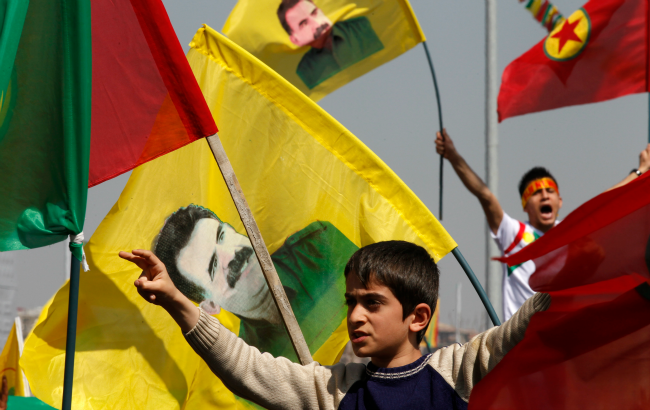 Following months of talks aimed at resolving a conflict that has spanned three decades and cost more than 40,000 lives, fighters from the Kurdistan Workers' Party (PKK) began withdrawing from Turkey into their mountain hideouts in northern Iraq this week.
With the launch of peace talks between the government of Prime Minister Tayyip Erdoğan and the banned PKK, Turkey's Kurdish conflict has once again begun making headlines in the international press. Yet amid news of the PKK's gradual retreat from Turkey, plus speculation about the tenability of the ceasefire called by the group's leaders, there has been relatively little talk of what the Kurds themselves expect from the peace process.
The list is long -- from ending the arrests of Kurdish activists, to scrapping the 10 percent electoral threshold that prevents Kurdish political parties from entering parliament, redefining Turkish citizenship, and granting amnesty to PKK fighters. Yet ever since they were allowed a voice on the national stage, the Kurds have demanded one thing more often than anything else -- the right to educate their children in Kurdish.
Under Erdogan's watch, Turkey has eased restrictions on the use of the language, allowing defendants to use it in court cases, politicians to use it during campaigns, and prisoners to use it in jails. The government has even launched a Kurdish-language TV station, as well as elective courses in Kurdish in universities and schools.
For the Kurds, this is all well and fine, and a huge leap from an era when Turkey banned their language outright, but not nearly enough. "How can you have elective courses in your own language? How much sense does that make?" bristles Rahmi Kurt, an official from the pro-Kurdish Peace and Democracy Party (BDP) in Hakkari, a town in Turkey's predominantly Kurdish southeast. What his people need, Kurt says, is public education in Kurdish.
A visit with one of Mukader Baran's introductory classes in Kurdish literature, at Hakkari University, makes it clear why. The course is an elective, one of the students confides, but Baran, the teacher, "makes sure that we take it." No one appears to mind. The young men and women appear engaged, interested, and alert. There's only one problem. Most of them might speak Kurdish, but they can't read it.
The students take turns making PowerPoint presentations on Kurdish literature. Baran talks about Evdale Zeynike, or, as she calls him, the Kurdish Homer. A few boys take a stab at reading a Kurdish poem in its original. Fezullah, from Mardin, a good 250 miles west of Hakkari, is shaking his head. "It's a course in Kurdish literature, but were doing it all in Turkish," he says dejectedly. Many students have to read the assigned books in their Turkish translation. Young Kurds, Fezullah says, might learn to speak their language at home, but to be able to read and write in it, and to remain literate in their own culture, they'll need it in school.
"When your whole education, from primary school until university, is in Turkish, learning to read and write in Kurdish isn't so easy," says Ümit Fırat, a Kurdish intellectual and Helsinki Citizens Assembly member, inside his Istanbul office. "We have 15 or 16 million Kurds in Turkey and out of those maybe 300 or 500, maybe a bit more, can both read and write in Kurdish," he says. "Thousands can read, but being able to write is a whole different story." (Vahap Coşkun, an academic at Diyarbakir's Dicle University, declines to hazard a similar estimate, but reasons that the figure is "very low.") The elective courses are a welcome first step, Fırat says, but the real problem is the lack of teachers. Even with new literacy programs launched by Kurdish civil society groups and a handful of universities, the number of qualified teachers is woefully inadequate. "Hopefully," he says, "these types of activities will flourish when the fighting comes to an end."
Without schooling in Kurdish, warns Altan Tan, a BDP deputy, the Kurds in Turkey will face the threat of complete assimilation. Already, he says, about 50 percent of Turkish Kurds, particularly the children of migrants from the southeast, don't speak any Kurdish. "Each year, this is going to increase: 51, 52, 55, 70 percent. In 20 years, it will be 80 percent." "They," he says, meaning the Turkish government, and switching to English, "want to melt the Kurds."
The kind of school system Tan and the BDP would like to see across the southeast appears to be something of a hybrid. "There could be education in both Kurdish and Turkish, or there could be separate schools, according to what the people demand," Tan says. "Those who are studying in Turkish would take Kurdish as an elective course and those studying in Kurdish would take Turkish... but Turkish would be obligatory because it is the official language."
With the exception of ultranationalists who oppose any deal with the PKK -- which Turkey, along with the US and the EU, labels a terrorist group -- Turks have been generally supportive of the ongoing peace process. Yet many see the Kurds' demands, particularly when it comes to language reform, as too far-reaching. In a poll released in late April, 67 percent of Turks backed talks with the PKK, as opposed to a military solution. However, only 39 percent approved of public education in Kurdish. Erdoğan's government itself wants to hear nothing of it, at least not for the time being.
The issue, already a key bone of contention in the peace process, will not go away -- largely because it is one where the Kurds aren't likely to make any concessions. "I want to speak my own language, not Turkish," Ammar Kurt, who works in a zinc mine in Hakkari, told me when I met him in late March. "Without language, there is no future for us, and no past."