The Grim Reality Behind the Philippines' Economic Growth
The country is being heralded as the new Asian success story, but only an elite few reap the rewards.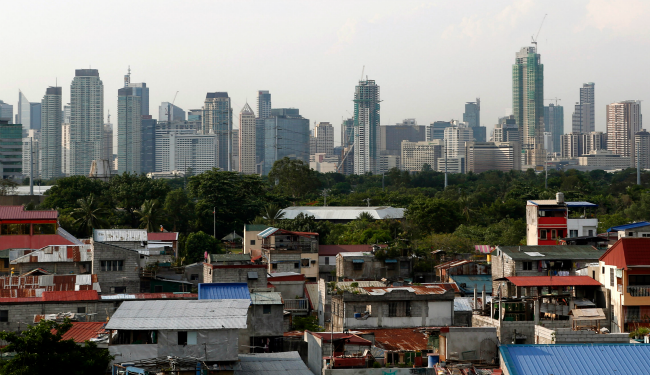 In a neighborhood of so-called "Asian tigers," the Philippines has quietly emerged as the region's newest economic darling. At 6.6 percent, the Filipino economy's current GDP growth rate is the second highest in Asia, behind only China's. That growth is projected to continue over the next few years, in part because Filipinos are in a "sweet spot" demographically: the Philippines has the youngest population in East Asia, which translates into lower costs to support a younger workforce and less economic drag from retirees. Last month, Fitch Ratings (one of the world's three major credit rating firms) upgraded the Philippines to a "BBB-" with a stable outlook -- the first time the Philippines has ever received investment-grade status and a huge vote of confidence in the Filipino economy. And last year, the World Economic Forum moved the Philippines up ten points to the top half of its global competitiveness ranking for the first time in its history. These economic improvements are in part due to President Benigno Aquino, whose steps to increase transparency and address corruption sparked renewed international confidence in the Filipino economy even during the global slowdown.
"The Philippines is no longer the sick man of East Asia, but the rising tiger," announced World Bank Country Director Motoo Konishi during the Philippines Development Forum in Davao City in February.
But that economic growth only looks great on paper. The slums of Manila and Cebu are as bleak as they always were, and on the ground, average Filipinos aren't feeling so optimistic. The economic boom appears to have only benefited a tiny minority of elite families; meanwhile, a huge segment of citizens remain vulnerable to poverty, malnutrition, and other grim development indicators that belie the country's apparent growth. Despite the stated goal of President Aquino's Philippine Development Plan to oversee a period of "inclusive growth," income inequality in the Philippines continues to stand out.
In 2012, Forbes Asia announced that the collective wealth of the 40 richest Filipino families grew $13 billion during the 2010-2011 year, to $47.4 billion--an increase of 37.9 percent. Filipino economist Cielito Habito calculated that the increased wealth of those families was equivalent in value to a staggering 76.5 percent of the country's overall increase in GDP at the time. This income disparity was far and away the highest in Asia: Habito found that the income of Thailand's 40 richest families increased by only 25 percent of the national income growth during that period, while that ratio was even lower in Malaysia and Japan, at 3.7 percent and 2.8 percent, respectively. (And although critics have pointed out that the remarkable wealth increase of the Philippines' so-called ".01 percent" is partially due to the performance of the Filipino stock market, the growth of the Philippine Composite Index during that period would not account for such a dramatic disparity from neighboring countries.) Even relative to its regional neighbors, the Philippines' income inequality and unbalanced concentrations of wealth are extreme.
Meanwhile, overall national poverty statistics remain bleak: 32 percent of children under age five suffer from moderate to severe stunting due to malnutrition, according to UNICEF, and roughly 60 percent of Filipinos die without ever having seen a healthcare professional. In 2009, annual reports found that 26.5 percent of Filipinos lived on less than $1 a day -- a poverty rate that was roughly the same level as Haiti's. And a new report from the National Statistical Coordination Board for the first half of 2012 found no statistical improvement in national poverty levels since 2006. Even as construction cranes top Manila skyscrapers and the emerging beach town of El Nido unveils plans for its newest five-star resort, tens of millions of Filipinos continue to live in poverty. And according to Louie Montemar, a political science professor at Manila's De La Salle University, little is being done to destabilize the Philippines' oligarchical dominance of the elite.
"There's some sense to the argument that we've never had a real democracy because only a few have controlled economic power," he said in an interview with Agence France-Presse. "The country dances to the tune of the tiny elite."
Many observers blame the inequality on widespread corruption in local government, which makes it difficult or impossible for many Filipinos to launch small businesses. (In 2012, Transparency International, a non-governmental organization that monitors and reports a comparative listing of corruption worldwide, gave the Philippines a rank of 105 out of 176, tied with Mali and Algeria, among others.) Low levels of investment also suppress business growth: the Philippines' investment-to-GDP ratio currently stands at 19.7 percent. By comparison, the investment rate is 33 percent in Indonesia, 27 percent in Thailand, and 24 percent in Malaysia.
For the select few Filipinos who live in beach towns and other popular tourism areas, however, the recent influx of foreign tourists to the previously overlooked country has meant new business opportunities. Celso Serran, 38, a rickshaw driver in the growing tourist town of El Nido, said that the economic impact of tourism has had a significant impact on his income. "Today, a driver can reasonably expect to make 500 Philippine Pesos ($12.16) per day," said Serran. "Before the tourists started coming, he might make 200 PHP ($4.86) on a good day."
For some, the tourism industry is so clearly the only option that it even pulls them away from their hometowns towards more tourist-friendly cities. Dorina Genturo, 20, moved from Puerto Princesa, the capital of Palawan, to El Nido for the better job opportunities there. "There are definitely a lot more jobs in tourism, in hotels and tour companies," she said. "But it's not like this in other towns."
Meanwhile, other huge sectors of Filipino industry (such as banking, telecommunications, and property development) are almost entirely monopolized by a few elite political families, most of whom have been in power since the Spanish colonial era. And despite wide-reaching government reforms from the 1980s, those industries remain effective oligarchies or cartels that vastly outperform small businesses. According to a paper released by the Philippine Institute for Development Studies, small and medium enterprises (SMEs) account for roughly 99 percent of Filipino firms. However, those SMEs only account for 35 percent of national output--a sharp contrast with Japan and Korea, where the same ratio of SMEs accounts for roughly half of total output. This translates into far fewer high-paying jobs on the local level for Filipino employees and exacerbates the huge income disparity across the country.
"Is the economy growing here?" said Josefa Ramirez, 31, who earns roughly 123 pesos ($3) a day selling bottles of water and soda from a cart in Manila. "I didn't know that. For me, things feel the same as they always did."