Singapore Has Its First Gay Magazine Through This Digital Workaround
To get around restrictions on homosexual material, Element turned to app stores.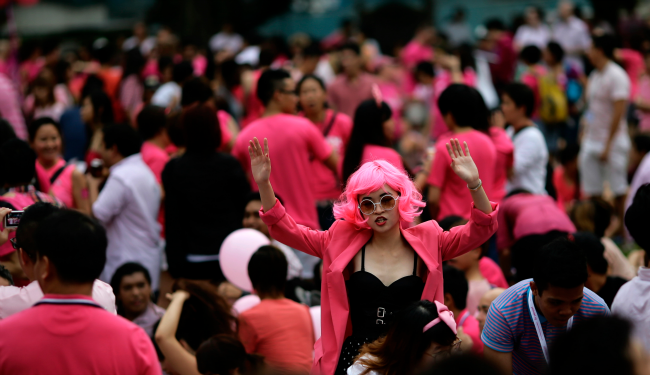 While Western countries debate the merits of gay marriage, countries in Southeast Asia remain far less accepting of homosexuality.
In socially conservative Singapore, where sexual contact between men is still punishable with up to two years' jail time, an online-only magazine targeted to gay men in Asia launched last month, with a second issue due in June. It is something of a test case for media and cultural barriers.
For a population that both shows signs of slowly accepting of gay culture, and embraces the digital media formats that allow the publisher to bypass local media licensing requirements for print publications, the timing may be right for Element, a magazine that covers fashion, entertainment, fitness, and issues relevant to the Asian gay community.
"It's an excellent moment," said Hirokazu Mizuhara, the managing director and creative force behind the bi-monthly e-magazine. "A few years back a digital magazine probably wouldn't be able to garner a lot of attention. In Singapore, given that it's a very digital society, a purely e-magazine can have the same effect as a printed version."
By limiting the publication to an electronic version -- available on digital platforms such as the Apple App atore and the Android Market -- and using an Internet host server based in the United States, Element bypasses licensing requirements set by the Singapore government, which regulates locally produced content, and eliminates the need for a print distribution.
While the e-magazine's publisher touts the lucrative market for the "pink dollar" in Asia, Singapore is surrounded by countries where homosexuality remains illegal (such as Malaysia) or meets with strong disapproval (such as Indonesia). That makes the online-only gambit seem necessary.
Mizuhara, 27, teamed up about six months ago with Noel Ng of Epic Media, 31, an e-magazine publisher who has wanted to produce a gay-themed e-magazine for several years. But Ng, who is straight, didn't have the right business partner until he met Mizuhara, who is gay.
For Ng, this new venture is in some ways a labor of love. Like many Singaporeans, he had been of the view that being gay is a conscious choice. When his eyes were opened by gay friends, and he saw that "they weren't treated properly and feel condemned, nobody's there to help them lead a life." For him, the magazine is a way "to restore the dignity and worth of every gay man."
The magazine bills itself as "the voice of gay Asia" and, while similar to other men's lifestyle magazines, is geared toward the gay male audience in Asia.
The price is $1.99 per issue or $9.99 for six issues, and the magazine reports sales of 6,500 subscriptions since its launch. Thanks in part to Mizuhara's past work as a marketing manager at Harper's Bazaar in Beijing, the magazine has lined up a respectable number of high-end advertisers, including Paul Smith, local nightspot Avalon, the Small Luxury Hotel Group, and underwear brand Private Structure.
Its pitch to advertisers cites studies showing the Asian gay community is a lucrative market, showing "a higher interest level in fashion, grooming, traveling, fine-dining, tech gadgets, nightlife, entertainment, and socializing."
"It's really the concept of the magazine that interests them," Mizuhara said of the advertisers. "After they've seen the magazine, that's when they're confident enough to come in."
Each issue will contain the digital equivalent of 90 to 100 print pages.
Ng and Mizuhara compare their magazine to Attitude, a British gay magazine that is available both in print and e-versions. But they are quick to distinguish their publication from men's skin magazines. "Ours is not the typical explicit gay magazine that shows you almost nude guys or tells you where to go for sex. This is a lifestyle magazine," Ng said.
The gay community in Singapore is decidedly low-key, although there is a gay nightlife scene and a yearly event called PinkDot, an open-air gathering to support LGBT rights.
Section 377A of Singapore's penal code criminalizes sexual contact between men. While the law is not aggressively enforced, some are challenging it in the courts, while others see it as anachronistic for a nation that aspires to cosmopolitanism.
Earlier this year, Singapore's prime minister signaled no interest in changing the law. "Why is that law on the books? Because it's always been there and I think we just leave it," he said.
Ng and Mizuhara say Element will not be overtly political, but will push an agenda of societal acceptance and understanding of the gay community.
"It's really about changing the stereotypes, and changing the community itself, to help the community move in a healthier direction and to get involved with the mainstream society," Mizuhara said.