Putin Brings Back Soviet-Era 'Hero of Labor' Medals
The awards were given out in Stalinist Russia to encourage hard work.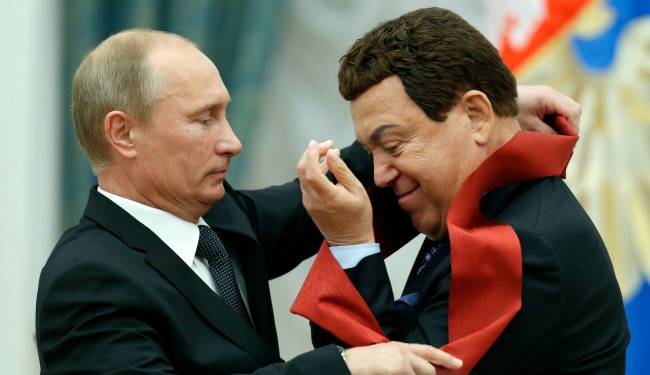 MOSCOW -- First it was the Soviet national anthem. Then it was the Soviet military parades. Now it is the Soviet lapel pins glorifying heroic work for the motherland.
Russian President Vladimir Putin has once again tapped into Soviet nostalgia by awarding Soviet era "Hero of Labor" stars to Russians in return for their laudable deeds. It is the first time the medals have been bestowed since they were discontinued in 1991.
The honorary award was presented to five Russians during a televised ceremony in St. Petersburg on May 1 to mark the Russian national holiday celebrating "Spring and Labor Day," the successor to the Soviet "International Workers' Day."
Mariinsky Theater director Valery Gergiev received the medal along with a veteran farm machinery operator, a neurosurgeon, a coal miner, and a lathe worker.
In March, Putin reinstated the award -- set up under Josef Stalin in 1927 -- with a presidential decree , ostensibly aiming to "raise the public worth and prestige of selfless and honest work."
Although the design of the new medals resembles that of their predecessors, it has undergone something of a makeover. Whereas the pin's five-pointed star once displayed the hammer and sickle, the new version is adorned with a double-headed eagle and is embossed with the words "Hero of Labor of the Russian Federation" on the reverse side.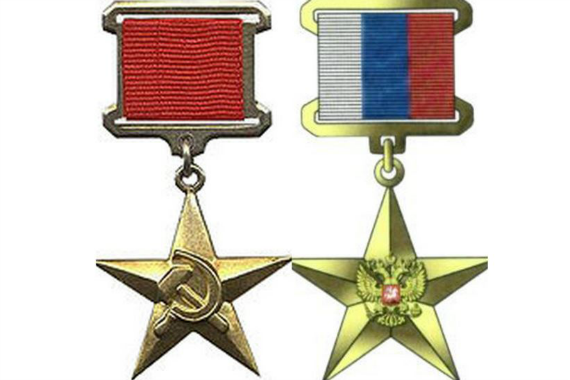 The medal is worn on the left lapel, above all other state awards, according to the Kremlin website.
Putin ostensibly took the decision to revive the Stalin-era order at the behest of Igor Kholmanskikh, the tank factory foreman who famously offered to help Putin stamp out opposition protests in late 2011 -- and was later appointed presidential envoy to the Urals on Putin's return to the Kremlin last year.
Blue collar workers like Kholmanskikh are a mainstay of Putin's support.
But it is not the first time Putin has sought to fill the post-Soviet ideological vacuum by resurrecting Soviet-era symbols. In 2000, he reinstated the Soviet anthem score. Others have complained of the creeping rehabilitation of Stalin. In recent months, there has been a movement to permanently rename Volgograd by its old name Stalingrad.
The "Hero of Labor" order was renamed the "Hero of Socialist Labor" in 1938. The medals were distributed increasingly commonly as a way of encouraging hard work. Some 20,000 people were reportedly awarded the medal in its latter incarnation.
>