Playboy Bunnies in the Holy Land
Oy vey, some remark, as the men's magazine launches an Israel version.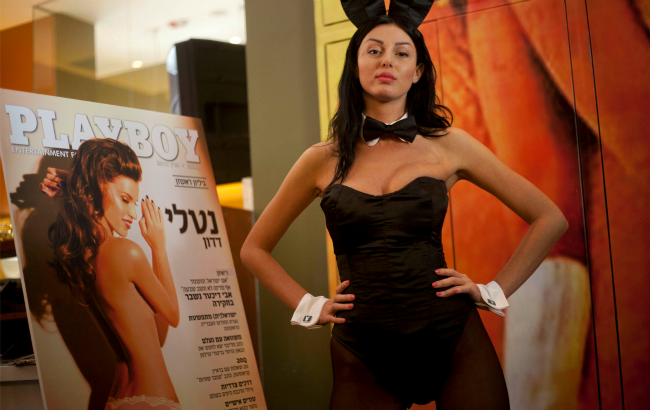 TEL AVIV, Israel -- This city has long been a bohemian oasis in an otherwise religiously conservative nation, but scantily clad Israeli women will no longer be contained to Tel Aviv beaches. Instead, sandwiched between in-depth articles on social and political issues, beautiful women will now grace the pages of Playboy Israel, which is printed solely in Hebrew and hit newsstands around the Holy Land in March.
In a trendy area of Tel Aviv, I sat down with the magazine's founder, Daniel Pomerantz, to find out what motivated the new immigrant -- he's an American-born Chicago attorney -- to launch his new magazine in a place known more for Sabbath rituals than centerfolds. Soft-spoken and dressed in jeans and a blue button-down, the 36 year-old is more like a nice Jewish boy than Hugh Hefner. Pomerantz talked about his aspirations for the men's magazine and what inspired him to take what some people say is a risky move at a time when print looks to be going out of style.
On the wall in the lobby of the classic Brown Hotel in central Tel Aviv, where we sit in plush leather chairs, is an oversized Playboy cover poster from 1970 reads, "The Girls of Israel."
Pomerantz promises to deliver a high-caliber men's periodical with articles and photos that are specifically targeted at a local audience. It includes pieces from Israeli writers and stunning sabras, the name for native-born Israelis.
So far the two issues have featured interviews with Avi Dichter, former head of the Shin Bet (one division of Israel's intelligence branch), Jordi Cruyff, general manager of the Maccabi Tel Aviv football league, and local talent like Nataly Dadon, an Israeli model who graced the first issue, April cover girl Nella Goldberg, and dancer Marin Teremets. With Playboy's history of landing high-profile interviews with people like Yasser Arafat, Fidel Castro, and Salman Rushdie, Pomerantz has to offer a good read and great centerfolds if Israelis are going to shell out 30 shekels (about $8) when the minimum wage is a mere 24 shekels.
Pomerantz says that not only does the magazine fit into the national fabric (there's even a specific word in Hebrew for "Playboy bunny" -- shfanfana), he says the reaction he has received so far is, "It's about time." He says he believes Playboy is part of a rich and varied culture and is one of the ways that the world can relate to Israel as a modern society.
While that may be the case, there are aspects of Israel that are still quite different from other modern nations. Tel Aviv is a secular mecca, with an abundance of nightclubs, theater, and bikini-wearing libertines. But Jerusalem sits a mere 40 miles and a world away. Dressed in black suits, payot (long curls), and black hats, the religious right are engaged in constant battles with secular Israelis over issues like modesty and the standards of prayer at the Western Wall.
Published in over 30 countries, Playboy has a loyal following across borders, but it hasn't always been accepted with open arms. Closing its doors after a nasty debate over modesty, the Indonesian Playboy, for example, printed only 10 issues. Although extremely conservative and featuring photos without nudity, the magazine caused protests and quickly closed down in the predominantly Muslim country.
Pomerantz has endured some criticisms from some who say he is bringing porn to the last place on earth that needs it. Israel is a holy place to Jews, Arabs, Bahais and Christians -- bringing in nearly naked women is not seen as pious. Meanwhile, voices from the other side say that if you want naked women, you simply can search for them on the Internet without paying anything. The U.S.-based Playboy Enterprises has itself been struggling with its business model in recent years -- the company's shares are down about $1 billion from its late-90s peak.
However, the Israeli magazine sits alongside Blazer, a well-established Israeli men's magazine, which features under-clothed women and conjures up a smile when you ask local men about it.
With a quick page-through, Playboy Israel seems to be far from porn. Hearkening back to a more elegant Marilyn Monroe aesthetic, the magazine is fairly modest and offers a classic appeal with a local flavor.
When you live in a country that is always on the brink of war, what's a little entertainment to take your mind off of things? Maybe it's a sign to the rest of the world that there are many different ways of living life in a complicated land.