NATO's Plan for Afghanistan Post-2014: A 'Stable Instability'
The U.S. and its allies are talking about commitments through 2018 and beyond.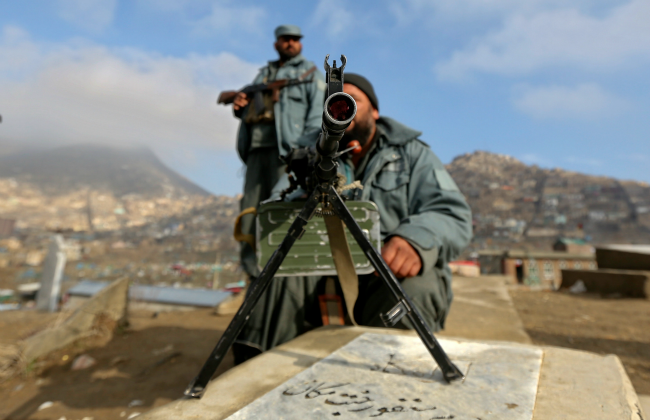 Many Americans think we're winding down in Afghanistan by the end of next year, for better or for worse.
We're not.
Despite America's evident desire to extricate itself from the nation's longest war, Taliban fighters, criminal gangs, and other insurgents continue to terrorize much of Afghanistan, making travel around the country as difficult as it's ever been. And the grim bargain that has dogged U.S. efforts in Afghanistan since the beginning of President Obama's "surge" still holds: The United States must find a way to supply and support an Afghan national army and police force that Washington has largely built but which is barely in its adolescence, although it is already 10 times the size of the fierce Taliban insurgency it is fighting.
Senior commanders with the American-led International Security Assistance Force, which consists of 28 NATO countries and 22 other participating nations, say that substantial aid and military support is going to be necessary well after the scheduled withdrawal at the end of 2014. "For some time to come, it's our expectation that we will need to supply the Afghans [with] air support, certainly, counter-IED support, logistic support, and a number of areas where their capabilities are not at the level where they need to be at," Lt. Gen. Nick Carter, the deputy ISAF commander, said in an interview in Kabul over the weekend. "It's our expectation that we'll need to continue to build those areas for some time to come and probably beyond 2014."
Asked how many years that role might go, Carter, a British officer, said he believes that ISAF will need to "set the horizon out to 2018 ... It will take between three and five years to achieve. And it's important for people to understand that."
Within weeks, probably by the end of June, ISAF is expected to move to the final, and fifth, phase of its "handover" to the Afghan army and police. At that point the combined Afghan National Security Forces, as they are known, are expected to take the nominal lead in planning and directing all missions nationwide against the insurgents; currently ANSF is said to be doing that for about 85 percent of the country. The U.S. and other ISAF countries are then to assume a purely "train, advise, and assist" role. But Carter and others say ANSF is still falling short in effective leadership; command and control; logistics and medical evacuation; training its personnel effectively; and integrating the army's warfare strategy with the Afghan police and central and provincial government agencies. These deficiencies will continue long after 2014.
In the end, securing Afghanistan's future is likely to be more far expensive than Washington and other NATO capitals have fully reckoned with yet. It won't be an easy political choice, either, coming at a time when the U.S. defense budget has been slashed by the sequester and European NATO nations must conform to economic austerity policies.
Indeed, the rhetoric back in Washington often does not seem to square with the reality over here. Since last year's presidential election, Obama administration officials have indicated that America's military is heading for the exit in Afghanistan as quickly as possible. "This year, we'll mark another milestone -- Afghan forces will take the lead for security across the entire country," Obama said at a joint news conference with Afghan President Hamid Karzai in January. "And by the end of next year, 2014, the transition will be complete -- Afghans will have full responsibility for their security, and this long war will come to a responsible end."
But Carter, in a blunt assessment, indicated that ISAF is under no illusions about the war ending in the foreseeable future and that, even after years more of effort, the optimal results will not be pretty. Asked whether the ultimate outcome ISAF is aiming for would be a version of the somewhat cynical term attributed to a former ISAF commander, Gen. David Petraeus --"Afghan Good Enough," meaning a democratic government that remains corrupt and weak, and an unsatisfactory Afghan security force that barely holds the country's center -- Carter said he prefers to use another term to describe Afghanistan's likely future: "a stable instability." Outside of major cities such as Kabul, Kandahar, and Herat, he says, substantial portions of the country will not be very "connected" to the central government. But at the same time the Taliban will not be able to take over the country again, said Carter, who serves as deputy to Marine Corps Gen. Joseph Dunford, the ISAF commander.
That's not necessarily a disaster for ISAF, Carter said, adding, "I'm sure that's going to be the case in large parts of Central Asia for some time to come." In many parts of Afghanistan, especially rural areas, a combination of local, often corrupt interests will be dominated by warlords, drug lords, tribal leaders or insurgents who will "pursue their own interests." He said that it was "rather like West Virginia" or "parts of the United Kingdom and Europe where groups pursue their own interests."
Still, most details of these more ambitious plans have yet to be negotiated, Carter said. While Obama is committed to withdrawing the remaining 63,000 or so U.S. troops by the end of 2014, his administration is still negotiating a post-2014 strategic partnership with Karzai that calls for a residual U.S. force numbering from 5,000 to 10,000 troops, according to various reports. Karzai, meanwhile, recently revealed that he has been discussing the use of as many as nine military bases to be used by the United States and ISAF after 2014. Carter confirmed that ISAF is considering the need for that many bases to support and supply six Afghan corps, as well as provide a headquarters, air-support mission, and training facility.
Reflecting the grim assessment, NATO defense ministers recently announced that they would seek to maintain the ANSF at its current strength of 334,000 (the Taliban is said to number about 30,000, although no one is certain of the total) or higher, rather than cut it down to about 230,000, as previously planned.
So far, however, of the NATO countries only Germany has officially offered to provide up to 800 troops to supply training after the 2014 deadline.
A January report by the special inspector general for Afghan reconstruction concluded that the Afghans had failed to supply accurate numbers in meeting their goal to "train and field" 352,000 ANSF forces by October 2012, and that "Afghanistan is expected to have a 'financing gap' of $70 billion during the transformation decade of 2015-2024, with billions of additional dollars needed for years to follow."
Carter indicated that it was critical for ISAF to support ANSF in substantial ways after 2014 in order to address Afghan fears of abandonment. "We would regard the center of gravity in this campaign as being Afghan confidence," he said. "We have to demonstrate a commitment to them that goes beyond the pledges at Chicago and Tokyo," referring to the May 2012 NATO summit in Chicago and an international conference on Afghan development aid later that year in Tokyo, at which the U.S., Germany, Japan, Britain, and other donors offered some $16 billion.
Senior Afghan officials also say a longer-term commitment is the only way to marginalize the Taliban. In an interview on Sunday, Mohammad Stanekzai, the CEO of the Afghanistan Peace and Reintegration Program, said that NATO's "credibility" is at stake.