Israel's Only Interest In Syria Is Keeping Weapons Away From Hezbollah
This weekend's strikes weren't intended to hurt Assad or the rebels.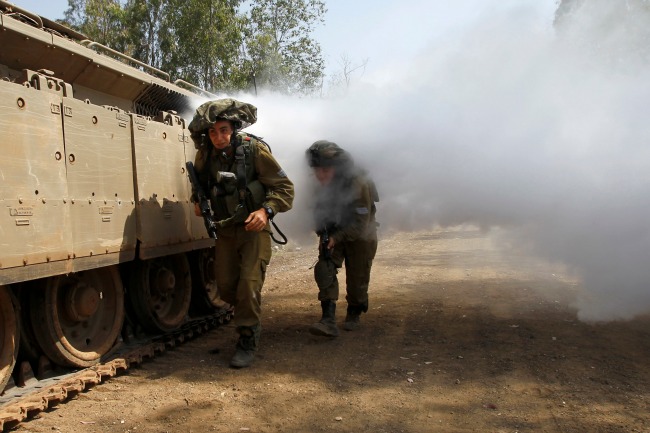 Israel mounted two air raids on Syrian military facilities near Damascus this weekend, striking what was believed to be a store of Fatah-110 missiles that were destined for transfer to the Lebanon-based Islamist militant group Hezbollah, an ally of Syrian President Bashar Al-Assad and an arch-nemesis of Israel.
But the strikes weren't intended to weaken Assad -- or even the Syrian opposition, for that matter. Instead, Israel seems singularly focused on preventing Hezbollah from getting stronger as a side effect of the Syrian civil war.
Israel so far hasn't taken a position in the Syrian conflict, largely because it's not especially rooting for either side to win. The Jewish state has had a tense but relatively peaceable relationship with the Assad regime for decades, and it fears what might happen if Syria's rebels -- some of whom, unlike Assad, are hardcore Islamists -- boot out their ruler and take charge.
In fact, Israel so desperately wants to avoid taking sides in the Syrian conflagration that it didn't even formally take responsibility for this weekend's strikes -- an attempt to allow Assad to "save face," Reuters reported. Israeli Prime Minister Benjamin Netanyahu flew to China on a scheduled trip Sunday, as if to show Assad and the world that everything was business as usual.
Despite this seemingly meek approach, though, Israel has done whatever it can throughout the war to prevent the arming of Hezbollah without provoking Assad. Military analysts told Reuters that the Fateh-110 missiles Israel destroyed this weekend could have put Tel Aviv within range of Hezbollah gunners. (Hezbollah may be stockpiling weapons, some think, in case Assad falls and their own clout is weakened as a result.)
This weekend was the second time Israel has struck weapons in Syria this year. The first was in January, when Israeli warplanes hit a convoy carrying anti-aircraft weaponry just outside Damascus.
At the time, Israeli officials said that if the country gets any inkling that Syria is losing control of its weapons or transferring them to Hezbollah, it will attempt to "hit the stockpiles." "Everything will have ramifications," Avi Dichter, the minister for the home front , told Israel Radio in January. "The stockpiles are not always in places where operative thinking is possible. It could be that hitting the stockpiles will also mean hitting people."
Then, lest anyone get the wrong idea, he hastily added that "Israel has no intention of hitting residents of Syria."
This weekend's air strikes show that while President Obama's so-called "red line" for Syria is the use of chemical weapons, Israel's is weapons for Hezbollah -- and Israel isn't budging.
"The Israelis are saying, 'O.K., whichever way the civil war is going, we are going to keep our red lines, which are different from Obama's,'" Ehud Yaari, an Israel-based fellow of the Washington Institute for Near East Policy, told the New York Times.
So far, there's no sign of retaliation from Syria. A Syrian government spokesman responded to Israel's attacks by accusing them of backing the so-called "terrorists" fighting Assad and said it "opens the door wide to all possibilities." Israel deployed two of its Iron Dome missile interceptors along the Syrian border as a precaution, but most analysts say Israel is too powerful a force for Assad to take on at this point.
Meanwhile, Israeli officials went out of their way to demur:
"There are no winds of war," Yair Golan, the general commanding Israeli forces on the Syrian and Lebanese fronts, told reporters on Monday. And later, in a vigorous wave of an olive branch, denied that the strikes would escalate tensions between Syria and Israel.
"Do you see tension? There is no tension. Do I look tense to you?"