In Egypt, Some Women Fight Sexual Harassment With Karate Chops
As instances of groping rise, so do self-defense classes.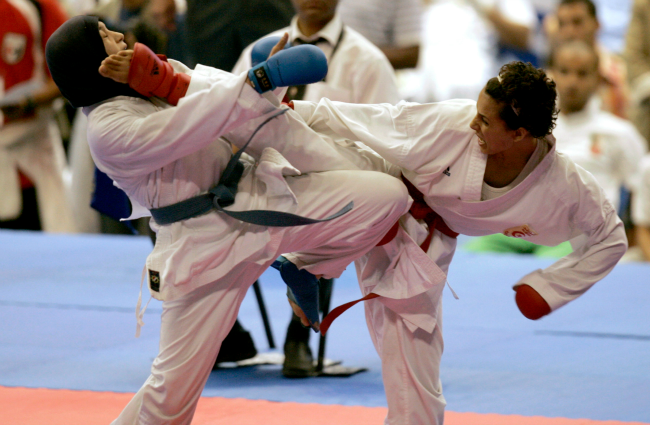 On January 25, during protests commemorating the two-year anniversary of the revolution that toppled former president Hosni Mubarak, human rights organizations received 19 reports of violent sexual assault. Attackers used blades to cut victims in at least two of these attacks, including on or near their genitals.
Although these attacks were unusually severe, a vast majority of Egyptian women face other forms of sexual harassment every day. A report published in April by the United Nations Entity for Gender Equality shows that 99 percent of Egyptian women have experienced some form of sexual harassment. The most common manifestation of harassment came in the form of touching, with 96 percent of women saying they've experienced it. These figures have risen since 2008, when a similar study reported that 83 percent of women experienced harassment.
Now, some anti-harassment organizations are beginning to turn to martial arts as a way to help cure Egypt's sexual harassment epidemic.
Tahrir Body Guard, an organization that formed in response to the widespread reports of sexual assault in Tahrir Square, is centered on the belief that women have the right to protest safely in the square just as men do. They have organized anti-harassment patrol groups to rescue and protect women in the square. In February, they began an initiative that aims to help women protect themselves through self-defense, not only in the square, but throughout Cairo. Every other week, Tahrir Body Guard offers a free class for women in Samia Allouba Gym and Fitness Center in Mohandiseen, Cairo. Trainees learn simple techniques that target vulnerable areas and require little strength, such as finger twisting and windpipe striking.
Harassmap is another organization that seeks to end the social acceptability of sexual harassment. It uses online mapping and reporting technology to raise awareness: Women who have experienced harassment can use Harassmap to report details of the incident and receive support. The organization also recommends that women receive self-defense training and lists a number of martial arts studios on its website. Rebecca Chiao, co-founder and project leader of Harassmap, says that self-defense training reduces trauma experienced by victims of sexual harassment. She has noticed a significant increase in the number of self-defense classes available over the past three years. "Many people have told us that they feel safer, more confident, and more intimidating to harassers after taking self-defense," Chiao said.
Later this summer, Harassmap will work with Lina Khalifeh, the founder of a group called SheFighter to organize a public women's self-defense seminar in Cairo. SheFighter is based in Jordan and is the only women's self-defense studio in the Middle East designed for women, by women. Khalifeh founded the organization when she found out that her friend was beaten almost daily by her brother and father, who then confiscated her paycheck. "Arab women face many challenges every day. Men often have a controlling attitude towards women sharing their opinions or even starting their own businesses," Khalifeh says. SheFighter's main goal is to empower women through self-defense skills. Khalifeh has received many emails requesting she open a SheFighter branch in Egypt, as Egyptian women are increasingly eager to acquire these skills.
Researchers in the United States who have studied the psychological effects of self-defense training found that it does tend to empower women. In a review of twenty such quantitative studies, Leanne R. Brecklin of the Department of Criminal Justice at the University of Illinois concludes that self-defense training needs to become a priority of the anti-rape movement in the United States. "Self-defense training can provide an alternative view of women as independent, strong, and capable and may undermine violence against women and gender inequality," she argues . In addition to enhancing rape prevention strategies, self-defense training also provides women with many physical and psychological benefits, such as increased self-esteem, confidence, perceived control, and assertiveness.
Rampant sexual harassment is a relatively new phenomenon in Egypt. In the 1960s, women would wear short sleeves and skirts without fear. But today, high unemployment has created a surplus of men without an income with which to purchase an apartment, furnishings, and jewelry -- items necessary to marry in Egyptian culture. Because they are marrying later, many men claim they are sexually frustrated and easily aroused by women's immodest dress.
Many Islamic scholars say these are nothing more than excuses. In an article titled "It's the harasser who's responsible for harassment in Islamic Law," Sheikh Musa Furber explains that people who have embraced the belief that women are at fault in harassment cases are violating Islam's jurisprudence: "Indeed, a man who is even leering at a woman, without touching her, is guilty of a sin, regardless of how she may or may not be dressed...Provocation is not an excuse for shirking one's responsibilities and denigrating another human being's dignity. Even if a woman were to go naked in public, demand men on the street grope her body, and threaten them with death should they fail to comply, it would be prohibited for any male to do so."
Although Islamic law is clear on this point, fear of harassment is a fact of life for women in Egypt, even those whose dress adheres to Islam's standards of modesty. Activists acknowledge that the root of the problem is not deficient policy, as sexual harassment and assault are technically illegal. Rather, the issue lies with prevailing social norms that subjugate women and stigmatize those who speak out. For years, human rights and feminist organizations in Egypt have been confronting these norms with social and political activism, yet the situation has worsened.
Although women's self-defense is just beginning to play a role in the anti-harassment campaign in Egypt, female martial artists have been reaping the benefits of such training for decades. They began competing alongside their male counterparts on the National Karate Team in 1971. Egyptian female athletes also competed in the Olympics the first time that Judo and Taekwondo were medal-earning events for women, 1992 and 2000, respectively. Today, martial arts classes are available for both men and women at most sports clubs, youth centers, and universities in Egypt's major cities.
While practicing most martial arts, women can maintain Islamic modesty standards by wearing loose-fitting uniforms and a hijab. In January 2013, the World Karate Federation approved the use of hijab in international competition, making Karate even more of an accessible sport for Muslim women. Women can also practice in private areas only with other women, eliminating the risk of coming into close contact with men.
Sharouk Mohamed, 15, has been a student of Judo since her dad signed her up for classes seven years ago. "I used to be afraid of everything, but not anymore. Now, I know if I get caught in a dangerous situation, I'll be able to react quickly and get out of it," she said.
Aya Abdelghani, 24, is a member of the National Karate Team and teaches Karate at Zamalek Sporting Club in Cairo. She recently returned from competing at a tournament in Dubai and credits Karate for helping her decide to pursue her master's degree in Islamic History. "Karate is different from other sports because it teaches you to trust yourself and from this, you gain confidence," she said. "It also builds strong character and teaches girls not to be afraid or shy."