Imams, Saunas, and Art Therapy: A Brief History of Jihadi Rehab Programs
Could reform school be the next step for Guantanamo Bay prisoners?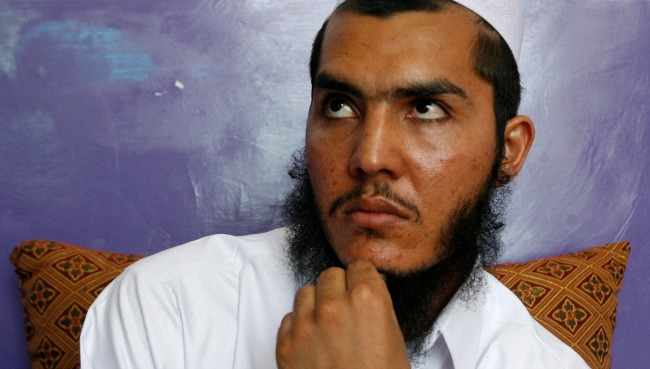 Deep in Pakistan's Swat Valley, a 24-year-old man named Farooq was busy making a wooden lute called a rubab in a classroom last month. But Farooq isn't a woodworker -- he's a former Taliban fighter who was sent to the school by the Pakistani army with the goal of reforming him. With enough vocational and religious re-education, they hope, he won't be tempted to join up with extremist groups after his release.
"The Taliban had misguided me,"
he told NPR
. "They told me I had to wage jihad against the Pakistani army. But now I understand that they used me. The army and this school helped me understand that."
The past few weeks have seen an increased momentum behind the years-long push to close the detention center at Guantanamo Bay. A high-profile hunger strike by the detainees, many of whom have been cleared for release, has now expanded to a
bout 100 men
-- more than half of the remaining prisoners. President Obama last month called on Congress to 
close the facility
.
One obstacle to the prison's shuttering has been the unresolved question of where to send the cleared detainees. Of 166 inmates, 90 are from Yemen -- a country administration officials are wary of returning them to lest they join up with militant groups (again or, in some cases, for the first time.)
If the inmates are ever repatriated, one option that's been repeatedly floated to prevent them from linking up with al-Qaeda is good, old-fashioned rehab -- the kind Farooq and other repentant jihadis have undergone in various countries over the past decade.
In an attempt to induce the U.S. to close Guantanamo, Yemen in 2010 offered to build an $11 million rehab facility for cleared detainees, as a sort of halfway house between indefinite detention and normal civilian life.
The center is still nonexistent -- talks between the U.S. and Yemen to build it fell apart over funding -- but Yemen still says it's willing to construct it if it means Gitmo would be closed.
If it's ever constructed, it would be one in a surprisingly long line of attempts to rehabilitate both former Guantanamo detainees and other suspected militants in order to make them functional members of society.
***
Yemen, 2002
Prior its most recent effort, Yemen had already entered the extremist emotional-healing business. In 2002, Yemeni President Abdullah Ali Saleh pitched a program that would reintegrate detainees with suspected ties to al-Qaeda and release them back into society. The U.S. hated the idea, thinking it was little more than a revolving door. They turned out to be mostly right. The Toronto Star did a great profile of the program back in 2009:
Hamoud al Hitar was in charge of the program, called the Committee for Religious Dialogue, which, by his own admission, primarily involved talking. The goal was to lure jailed militants away from violence by engaging them in what al Hitar calls "theological duels."
The way it worked was this: Prisoners would come to the center, stay a few days, and meet with Islamic counselors who would try to convince them that the Quran does not, in fact, invite Muslims to blow things up.
A later West Point report on the project found that it focused on the wrong objective. It aimed to get the cleared detainees to swear not to commit acts of violence in Yemen specifically, but not to foster permanent, ideological change within the men. Some of them reportedly simply pretended to change their ways just to be freed.
The Committee also didn't provide the released men with any social services or financial support, and it apparently made little effort to keep tabs on them after they re-entered society. The Yemeni government isn't sure what happened to the 364 people who entered the program -- some escaped, some were killed in Iraq, and some simply vanished off the government's radar.
Thanks to a lack of political will and funding, the program died in 2005.
***
Saudi Arabia, 2007
Unlike Yemen's emphasis on religious dialogue, the Saudi's rehabilitation program included financial and emotional support.
"One of the things they learned early on is that they need to support people and people's families, because if they don't, someone else will," Christopher Boucek, an associate at Washington's Carnegie Endowment for International Peace, told the Star.
At the Mohammed bin Naif Center for Counseling and Care, alleged militants enjoyed buffet meals and classes in everything from Islam to art therapy. Their strategy? Have imams explain to the men that not everyone can issue a fatwa -- an Islamic legal pronouncement -- only religious leaders can. Some of the men had apparently been issuing fatwas from their al-Qaeda cells, according to CNN, therein committing their entire group to radical action.
When they graduated, the men in the Saudi program received a lump sum of $2,665 and $700 a month for their first six months on the outside. The government then helped them find jobs and wives.
"I have good life, a good wife," Khalid Suliman al-Jhari, a former Guantánamo prisoner, told the Christian Science Monitor. "I believe that this idea is working because the people ... are honest about fixing [ex-jihadis].... It's not just a job."
The program's recidivism rates have been relatively low (Saudi officials say just 3 percent), but there have been a few high-profile re-offenders. In September of 2010, Yemeni authorities have detained Jabir Jubran al Fayfi, who re-joined al Qaeda in the Arabian Peninsula after graduating from the Saudi rehab program. Said Shihri, another former Gitmo detainee, moved to Yemen after he finished the program and became the second in command for the local Al Qaeda cell.
In 2010, Reuters reported that around 25 Saudi former Guantanamo detainees had returned to militancy after going through the rehabilitation program. The same year, Saudi Arabia said it planned to build five more rehabilitation centers, each of which would be able to accommodate 250 people.
A just-built Riyadh facility that can house up to 228 people offers luxury as an incentive to drop extremism: "In between sessions with counselors and talks on religion," the AFP reports, "prisoners will be able to relax in the center's facilities which include an Olympic-size indoor swimming pool, a sauna, a gym and a television hall."
Behave well, and you get a two-day break to spend with your wife.
***
Pakistan, 2012
Inspired by Saudi Arabia, Pakistan set up its own program, complete with sessions with psychologists, imams, and job counselors. With the help of international funding, the country has opened two jihadi rehabilitation centers: one called Mishal, for teenage militants, and another called Sabaoon, for even younger boys.
"I would never admire what I did 11 years ago," 20-year-old Shahbaz Ahmed told the Los Angeles Times. "It was a blunder on my part. I was immature, but it was my decision and I am still paying the price for it."
Like in Yemen, the imams in the Pakistan program try to convince jihadis that killing innocents in the name of Allah is morally wrong. There's also job training and a small stipend. The focus is on skill-building -- MS Word and wood shop -- rather than dialogue. Perhaps most crucially, graduates are checked on by counter-terrorism officers even after they return home.
The program targets combatants, not former Guantanamo detainees, and it has already graduated thousands of men. According to local police, recidivism hasn't become an issue -- at least not yet.
***
If these past experiments are any guide, there seem to be few ways to completely prevent recidivism among former militants, but some money to start a new life appears to help. One issue with Yemen's newest rehab proposal is that the man agitating for it, Abd' al-Majid al-Zindani, has been labeled a "specially designated global terrorist" by the U.S. Treasury, and a clerical school he started has graduated the likes of Anwar al-Awlaki and John Walker Lindh -- two men who aren't exactly brochure material for jihadist reform school.
There's no telling when or if the new Yemeni center will be built, but for now human rights groups are tempering their enthusiasm for such an institution with the concern that it might become just another indefinite detention center -- except this time, beyond the reach of the U.S.
"If it is built, we want to ensure that it does not become another Guantanamo with window dressing," said Letta Tayler of Human Rights Watch. "Detentions must be voluntary unless the detainees are charged and convicted of crimes in fair and impartial proceedings."