How Twitter Is Messing With Al-Qaeda's Careful PR Machine
Individual jihadis are increasingly taking to social media with their own opinions, sparking disputes within the terrorist organization.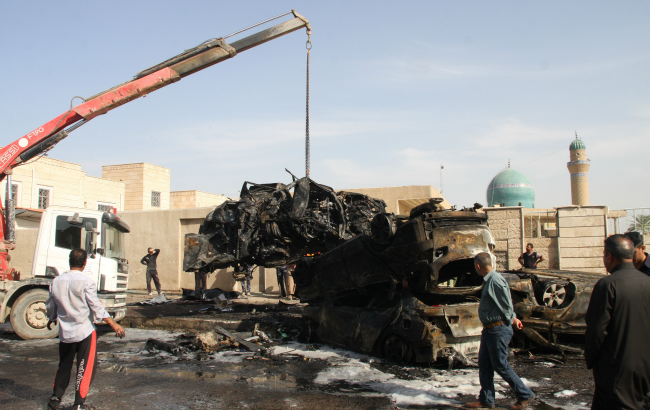 The idea that the Internet facilitates Al-Qaeda's recruitment and messaging campaigns is not new. However, more than ever, the changing landscape of the online environment is allowing for dissent from within the ranks of Al-Qaeda's supporters. Gone are the days when Al-Qaeda's senior online ideologues could control the flow of information by operating their own bulletin board-style forums. While Al-Qaeda and its supporters still facilitate discussion through their own web communities, the nature of jihadi discourse today is much more democratic, with jihadi personalities claiming inside knowledge dispersed across the online environment. The evolution toward platforms such as Twitter that empower the individual are allowing Al-Qaeda's supporters to avoid forum censors and promote their own personal narratives, which are not necessarily in agreement with that of Al-Qaeda's messaging strategy writ-large.
This phenomenon was at center stage in early April when Al-Qaeda's affiliate in Iraq (AQI) committed an unthinkably reckless strategic messaging error. On April 9, AQI announced the incorporation of Jabhat Al-Nusra in Syria into an AQI-administered Islamic state aspiring to govern Iraq and Syria. Effectively, AQI attempted to define Al-Nusra as no more than a subordinate to AQI. Al-Nusra, one of the Syrian opposition's most effective fighting groups and indisputably Al-Qaeda's most popular affiliate, was quick to respond. Just one day later, they denied knowledge of the merger and professed a direct pledge of loyalty to Al-Qaeda senior leader Ayman Al-Zawahiri. Despite the State Department placing Al-Nusra on it list of foreign terrorist organizations in December 2012, this was the first time that Al-Nusra's leadership had publically acknowledged their link to Al-Qaeda.
These events led to a flurry of debate on jihadi web forums that support Al-Qaeda. Many jihadists were quick to criticize AQI and began openly wondering how an affiliate of Al-Qaeda, a group that is notoriously careful in crafting its messages, could commit such a blunder. However, jihadi forum moderators suppressed commentary that criticized AQI, and the lack of free speech within Al-Qaeda's movement was unmistakable. Just several years ago it might have ended there without any serious repercussions, but today's is a different Internet environment. The rise of social media platforms championing the power of the individual has changed the online jihadi landscape. While the new model works to the benefit of Al-Qaeda so long as its proponents promote a unified message, the new reality also magnifies dissent.
Soon after Al-Nusra refuted the merger with AQI, one of the most widely trusted jihadi political analysts on Twitter attacked AQI's integrity as an organization. Abdullah bin Muhammad, as he identifies himself on his account (@Strategyaffairs), criticized AQI's decision to carry out attacks during a recent period of Sunni protests in Iraq, remarking that such actions "do not serve [anyone] but the Iranian enemy." Additionally, Abdullah bin Muhammad produced a document in which Ansar Al-Islam, an old AQI ally from the days of the resistance against the American forces in Iraq, listed crimes that AQI operatives allegedly committed against Ansar Al-Islam members. According to Abdullah bin Muhammad, Ansar Al-Islam asked him to intervene to end the feud. Armed with this information, Abdullah bin Muhammad alleged that unknown parties had infiltrated AQI and were attempting to translate that effort into influence over Al-Nusra in Syria. Such an open deviation from the prevailing AQI narrative on mainstream sites is historically very rare.
On a typical jihadi forum, Abdullah bin Muhammad's inflammatory accusations would not survive long before being deleted. But in the free market of ideas that is Twitter, where Abdullah bin Muhammad has over 35,000 followers, his comments were re-tweeted hundreds of times as Al-Qaeda junkies across the web discussed the spike in jihadist criticism of AQI. Additionally, agreement by Assad Al-Jihad2, a long-time online proponent of Al-Qaeda's global jihad whose articles have been published by official Al-Qaeda media sources and who is nicknamed "The Spearhead of the Mujahidin" by his followers, only placed more credibility on Abdullah bin Muhammad's allegations.
The ability of Abdullah bin Muhammad's Twitter accusations to travel far and wide was illustrated when his comments were re-posted on sites such as The Yemeni Council, a vibrant and largely moderate Arabic discussion forum where current events receive spirited debate and where Al-Qaeda supporters are actively attempting to win the hearts and minds of the site's mostly Yemeni participants. Feeling empowered by the legitimacy that comes with the endorsement of Abdullah bin Muhammad and Assad Al-Jihad2, a staunch supporter of Al-Qaeda on The Yemeni Council admitted to his own deeply held concerns about AQI's trustworthiness. Interestingly, this Al-Qaeda ideologue also expressed regret over making a statement so critical of AQI on a mainstream site, but remarked that he was sure that such a comment would not be welcome on a jihadi forum. As this post shows, the suppression of the allegations against AQI pushed Al-Qaeda's supporters' criticism into more moderate areas of the online social media environment, a development that is at best an embarrassment to Al-Qaeda.
It's clear that Al-Qaeda is increasingly less able to control the conversation by hosting it on its own sites and indoctrinating the participants to the point that they no longer dare to diverge from Al-Qaeda's lines of persuasion.
Today, some of the group's most successful online advocates, such as Abdullah bin Muhammad, Assad Al-Jihad2, and the plethora of Al-Qaeda sympathizers on Arabic web forums like The Yemeni Council, are making independent judgments about how to present Al-Qaeda's activities to the world. In this case, that process translated into a difficult decision: Al-Qaeda supporters either (1) amputated the disease-ridden limb that is AQI so that the larger Al-Qaeda body could flourish, or (2) remained steadfast behind an affiliate that has been a mainstay in the Al-Qaeda family for most of the last decade. At this early stage, it is difficult to know which faction is in line with Al-Qaeda's senior leadership, but certainly the two opinions are mutually exclusive. Only time will tell as to how Al-Qaeda's old guard will respond to this and other debacles that result from jihadis going rogue on Twitter.