Hard to Shill: Steven Seagal in Chechnya
Why is the aging action star trying to lead a Congressional delegation to southern Russia?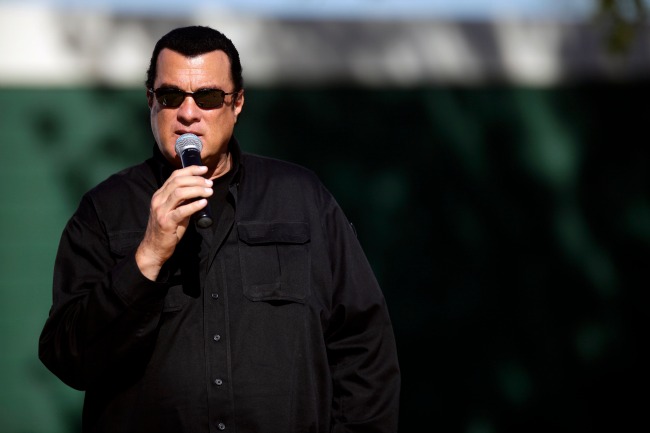 The late Gore Vidal once said that the three saddest words in the English language were Joyce Carol Oates. Now here are the ten saddest: "The CODEL's visit to Chechnya was facilitated by Steven Seagal."
CODEL stands for Congressional delegation, and the speaker here is the spokeswoman for Representative Dana Rohrabacher, a Republican from California. In the Congressman's prospective entourage were fellow Republicans Michele Bachmann (who has just announced that, six months after winning re-election, her services to the great state of Minnesota will draw to a close in 2014), Steve King (Iowa), Paul Cook (California) and two Democrats, Bill Keating (Massachusetts), and Steve Cohen (Tennessee). The purpose of their prospective visit with the tubby action hero with hair plugs that scream graft-versus-host? To suss out more information on the Boston Marathon attacks, which of course Seagal is expertly placed to facilitate. "If there was a distrust, or lack of cooperation because of that distrust, between the Russian intelligence and the FBI, then that needs to be fixed and we will be talking about that," said Rohrabacher to ABC News, which first broke the story.
This was the first CODEL to Russia since the passage of the Magnitsky Act, the new law that authorizes the U.S. government to freeze the assets of, and institute travel bans against, any Russian officials accused of gross human rights violations. It's exceptionally strange for a number of reasons, not counting Seagal. First, Bachmann as was an outspoken critic of the Kremlin's Dima Yakovlev Act, a "counter-Magnitsky" measure which, among other things, prohibited Americans from adopting Russian orphans. Second, Rohrabacher, Bachmann, King and Cohen all voted for Magnitsky and yet they were not denied visas to Russia as was Representative Chris Smith (R-New Jersey), who chairs the House Foreign Affairs Subcommittee on Human Rights. "The Magnitsky bill is the reason I didn't get the visa," Smith told Foreign Policy, noting that he'd managed to travel unobstructed to the former Soviet Union.
It is unclear as yet as to whether or not they went on to Chechnya, much less under the auspices of the unlikely cultural statesman Seagal, who apparently reached out directly to Rohrabacher. Politico has described an internal wrangle within the delegation about the wisdom of traveling alongside the star of Above the Law to the Kremlin's Caucasian suzerainty, which is run by a warlord who is nothing if not above the law himself.
Under "President" Ramzan Kadyrov's rule, Chechnya has become, in the word of Freedom House's Arch Puddington, "one of the world's largest Potemkin villages," in which extrajudicial killings, kidnappings, rape and the torture and murder of journalists and human rights activists has become de rigueur. Kadyrov has personally been implicated in the assassinations of Anna Politkovskaya, the muckraking reporter for Novaya Gazeta, and
Natalia Estimerova
, both of whom exposed the depredations of Russia's military occupation of Chechnya, as well as hits against Chechen exiles in Dubai, Istanbul, and Vienna. The Austrian capital was where Umar Israilov, one of Kadyrov's former bodyguards, was murdered after a long, sordid involvement in the president's thuggish inner circle. According to the New York Times, Israilov defected and claimed that the Chechen dictator
personally beat and electrocuted him
, alternating in the role of torturer with members of Russia's Federal Security Services (FSB).
Other Kadyrov bodyguards -- some of whom bear a strong resemblance to Bashar al-Assad's shabiha atrocity-makers -- have fared substantially better. Several were arrested in Moscow in 2011 for kidnapping, torture and extortion -- then released in what Novaya Gazeta suggested was a coordinated state action by the FSB, the Russian Prosecutor's Office, the FBI-like Investigative Committee and the Presidential Administration. Many FSB officers who contacted the independent newspaper "informed us that almost all the staff of their department are refusing to go out on the job, and are prepared turn in their official IDs," in anger against the domestic spy agency's derogation of justice.
In April, when the Obama White House approved its first list of 18 banned and sanctioned Russian officials susceptible to the Magnitsky Act, which singled Kadyrov out for numerous human rights abuses in the Caucasus and included one suspect in Israilov's killing, the Chechen warlord was reportedly tacked onto a classified annex, which only banned him from entering the U.S. but did not freeze any assets he might have here -- assuming there are any. Kadyrov laughed off his proscription, probably because his patron and fellow personality cult figure Vladimir Putin did all the retaliating for him by releasing a "tit-for-tat" blacklist of his own against a host of past and present U.S. officials. These included law enforcement officers involved in the prosecution of notorious global arms dealer Viktor Bout, now serving a 25-year sentence in the federal penitentiary in Illinois. Bout's gun-running to Angola, Sierra Leone, Congo, Lebanon and elsewhere has been credibly linked to the very Russian intelligence apparatus with which Rohrabacher wants greater U.S. cooperation, and that is why the Kremlin has assiduously and angrily sought his extradition to Moscow.
Rohrabacher chairs the House Committee on Foreign Affairs' Subcommittee on Europe, Eurasia and Emerging Threats. Yet somehow he manages to refer to the inhabitants of Chechnya as "Chechnyans." He is also quite outspoken about the need for greater U.S.-Russian cooperation on Islamic radicalism and has been even before the Tsarnaev brothers got to deadly work at the corner of Vasser and Main. In his March 2012 statement at the House Committee on Foreign Affairs about corruption and repression in Russia, Rohrabacher sounded this ingenuous note about the appalling human rights situation in Chechnya -- which he compared to controversial New York City police investigations into homegrown jihadism:
[A]lmost all of the political prisoners...where I've asked to get the list from and all the sinister discussion of all the political prisoners that they have now, and the journalists who have been assassinated, almost all of it is traced to this war with radical Islam, and especially the Chechnyan [sic] War. Now, I don't think that is fair for the American people not to know. I think it's okay to say okay, they got political prisoners as a result of this war with radical Islam, but American people are given the assumption that the political prisoners are all just democratic reformers who are out protesting against Putin. That's not a fair comparison. Look, I want to--again, let's hold the Russians who are involved with human rights violations, hold them personally accountable, but let's not create a false image here that creates a--we should be best friends with Russia in dealing with the China threat and the radical Islamic threat. That's what's on both of us. Instead, we're pushing them away, and pushing them into the arms of China...
This jaw-dropping comment drew a polite rebuttal from Freedom House President David Kramer, who explained that first and second Chechen Wars each resulted in the slaughter of tens of thousands of innocent people. It might have also been pointed out to Rohrabacher that the Magnitsky legislation he later voted for contained twelve cases of human rights abuses in the North Caucasus out of a total of twenty-two.
In explaining his decision to travel to Chechnya with Seagal, the Congressman professed the need to get beyond " the Cold War attitude," which is exactly what the Kremlin likes to accuse the United States of espousing whenever the United States asks the Kremlin to stop killing whistle-blowing attorneys or putting punk bands and dissidents in prison.
***
Russia and Chechnya have lately become a haven for celebrities -- A-list, has-been, and pornographic alike -- who wind up pretending to be surprised that journalists and human rights monitors condemn their cavorting with dictators. Hillary Swank discovered the hard way in 2011 that helping Kadyrov celebrate his birthday in Grozny was less than a Hollywood PR coup. Gerard Depardieu may be "too drunk" to understand charges DUI charges against him in Paris, but he was certainly lucid enough to flee France's 75-percent taxation rate for the cozier 13-percent flat tax of Mordavia. He is not only "inspired" by Kadyrov's leadership, which has arranged for the Green Card protagonist to inhabit a luxurious five-room apartment in Grozny, but Depardieu currently shooting a " blood-and-guts" thriller there with Liz Hurley.
Seagal, meanwhile, is also chums with Kadyrov and Putin. Here's a video of him dancing what he thinks is a native Chechen dance in Grozny as the smiling ginger warlord looks on and claps. For a D-lister who has only attained the rank of reserve deputy sheriff in Jefferson Paris, Seagal is seen by Russian officialdom as incredibly important and deferred-to back home. Russian Deputy Prime Minister Dmitry Rogozin identified him as the perfect candidate to help abolish a U.S.-Russian agreement that restricts the importation of Russian firearms into the United States. "I believe that your authority and connections within the American establishment could help resolve this issue," Rogozin told Seagal in March during the latter's visit to Moscow.
What the hell is going on here? The Kremlin's infatuation with Seagal has been treated in the press as little more than an outre kinship with Putin over their shared interest in martial arts (Seagal has a black belt in Aikido, Putin's got one in judo). Although I suspect some of elevation of this relationship has to do with claims Seagal made early in his career that he was an "advisor" to the Central Intelligence Agency and provided security to everyone from the Shah of Iran to Desmond Tutu to Anwar Sadat. People magazine in 1990 was highly skeptical of this hilarious resume-padding: "While it is the CIA's policy neither to confirm nor deny the identity of its operatives, sources familiar with the agency say Seagal's tale is improbable. Still, that hasn't stopped the star from trotting it out whenever he sees the need."
You might like to think that these sorts of cock-and-bull stories won't get you very far among hardened and well-trained KGB types, but paranoia, it pays to remember, is often married to gullibility, and "Cold War attitudes" are particularly hard to shake in Russia. A ham knows his audience only too well. I can well imagine Steven kibitzing with Ramzan and Vladimir about the time his ponytail got stuck in the trigger device for a Stinger missile he was showing Osama bin Laden how to operate in Kabul.
From fake spook to CODEL straphanger in just under a quarter century: Seagal is still big. It's just the pictures that got small.