'French Kiss,' Finally Featured in the French Dictionary
The slang term has made its way to the official lexicon.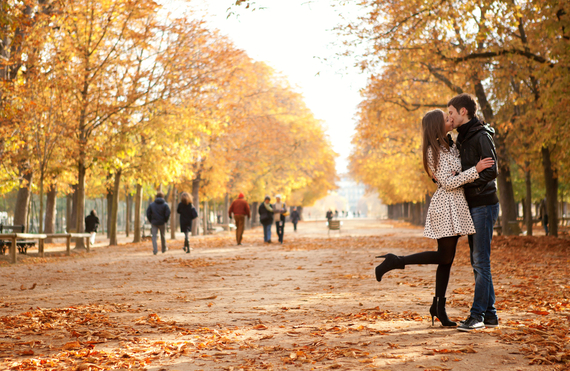 Every year, the editors of France's Le Petit Robert dictionary get together and decide which new words they'll admit to the widely used reference manual. This is a responsibility they take seriously, meeting several times to debate the linguistic merits of words like viralité and camisole. For Petit Robert's 2014 edition, which hit shelves today, the lexicographers' discussions led to the inclusion of words that ranged from the techy (microblog, texter) to the newsy (boson de Higgs) to the idiomatic (être dans les patates: to be confused) to the delightfully onomatopoeic (bombasse: "hottie").
Among all those new words, though, there was one that was notably old: galocher. Which is a verb that translates to "to kiss with tongues" -- or, yes, to "French kiss." (Also included is the noun form, galoche.)
The addition is news, the AP notes, because it marks the first time that a specific term for "French kiss" will be included in a dictionary that is, yep, French. "For centuries," the agency laments, "there's been no official French word for the sloppy Gallic export."
Which is not to say that the nation that is, er, "famed for its amorous exploits" has lacked ways to talk about the kiss that bears its name. "We always had many expressions to describe 'French-kissing,' like 'kissing at length in the mouth,'" the Robert publishing house's Laurence Laporte clarifies. (Additionally, and to be clear: the lack of a specific term "never stopped us from doing it.")
That said, though: "It's true, we've never had one single word."
Until today.
Or actually, until many, many days ago. The word galocher has existed in French for a while now, of course, the way all words do before they're codified in dictionaries. It just existed as slang. (For the linguistically curious: la galoche means "an ice-skating boot" in French; used as a verb, apparently, it riffs on the idea of "sliding around the ice." You're welcome.) But the term's slang-to-standard trajectory is a common one -- and galocher's case, no doubt, was aided by the fact that one of its standard synonyms had been the decidedly unsexy baiser avec la langue. So the "French kiss" is now, literally, French. Kiss galocher hello.