Former Pakistani Prime Minister Looks to Form a New Government
Nawaz Sharif's party is regarded as having a pro-business stance, tilting toward regional cooperation and peace with the country's neighbors.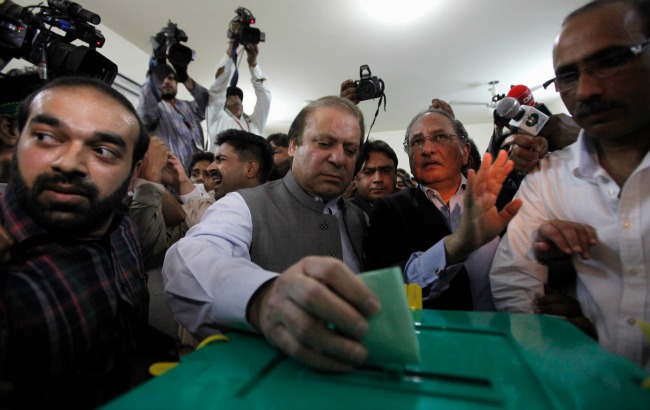 Former Pakistani Prime Minister Nawaz Sharif is poised to form his country's next government following elections notable for a high turnout in the face of Taliban violence.
Unofficial results and projections on May 12 indicated that Sharif's Pakistan Muslim League is heading toward a majority in the parliament.
Based on current predictions, his party looks set to secure nearly 130 of the 272 directly elected seats in the national assembly. It should also gain the support of some independent deputies to cobble together a majority.
Sharif's party will also get a large share of seats reserved for women and religious minorities to establish his majority in the 342 seat parliament.
This means that Sharif should be days away from a third term as prime minister.
Unofficial results suggested that former cricket hero Imran Khan's Pakistan Tehreek-e Insaf (Movement for Justice) has received strong support, heralding the arrival of a potent young faction.
The Pakistan Peoples Party and the Awami National Party -- the outgoing coalition partners -- appear to have endured major losses amid voter unhappiness over their handling of the country in the past five years.
In a victory speech in Lahore, Sharif called for cooperation among political forces to battle Pakistan's many problems.
"For the sake of the nation, for your sake, for the sake of Pakistan's 180 million people, and in order to end this curse of power cuts, inflation, and unemployment, I want to ask them [opponents] to come and sit down with us," he said.
Peace Initiatives?
Sharif's party is regarded as having a pro-business stance, tilting toward regional cooperation and peace with the country's neighbors.
Zahid Hussain, an Islamabad-based journalist and author, suggested that, once in power, Sharif is likely to forge a cooperative relationship with Washington and confront Taliban violence despite previous statements that he would pull Pakistan out of the war on terrorism.
"I think that it will be a normal relationship," he said. "I don't see any major change in Pakistan's foreign policy towards the United States under Nawaz Sharif. In 1993 to 1998, when Nawaz Sharif was the prime minister, he was cooperative with the United States. There were some kinds of misgivings, but I doubt very much that there will be any major change in Pakistan's policy towards the United States."
Nonetheless, Hussain maintains that Sharif will not have the final say in Pakistan's policy toward Afghanistan.
"The military actually will continue to run this policy with the consent of the government," he said.
However, Tariq Fatmi, a former Pakistani ambassador to Washington believes Sharif's administration is likely to back a peace process in the country.
"On Afghanistan, there are a few things that are notable about Mr. Nawaz Sharif," he said. "First of all, he believes that any peace process in Afghanistan that stands a chance of success must be Afghan-owned and Afghan-led. In other words, it has to bring about the various constitutional elements in Afghanistan."
Sharif, 63, is a wealthy steel magnate from Punjab Province. He has been a leading player in the Pakistani political establishment for years, alongside the Pakistan Peoples Party of current President Asif Ali Zardari and the slain former Prime Minister Benazir Bhutto.
Sharif was in power when Pakistan tested its first nuclear weapon in 1998.
He was toppled in a 1999 military coup by former army chief General Pervez Musharraf, and spent years in exile in Saudi Arabia before returning to Pakistan in 2007.
His movement came second in the 2008 elections.
Obama And Regional Leaders' Congratulations
In related news, the United States' President Barack Obama and the leaders of Afghanistan and India have congratulated Pakistan on holding parliamentary elections.
In a statement issued on May 12, Obama said Washington was ready to work with the government that emerges "in supporting a more stable, secure, and prosperous future for the people of Pakistan."
The Indian Prime Minister Manmohan Singh called Pakistan Muslim League leader Nawaz Sharif to congratulate him over victory in the elections. He also invited him to visit India.
A government statement said that Singh "expressed India's desire to work with the new government of Pakistan in charting a new course for the relationship between the two countries."
Afghan President Hamid Karzai praised Pakistanis for participating in the elections in large numbers despite the threats of terrorist attacks.
---
This post appears courtesy of Radio Free Europe/Radio Liberty.