Fleeing Syria, Refugees Arrive to a Different Kind of Hell in Greece
Thousands of Syrians are seeking refuge in Greece, but the country's economic and asylum problems make for an unwelcome new home.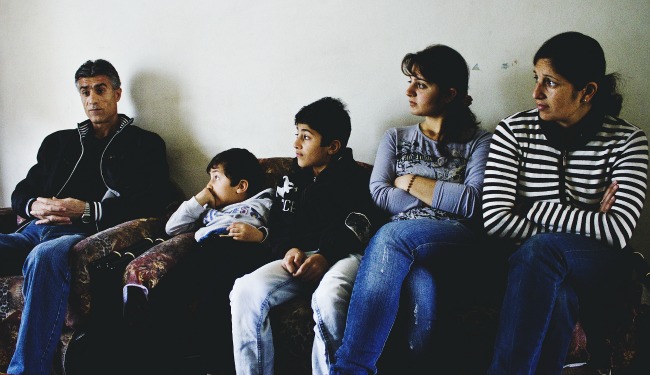 There were more people than seatbelts in the black Kia Sportage, so Reema Ayoub sat on her father's lap. The 6-year-old's hands held on to the dashboard as she watched Athens pass by from the motorway. She had just left Hygeia, a private hospital in Athens where she spent 15 days recovering from surgery needed after being shot in the civil war in Syria.
In the driver's seat is Dr. Maarouf Alobeid, but they all call him The Doctor. He performed Reema's surgery for free after her father told him their story by email.
Past abandoned buildings and empty car showrooms, The Doctor drives Reema and her father Samer to the one-bedroom flat where they'll stay with Mouhanad Badawi, another Syrian who's lived in Athens for six years working as a painter. He invited Reema and Samer to stay with him when he found them living in a smuggler's flat.
They had been there for weeks. Reema's wound had opened, her insides were coming out -- a pink protrusion as big as a fist that smelled like "death." They had come to Athens for medical help. It took them four months to get it, and then, only because of The Doctor.
Greece is the gateway into Europe for thousands of refugees from Syria and Afghanistan. They cross into Turkey and hire smugglers who transport them into Greece, but more importantly into Europe. It costs thousands of Euros, but it's worth the promise of freedom. Still, the economically derelict and unwelcoming landscape that refugees like Reema and Samer find here is often far less hospitable than they had hoped.
Greece has enough problems of its own. The anti-immigrant Golden Dawn is now the third largest political party in the country, on track to become the second. The party wants "Greece for Greeks" and blames economic troubles on refugees and immigrants. Supporters routinely attack refugees in the street, beating them, spitting on them, and calling the authorities to collect them.
The Arab Spring and the Euro crisis have met head-on here, and it's proving to be a toxic mix.
Most refugees don't have a government-issued pink card - the document they need to stay in the country legally for a few months. Without it, many are arrested and thrown into detention centers where they are given little food, no clean clothing, or bed linen. They have no soap to wash themselves, no opportunity to call family or friends. They are beaten.
When released after six to 18 months, they must leave the country; but having fled their own, most don't have authorization, and trying to leave Greece without papers is also illegal. They can't stay in Greece; they can't leave.
Right-wing parties are gaining traction across Europe. Ukip, the United Kingdom Independence Party, placed second in a local by-election last month, beating the Conservatives.
But it is Greece where the rise of an ugly, nativist nationalism is most blatant and violent.
According the Greek Forum of Refugees, the country has a backlog of 40,000 applications for asylum. Most will never be seen.
Realizing this, The Doctor began to help Syrians himself.
He met a family living in a park and found them a place to live. In the year and a half since, Syrians in Athens have contacted him mainly through Facebook and word of mouth. Alobeid takes them off the streets, finds them housing, and provides them with medical care.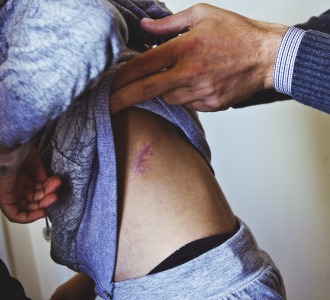 He left Syria in 1984, when the country was in similar disarray, came to Greece to find freedom, and he did.
He enrolled in medical school, and after gaining citizenship served a year in the military as a physician. His wife and daughter are Greek and so is he, but he's also Syrian.
"I'm in the middle," of the two countries, he said. "One is destroyed with the war, the other, destroyed by everything but war. I'm lost between them. I feel the pain for both countries."
He keeps a ledger of the families he helps -- they total more than 100.
"It touches me when I see people suffering in Syria and they run away to get some dream in Greece, and I see all the suffering in Greece," he said.
Hundreds of Greek doctors have left the country for northern Europe where they have more security and more pay. It's a different Greece from the one that provided him freedom 28 years ago.
"I feel pain, not only for Syria as my country, but for Greeks. I am full of the old photo of Greece. The oldest civilization, the first democracy in the world, and now it's getting to be the worst. The lowest situation."
He held his hand out and let it drop.
"Down, down to the hell," he said.
According to Muhammadi Yonous, president the Greek Forum of Refugees, there has never been a just asylum system in the country. Lacking federal support, the organization holds seminars and cultural events to help integrate refugees into the community.
"What we are doing, it is what the government should be doing, but they don't do it," he said.
"Most of [Golden Dawn sympathizers], they think all the problems here it is because of migrants. It is very horrible."
While teaching a Greek language class to women and children refugees last year, 15 supporters of the Golden Dawn, men with chains and irons, broke into the classroom.
"They started shouting, 'go out, we don't want you.'"
They beat him and left. The worst part, he said, was going to the police who told him if he complained again, he'd be put in a detention center.
"Even the European Union, they don't know what to do with the problems here in Greece."
According to the Ministry of Public Order's website, 1,261 Afghans and 1,276 Syrians have been arrested this year and put in detention centers. But thousands are also being kept in detention facilities at police departments.
Amnesty International reported violations of international law in the country's treatment of refugees and migrants as long ago as 2011.
"I can't even describe," the detention centers, said Kleio Nikolopoulou, a lawyer at the Greek Council for Refugees. "It is absolutely horrific."
Konstantin Ibrahim brought his wife, three children, and his brother's son from their small town in the north of Syria to Greece last year.
"When we reached here, we were shocked," he said.
They've been living in a small flat for months. The walls are covered in crucifixes and pictures of Jesus. There is a print of DaVinci's Last Supper over a doorway. They aren't Christians, and this isn't their home, but it's what they have.
They spent 38 hours on a rubber boat crossing from Izmir to Lesbos, the Greek Island most refugees come through. He paid 12,000 Euros in total for the journey -- 2,000 per head.
The family doesn't travel farther than a mile away from the flat for fear of being reported or attacked. Six months ago, Ibrahim was given papers to stay in the country for one month. If he's caught now, he'll likely spend a year and a half in a detention center.
He wishes he'd never come to Greece.
"If I stayed in Turkey, it would be better for me. At least there is some help over there."
His two young sons watch him speak, looking to him, but he doesn't know what to do.
"Lots of Syrian families, they want to get back to Syria. Even with the war it's better than here."
Reema's father Samer also plans to leave Greece soon. He was granted a pink card that makes them legal until the end of April. If they're not gone by then, they will be detained.
Samer isn't sure when they'll leave or how they'll go, his only plan is getting his family back together.
He was a publisher in Syria; they lived in Damascus and had a good life. In early December, he, his wife, and two daughters were driving through the city when they came across a checkpoint.
Soldiers pulled out guns and started shooting. He doesn't know why. It was 11 a.m., and they had all been shot.
His other daughter lost her ear; she's still in Syria with her mother. She needs medication to keep her calm and to sleep.
Reema's wound was worse. On the left side of her body, just below the ribs, there is a two-inch scar where the bullet drilled in. She had two surgeries in Syria but it wasn't enough.
"So many organs needed to be fixed," Samer said.
Samer knew if she didn't get better medical care, his daughter would die. So he put her in car and drove north from Damascus to Aleppo to the Turkish border.
After leaving his car and walking 10 hours, they found a smuggler to take them across the Aegean.
"The easiest was to sit in the rubber boat seven hours without moving."
When they got Athens, they didn't receive the medical attention they expected. For the first month, they used nylon and masking tape to cover Reema's wound. Then they met Badawi, the painter, and he found them proper medical supplies.
They were in the city for three months before meeting The Doctor. Her wound had festered and grown; but within two weeks, The Doctor operated on her for free, and with the help of UNHCR, in the best private hospital in the city.
"She grew up five years because of this experience. She understands the economy, she understands what is going on politically -- she is involved," Samer said of his daughter.
Reema has two scars on the front of her stomach: one, about five inches long and the other, about three, and then there's the scar from the bullet.
She commands the room full of grown men. Their eyes follow her as she teases them and laughs. Neither her eyes nor her smile give away the suffering. Here, she is the boss; and she is safe - for now.
Correction: An earlier version of this post compared the British party UKIP, which advocates reduced immigration and leaving the EU, with the Greek party Golden Dawn, members of which have attacked immigrants. While both parties are right-wing, UKIP does not have a reputation for violence.