Escape From Bahrain: Ali Abdulemam Is Free
The exclusive inside story of a dissident blogger's getaway from the repressive island kingdom, how events overcame rescue plans, and what's next for him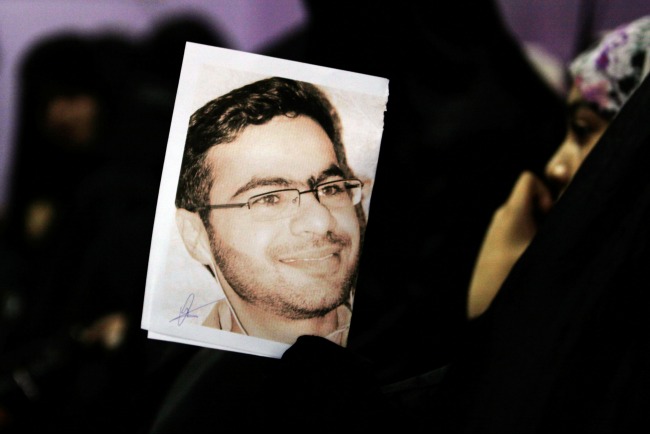 After more than two years in hiding, Ali Abdulemam, the globally renowned blogger and free-speech advocate, has been freed from the Kingdom of Bahrain. Abdulemam is now safely in Europe, after a dramatic escape in a secret compartment of a car, and will make his first public appearance in more than two years on Wednesday at the Oslo Freedom Forum (OFF).
In 1999, Abdulemam created the pro-democracy news website Bahrain Online, the island's first free Internet forum for political and social debate, becoming a pivotal architect of his country's political blogosphere. Because of this, and his related efforts to promote human rights in his country, Abdulemam was detained numerous times by the Bahraini authorities -- eventually imprisoned in September 2010 along with 25 other human-rights activists for "spreading false information" and defaming the king -- and subjected to interrogation, beatings, and torture. Despite being blocked by regime censors, Bahrain Online still regularly gets more than 100,000 hits a day.
In February of 2011 Abdulemam accepted an invitation from the Human Rights Foundation (HRF, OFF's parent organization) to give a talk on dissent in Bahrain. Two weeks later, amid massive anti-government protests, he sent a cryptic tweet and abruptly disappeared. Three days after that, police ransacked his house. In June of 2011, Abdulemam was tried in absentia by a military court and sentenced to 15 years in prison for "plotting" an anti-government "coup."
In 2012, with Abdulemam's whereabouts still unknown, his wife was invited to the Oslo Freedom Forum but was unable to attend because of family commitments. This year, in close cooperation with another organization, HRF took a much more aggressive approach: planning Abdulemam's escape from Bahrain.
On a number of previous occasions, Human Rights Foundation personnel had gone to extensive lengths to obtain testimony for OFF from people who try to challenge arbitrary power and dictatorship through non-violence advocacy and empirical data. In 2010, HRF representatives traveled to Cuba with hidden camera equipment and were able to obtain the testimony of celebrated blogger Yoani Sanchez and the Ladies in White dissident movement. OFF personnel also traveled to Vietnam to visit persecuted Buddhist monk Thich Quang Do. They snuck into the Saigon monastery where he remains under house arrest and captured Thich's thoughts on democracy, human rights, and the intolerance of the Vietnamese regime. The Vietnamese authorities intercepted one HRF staff member, who was arrested and severely beaten by their intelligence police, but the digital recording of the monk's testimony made it safely to Oslo. Why not now help Abdulemam escape Bahrain, where the authorities had instituted a permanent manhunt for him?
Here's how we hatched a scheme to get Ali Abdulemam out of Bahrain -- and learned again how even the best laid-plans can be overtaken by random luck:
We consulted with Nasser Wedaddy, a Muslim human-rights advocate working at the Boston-based American Islamic Congress (AIC). Wedaddy was the man who had first alerted Abdulemam when the crackdown started in Bahrain, literally waking Abdulemam up in the middle of the night and asking him to go into hiding immediately. Abdulemam knew to pay attention because Wedaddy had led the noisiest campaign of pre-Arab Spring uprisings to pressure for Abdulemam's release after his previous arrest in September 2010.
My next call was to John Peder Egeneas, Secretary General of Amnesty International in Norway. Egeneas was categorical: After Chen Guancheng's escape from house arrest in China, it's the duty of human rights advocates to assist and participate in action like this. If it worked in China, why not in Bahrain?
Together with other human rights groups, we determined that the escape would have to rely on non-violence and could only be accomplished with the tools of public exposure and creativity. We immediately agreed that all communications and calls between us would have to be encrypted, and that we would have to create aliases for everything. Ali became "Bjørn" and Bahrain became "Fiji."
So how do you escape from a repressive island kingdom surrounded by Iraq in the North, Iran in the East and Bahrain-ally Saudi Arabia in the West. One initial idea was a "party" yacht that would dock in Bahrain, surreptitiously pick up Abdulemam, and slowly make its way to Iraq. Unfortunately, voyages like that aren't common, and the risk of being picked up by a Saudi -- or worse, an Iranian -- patrol boat was too great.
A land escape was not an option, given that from Bahrain, Abdulemam would have to enter Saudi Arabia along a narrow causeway carefully guarded by Gulf Cooperation Council police and troops. Not only that, the Saudi dictatorship would consider Abdulemam a valuable gift to their allies in Bahrain.
In the end, the most outlandish plan was the one approved by a member of Denmark's Jaeger Corps, the elite Special Forces unit who volunteered to consult on the project. Over dinner in New York, the Jaeger Corpsman agreed with a plan in which the Bahrainis themselves would serve an unknowing role in Abdulemam's escape. We would try to find a way in which the monarchy's authorities would treat our rescue team as VIPs and untouchable guests.
A Los Angeles-based artist, Tyler Ramsey, agreed to operate as the cover during the Bahrain trip. Famous for his drip-paint technique and for decorating 50,000 Toms Shoes in his signature style, Ramsey would go to Bahrain and do what he does best: performance art. "Make sure I don't end up in a jail cell," he told us.
The plan was that a member of our crew would switch places with Abdulemam at a fast food restaurant, and we would depart on a private plane from an airport runway usually reserved for VIPs. Ramsey's entourage would include two Abdulemam lookalikes. The TV host and HRF correspondent Elizabeth Chambers would also join the crew as a faux correspondent for Ramsey, knowing how to juggle the circus environment we sought to create while keeping the maneuver on point.
Our precedent for a high-profile visit was Kim Kardashian's ridiculous trip to Bahrain , in which she generated worldwide publicity for the regime, calling it "the prettiest place on earth" and declaring her love for the kingdom. Bahrain is desperate for as much "normal" celebrity activity as possible and will bend over backward for anyone visiting the country who doesn't mouth any concern about human-rights violations.
We were hoping to sneak Abdulemam out of the country in plain view and with the cooperation of his would-be captors. Meanwhile, a lookalike would stay behind with me in Bahrain, and we would leave on a commercial airliner with a duplicate passport.
We reserved a chartered jet to fly us from Cyprus's Larnaca airport to Bahrain and to fly our faux celebrity team back to Cyprus. The visit to Bahrain would take three days, and the switch would happen in a fast-food eatery on the way to the departure plane. We would invite Abdulemam to switch clothes with his double and allow us to perform some minor aesthetic transformations to make him pass muster at the airport. In Bahrain, people on private planes and in a VIP delegation don't get their fingerprints scanned or subjected to interviews. They simply go from limo to jet without pesky security checks.
But then, 14 hours before the operation was to be set in motion, as a team member was headed to the airport, Wedaddy, Abdulemam's only conduit in the past two years, sent an urgent text from his hotel in Tunisia: "Abort plan, Bjorn has left Fiji."
As luck would have it, Abdulemam was given a "now or never" chance by someone in Bahrain to exit through Saudi Arabia in a car with a secret compartment. Passport control did not inspect the car. From Saudi, he went to Kuwait by land through a sparsely patrolled area, where fishermen smuggled Abdulemam into Iraq by sea. From a port near Basra, he traveled to Najaf, where he took an Iraqi Airways flight to connect and eventually arrive in London.
Abdulemam then traveled to the United Kingdom where, to its enormous credit, the British government speedily provided him with asylum less than two weeks ago. And in record time, Home Secretary Theresa May allowed him the travel document permitting him to join us at the Oslo Freedom Forum this coming week. As of this writing, Abdulelam's wife and children are still in Bahrain and, given Abdulemam's asylum in the U.K., will seek to exit Bahrain and join him in London. After the Oslo Freedom Forum, Abdulemam will go to Copenhagen to attend an award ceremony at CEPOS, organized by the eponymous Danish think-tank, to receive their Freedom Award. The prize money will help Abdulemam's family settle into a new life in the U.K.