Discovered: A Cave Art Complex That Could Be the Lascaux of Mexico
The paintings feature humans and lizards and centipedes, and could be 8,000 years old.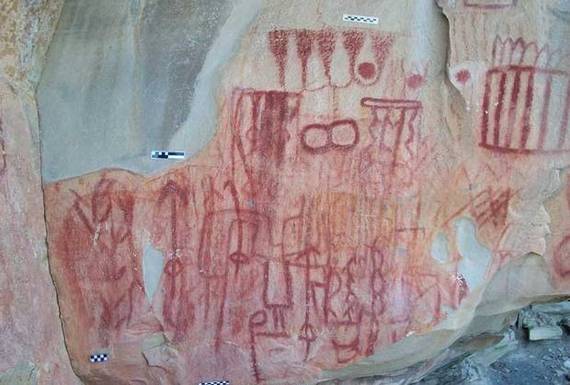 Mexican National Institute of Anthropology
In 1940, an 18-year-old apprentice mechanic named Marcel Ravidat was walking with three friends and a dog named Robot in the woods near Montignac, France. Ravidat happened upon a hole that happened to lead, Alice in Wonderland-like, to an underground cave. And that cave, it happened, was the home of some 600 paintings and 1,500 engravings, the work of humans who lived some 17,000 years ago. The caves' walls were the craggy canvases for humanity's oldest known experiments with art.
We may have another Lascaux on our hands. Only this one is set in Mexico. Archaeologists just announced that they've uncovered nearly 5,000 cave paintings at 11 different sites in the Sierra de San Carlos, a mountain range in the state of Tamaulipas. The paintings, which are striking in their vividness, are thought to be the work of hunter-gatherers who traveled the area in their wanderings. The artwork has not yet been dated, but the Tamaulipas region overall, archaeologists believe, was occupied by nomadic tribes as early as 6000 BC -- so there's a chance the paintings could be some 8,000 years old.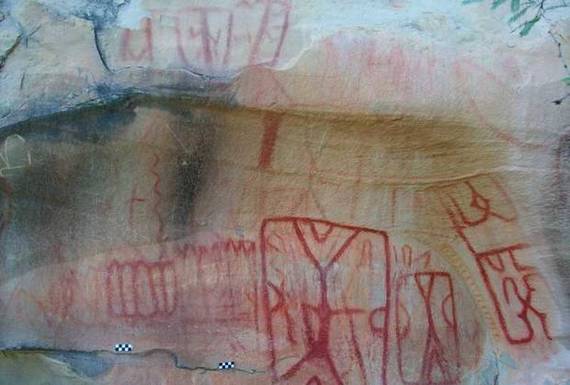 Mexican National Institute of Anthropology
The paintings depict humans, as well as animals (deer and lizards and, delightfully, centipedes).  They depict weapons used in the hunt. They depict seemingly abstract scenes. They depict skyscapes. They hint at their painters' concepts of religion and astronomy. And they do all this in bright shades of red and yellow and black and white -- the products of organic dyes and minerals that have proven remarkably long-lasting. "The paintings," io9's George Dvorsky put it, "are offering an unprecedented glimpse into [Mexico's] pre-Hispanic culture and life, including depictions of hunting, fishing, and gathering."
Indeed. One cave alone contains some 1,550 different scenes.
The paintings, archaeologists say, were likely produced by at least three distinct groups of hunter-gatherers in the region. Which is a remarkable estimation on its own, since, prior to their discovery, archaeologists didn't believe that pre-Hispanic people would have lived in the mountainous area. "Before it was said that there was nothing," archaeologist Gustavo Ramírez, of the Mexican National Institute of Anthropology and History, said of the region, "when in fact it was inhabited by one or more cultures."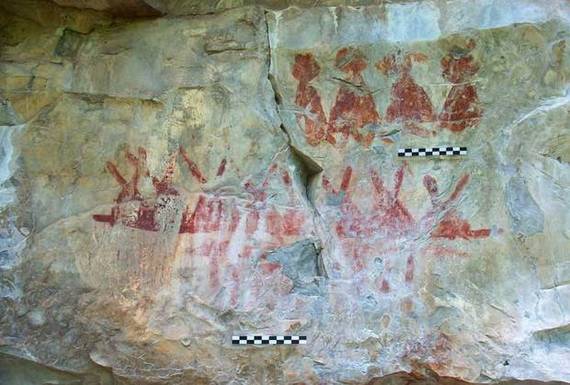 Mexican National Institute of Anthropology
The paintings should offer valuable insight into those cultures -- in part because they seem to be the only evidence that the cultures have left behind. "We have not found any ancient objects linked to the context," Ramírez explained: the pottery and bones and other objects that form the detritus of civilization are, in this case, missing. "And because the paintings are on ravine walls and in the rainy season the sediments are washed away, all we have is gravel."
Gravel, that is, and awesome, vaguely impressionistic cave paintings. And also, just as importantly, we have the dyes and minerals used to make the paint itself. Now that the discovery of the caves has been announced, the archaeologists will perform a chemical analysis to determine the exact components of the colors that cling to the rocks. And from there, they hope, they'll be able to figure out just how long ago it was that some ancient human, roaming the mountains of Mexico, took sight of a centipede and decided to turn it into art.
Mexican National Institute of Anthropology