Democracy's Surprisingly Low Approval Rating in Pakistan
What the country's changing demographics mean for its upcoming election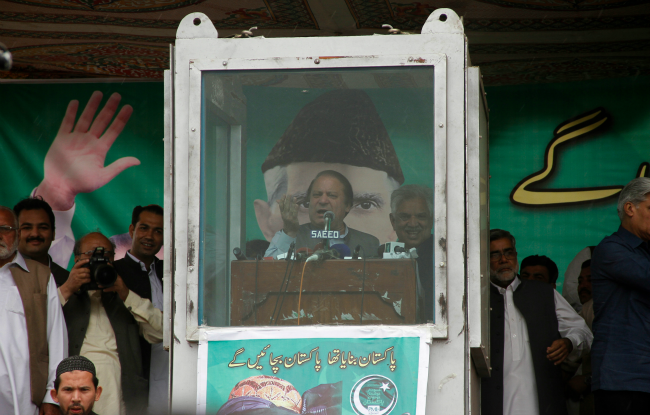 On May 11, Pakistanis will head to the polls to elect a government for the next five years. For a country that has struggled to maintain democracy, and one that has been governed by military regimes for the majority of its history, Saturday will be an historic and important event. Adding to the significance is that Pakistanis are overwhelmingly unhappy with the state of affairs in their country- a poll released by the Pew Research Center this week shows that a startling 91 percent of Pakistanis are dissatisfied with the way things are going. Saturday's election is not merely symbolic -- it's one of practical importance for Pakistani lives and the future of democracy as a political institution.
The last five years under the Pakistan People's Party, led by President Asif Ali Zardari, have been mediocre. Despite shortcomings in policy, the outgoing government was the first in the country's history to complete its entire term in office -- a big thing for Pakistan, as all previous governments have seen their administrations truncated by military coups or resignation over an inability to govern. Historical significance aside, Zardari's government leaves office battered in public opinion polls, as Zardari himself garners an 81 percent unfavorable rating, and just 24 percent of Pakistanis believe the national government itself has a good influence on the country.
Disappointment in the outgoing government is understandable. The past five years have seen the country fall apart in many respects, even from a strictly domestic perspective. Energy shortages have crippled Pakistan, corruption has been rampant in the highest levels of government, protection for minority rights has been dismissed by the current administration, inflation has consistently been in the 12 to 15 percent range, and nearly a quarter of the country finds itself unemployed.
Further, crime, violence, and terrorism have reached new levels over the past five years. The government has proven to be incredibly ineffective in disrupting extremists groups, as militants have wreaked havoc in Pakistan over the past five years.
Since 2008, over 17,000 civilians and security officials
have been killed in terrorist attacks, including 1500 so far this year alone. Just about every group of Pakistanis has been targeted in violence, from politicians, to minorities, to various ethnic groups. 93 percent of Pakistanis say that terrorism is a very big problem, and security concerns will play a pivotal role in deciding who will take over the helm of Pakistani leadership. The outgoing government has come under fire for standing on the sidelines, including earlier this year when attacks against various Shiite communities took the lives of hundreds.
Under this backdrop, Pakistanis have grown frustrated with the direction of their country and have accordingly lost faith in their democratic leaders and institutions. While only 24 percent of Pakistanis believe the national government has a good influence on the country, 69 percent believe that religious leaders have a good influence, and an overwhelming 79 percent say the same about the military. After a number of embarrassing incidents for the military over the past few years -- including the security collapse at the Mehran Naval Base and the Bin Laden raid -- not to mention the wide unpopularity of the country's last military dictator, Pervez Musharraf, the high marks for the armed forces are telling about the mood among Pakistanis.
That mood, especially amongst young people, may translate to bad news for proponents of democracy if things do not change soon -- more than two-thirds of Pakistanis are under the age of 30, and most of them are wary of the benefits of a democratic government. In a study conducted by the British Council Pakistan earlier this year, only 23 percent of Pakistanis between the ages of 18 and 29 say that democracy has been good for the country, and just 29 percent think it is the best political system. Conversely, military rule and Islamic Sharia score high among young people -- as 32 percent and 38 percent, respectively, find these to be better political alternatives.
While young Pakistanis certainly have not given up on democracy, these numbers do indicate limited patience with the next elected government. The country has changed significantly since Musharraf's administration, and a military takeover of the government is highly unlikely. But a lack of progress from the next civilian government may result in calls for a stronger military presence in domestic affairs, especially as young Pakistanis, who favor the military over the national government, come of age and increasingly express their political opinions.
What is remarkable about these views is that many of Pakistan's struggles are rooted in policies established by the military. The proliferation of Islamic militant groups, which now wreak havoc on a daily basis, was instituted by the military as a measure to counteract India in Kashmir. The marginalization of minorities, which today has paralyzed just about every community, Muslims and non-Muslims alike, was exacerbated by former dictator General Zia ul-Huq's fixation on ostracizing the Ahmadi community -- a policy that has now been written into the country's constitution. And the underdevelopment of Pakistan's public service infrastructure, from education to healthcare, can be partly attributed to its underinvestment in public goods in favor of funding the military well beyond required levels. The country is feeling the effects of these policies, which were administered for decades, still today.
Pakistan needs a strong civilian democratic government that addresses the needs of its people in order to circumvent further regional uncertainty. The people are losing faith in the national government while holding onto their belief in Pakistan's historic power, the military. A military government is improbable, but a stronger military presence in governing is practical, which will undoubtedly complicate politics in Pakistan even further. If the next civilian government is unable to correct problems that have pestered the country for the last five years, attitudes towards democracy may sour even further, creating an even more precarious outlook for Pakistan's future.