Amid Ethnic Tension in Turkey, Some Syrian Refugees Return to a War Zone
This week's car bombing intensified resentment among Turks who want Syrian refugees gone. And some Syrians are taking them up on it.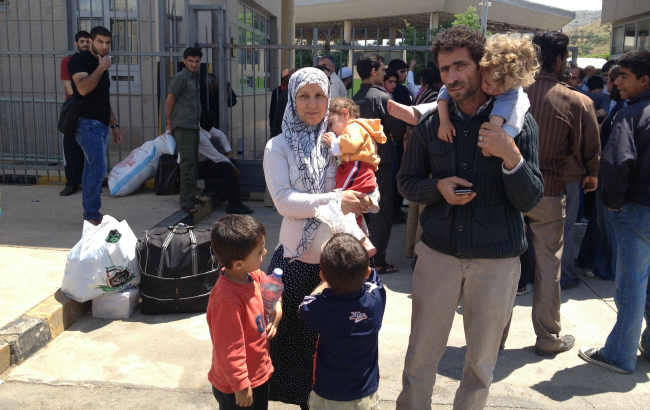 REYHANLI, Turkey--"We are afraid to go back to Aleppo--Aleppo is dangerous!--but we can't stay here because the people of Reyhanli kicked us out," said Muhamed al-Mar, a Syrian refugee, as he and his family waited to be allowed back into Syria through the Bab al Hawa gate Tuesday.
In the wake of two car bombs that rocked the border town of Reyhanli and shut down the border gate 6 miles away on Saturday, Syrian refugees became easy targets for the resentment of anxious neighbors searching for answers. "'Get out! We don't want any more problems here,'" al-Mar recalled hearing as his Turkish relatives drove him of the city.
Many Syrian families in Reyhanli have chosen to leave for Syria in the hopes of escaping the intense anti-Syrian sentiment in the town.
The timing couldn't have been worse for al-Mar's family, though, as he and his wife are expecting a fifth child in the next month, an addition to their already hectic household of children (ages 2, 3, 4, and 5.) When they finally reached Bab al Hawa, they realized they had another problem: since they had escaped from Syria illegally without passports, their return to Syria was up to the discretion of Turkish border security. On Tuesday, the al-Mar family was finally waved through: free to go back to their home in the dangerous Salahaddin neighborhood of Aleppo.
Many Syrian families in Reyhanli have chosen to leave for Syria in the hopes of escaping the intense anti-Syrian sentiment in the town.
"We are leaving for 10 days to get away from the stress," said Zakaria, another Syrian refugee, as police officers hurried him and his family to a car. As a policeman opened the door for Zakaria's wife and kids, a group of Turks gathered around the scene, yelling at the cop for helping the refugees, and shouting at the family to "Go away!" After the car had sped away one of the Turks justified his actions, saying, "Turkish people never hit a child or woman. Syrian people do that," adding that all Syrians should just "go home."
Meanwhile, Abu Hussein, a Syrian refugee who witnessed this scene, said he had been targeted by Turkish people himself a few days earlier. His driver seat window had been completely shattered and his windshield bore two holes from rocks thrown at his car -- presumably, he says, because it bore a Syrian license plate. Now he keeps his car hidden from sight, hoping that if he stays out of sight long enough it will all blow over.
While the situation has simmered down much since the immediate aftermath of the attack on Saturday, and direct attacks on Syrian refugees themselves seem to have stopped, the animosity between Syrians and Turks within the city is still very real.
Zakaria Labidi, head of a local Syrian relief agency in Reyhanli, confirmed that "many" Syrians in the city had opted to make the return trip, especially after Turkish opposition groups organized protests on Monday morning. As early as noon on Tuesday--the first day Bab al Hawa was open since the blast--about 100 people had already crossed back into Syria, with a steadily growing crowd still waiting to cross. How many of these people left Reyhanli because of the ethnic tension is not known.
Some of the most harrowing border crossings were by those leaving to bury family members who had died in Saturday's bombing in their homeland.
According to Labidi, the bodies of Syrian refugees had been given priority by the Turkish government, and were allowed to pass through Bab al Hawa while the gate was closed. For the bodies to leave Turkey for Syria, he said, they had to first be examined by a doctor and then would be allowed to cross the border. While Labidi's organization can confirm that some of the bodies had indeed been returned, he had no idea how many had taken this route, or the whereabouts of all the bodies
Meanwhile, on Friday, as Turkish Prime Minister Recep Tayyip Erdogan visited President Barack Obama in Washington, D.C., Turkish President Abdullah Gül visited Turkish families that had lost relatives in Saturday's blast. He did not visit any Syrian families. While anti-government sentiment was still high among some in Reyhanli, the atmosphere Friday was rather patriotic. Turkish flags lined the city streets, and families whose lives had been rocked by the blast had nothing but positive things to say about the government.
"I love the government. All people love the president here," said Ishmael, who had lost a cousin in the blast, and, eyeing the security forces all around him, emphasized again that, "We love our government."