A Bombing and a Graduation in Afghanistan
Two events a day apart offered contrasting glimpses of Afghanistan. Which way will the country go when U.S. forces depart after 2014?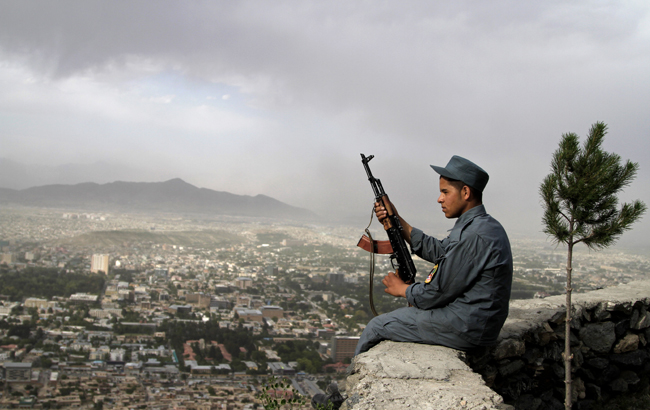 KABUL, AFGHANISTAN -- There's little doubt an insurgent attack here last Friday reaffirmed to Americans that, more than 12 years after the U.S.-led war began in this country, Afghanistan appears immune to progress. The next day, however, brought an uplifting riposte in the simple form of a college graduation ceremony. I can guess which occasion you heard about.
I witnessed both events unfold, and to admit the obvious, the siege offered a more dramatic spectacle. After a suicide bomber driving a car laden with explosives detonated his cargo outside the compound of a foreign aid agency, five accomplices traded gunfire with Afghan security forces for several hours. Amid the staccato report of automatic rifles, the assailants shot rocket-propelled grenades, sending plumes of gray smoke drifting over city streets as empty as those in "The Walking Dead."
The assault in the capital's heavily guarded central district killed four people and wounded 14. The five gunmen were ventilated with bullets until they stopped breathing. If Westerners happened to catch the news, they likely reacted with succinct indifference: Oh. Again..
Their disregard is neither surprising nor entirely unjustified. The war has been long, Afghanistan is far away, and the prospects for peace remain opaque. Meanwhile, as evidenced by the recent Boston Marathon bombings and the mass shootings in Newtown and Aurora, plenty of threats exist on American soil.
Yet to the extent that media coverage shades public perception, Afghanistan, viewed mostly through the lens of bloodshed, resembles a feral state, intractable and bereft of hope, its culture in ruins, its people typecast as either militant extremists or saucer-eyed bystanders to the carnage. The graduation ceremony, while organized in a manner that didn't ignore the country's uncertain security, presented a brighter scenario, one that suggests there may be cause for tempered optimism.
The American University of Afghanistan, or AUAF, opened in 2006, and its third graduating class consisted of 129 students, including the school's first batch of master's recipients. They assembled Saturday morning outside the International Center for Afghan Women's Economic Development, a newly christened building on the university's grounds. School officials tout the $5 million facility, funded with a grant from the U.S. Department of Defense, as a future training hub and business incubator for women entrepreneurs.
Students and their families and friends passed through a pair of checkpoints after stepping inside the walled campus; at one, a bomb-sniffing German shepherd poked his nose into bags. A handful of plain-clothed, thick-necked security personnel milled among the audience, earpieces giving them away, as a smattering of uniformed Afghan security officers lingered at a remove.
The safety measures had no apparent effect on the crowd's buoyant mood. As the processional began, the soon-to-be alumni entered beaming, moving toward their seats as supporters unholstered smart phones to shoot photos. Toddlers slalomed among the tall people and their fluttering graduation gowns. Parents and grandparents smiled through tears of pride.
The good cheer survived two rain delays, and during one break, I spoke with Ryan Crocker, a former U.S. ambassador to Afghanistan who retired last summer after almost 40 years as a diplomat. He had returned to the country to give the commencement address, and he assessed the graduates in the wider context of their fellow Afghan Millennials.
"This is a generation that the country has never seen--they're tuned in, wired up, switched on," said Crocker, who during his career also served as ambassador to Iraq, Kuwait, Lebanon, Pakistan, and Syria.
"They could not be more different from, certainly, the Taliban, but also their parents' generation. They dislike the warlords" -- the tribal chieftains who wield outsize influence across the country -- "as much as they dislike the Taliban. They itch for today, and they're going to be running this country."
For the event, the 63-year-old Crocker had donned a black robe but not rose-colored glasses. Referring to the previous day's attack, he called the ability of insurgents to penetrate the city's core "a problem that has to be addressed." More broadly, he warned that without sustained U.S. political and economic support after 2014, when most of the remaining American troops will leave the country, Afghanistan could relapse into the turmoil of the early 1990s that spawned the Taliban's rise.
"But I think often the narrative of Afghanistan [in America] is inward-looking," he said. "Americans are tired of overseas commitments, there's a recession, they don't want to do this kind of thing anymore. That doesn't reflect the attitudes of this generation of Afghans and how they envision their future."
Zia Navin, one of the 20 graduate students who picked up a master of business administration, favors the country's imperfect present over its anarchic recent past. The Kabul native lost a brother and sister in the civil war that racked Afghanistan following the Soviet Union's withdrawal in 1989 after its abortive, decade-long occupation of the country.
"We are not only having fighting and suicide attacks. But that is what people see in the media outside Afghanistan," he said. "Here, we know there is a new generation that will lead peacefully in the future."
The first member of his family to attend college or graduate school, Navin, 30, aspires to launch a fast-food chain that will provide jobs in a country where the unemployment rate hovers around 40 percent. He considers college the most potent long-range weapon against the insurgency.
"The only way to change Afghanistan is to educate people so they don't commit attacks that kill innocent people," he said. "The more people learn, the more they will understand the Taliban is trying to destroy us."
Since AUAF's founding seven years ago, the student body has swelled from 53 to more than 1,700, roughly one-third of them women. Officials at the nonprofit university expect enrollment to reach 5,000 to 6,000 in another decade, with the campus expanding on a recently acquired 80-acre plot of land. After receiving more than $50 million from the U.S. government and millions more from private donors, the school is edging toward self-sufficiency, generating 40 percent of its own funding.
"You don't hear about this successful story of Afghanistan," said former Afghan foreign minister Abdullah Abdullah, who attended the graduation. Abdullah, who finished second to incumbent Hamid Karzai in the 2009 presidential race, has been rumored as a potential candidate in next year's election, and to many observers, he offers the country's best chance to create a new approach to national politics and policy.
"We are ready to shoulder more of the responsibility for Afghanistan, and it is students like these who will help us go forward," he said. "They can make the difference."
With the ceremony over, the gathering retreated to a small field behind the women's center for a buffet lunch. Groups of young men corralled new graduates to toss them in the air and catch them before they hit the ground. The sun had come out. Laughter reigned.
Watching the revelry, Abdul Ghani Popal clutched to his chest the padded blue folder that held his bachelor's degree. "It is important for us to learn from our past," said Popal, 24, who grew up in Kandahar province, the Taliban's spiritual birthplace. "But today is a new day."
He talked above a happier clamor than what I heard a day earlier while walking toward the scene of the insurgent attack. Two blocks from the gunfire and explosions, I passed a storefront and noticed a cluster of men behind its closed metal gate. They appeared to be waiting for the chaos to subside, caged within their own city.
Down the street, I encountered a man named Samiullah Safi, who stood outside his deserted shoe shop. "Business is good until the bombing," he said. "Then people go like this." He made a plunging motion with his hand: they had dove to the floor.
I asked whether he thought the Taliban would ever let his country live in peace. "They are no good," he said. "They always fight. But we are strong."
Less than 24 hours later, Crocker emphasized a similar theme of resolve at the close of his speech to AUAF's graduates. "You have been given a world-class education," he told them. "What you must give in return is the energy and commitment to create a new Afghanistan, an Afghanistan in which the dark days of the past remain forever buried there."
If those days have yet to end, it is wrong to assume that violence persists because the country's people are mere bystanders. Americans are weary of war for valid reasons. But they are not anywhere as weary of war as a new generation of Afghans who have known little else in their lifetime, and who now seek to cast off the ravages of history.