Zambia's Anti-Gay Obsession Is Worsening Its HIV Epidemic
One prominent traditional chief recently called for "gay people to be caged."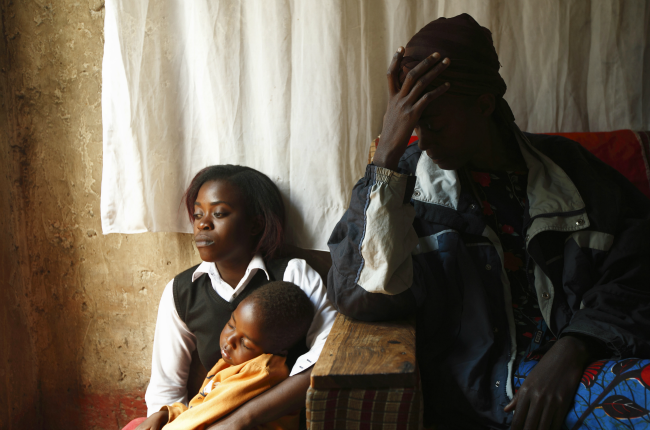 One of Africa's leading human rights activists was arrested on April 7 after appearing on live television -- when police officers reportedly "stormed the station" and "tried to stop the interview," reports The Guardian and BBC. Paul Kasonkomona's crime: "Inciting the public to take part in indecent activities." Kasonkomona called on the government to decriminalize same-sex relations on live television.
Welcome to Zambia, the landlocked southern African nation slightly larger than Texas. Zambia boasts vast mineral wealth but remains "one of thepoorest and least developed nations on earth."Human rights are also a significant problem. Zambia is one of at least 37 of 54 African nations that prohibit same-sex relations -- and it "is among the more hostile political climates," adds The Guardian. All consensual adult same-sex acts are criminalized, and convictions are harsh -- a minimum sentence of 15 years in prison. Zambia does not permit the advocacy of rights for its besieged lesbian, gay, bisexual, and transgender community. South Africa is the only African nation that offers legal protections for gays and same-sex marriage.
Kasonkomona was held for four days, pleaded not guilty, and was released on bail on Thursday, April 11. The case comes at the same there has been " a frightening increase in violations of LGBT people's rights " in Zambia, according to one human rights group. The openly gay and HIV positive activist says police denied him access to "his tuberculosis and antiretroviral drugs [and] put his life at risk." Kasonkomona's plight illustrates the deeply religious and conservative nation's obsessive anti-gay animus -- which is complicating its fight against HIV/AIDS.
Sub-Saharan Africa is home to two-thirds of all people living with HIV/AIDS. Zambia in particular has the misfortune of being home to " one of the world's most devastating HIV and AIDS epidemics," reports the advocacy group AVERT:
"More than one in every seven adults in the country is living with HIVand life expectancy at birth has fallen to just 49 years. ... Overall HIV prevalence was 13.5 percent [and] has been reported as high as 25 percent in some urban areas. ... Unlike in some countries, HIV in Zambia does not primarily affect the most underprivileged. Infection rates are very high among wealthier people and the better educated."
The "devastating epidemic" has become a significant obstacle to Zambia's economic development. The loss of workers and production hours, especially around agriculture, has increased "stubbornly high poverty rates" and food insecurity, reports the Central Intelligence Agency.
To complicate matters: Some researchers believe Zambia -- and other African nations -- is home to an escalating and often untreated HIV epidemic among gay and bisexual men. Few epidemiological studies have been conducted among gay and bisexual men in Africa thanks to the widespread criminalization of same-sex acts across the continent. But infection rates are often two to three times the general population, "and in Zambia, a 2006 study revealed a self-reported HIV prevalence of 33 percent" among gay and bi men, reports PEPFAR, the President's Emergency Plan for AIDS Relief.
Another study found that 50 percent of men "reported having sex with both men and women in the last twelve months" and at least nine out of 10 "do not know condoms are used in anal sex. The data suggests sex between men [is] at the core of HIV transmission in many Zambian contexts."
The Zambian National HIV and AIDS Strategic Plan does not include include gay and bisexual men -- or men in prisons, who are "at serious risk of drug-resistant TB and HIV infection," reports Human Rights Watch.
Former Presidents Kenneth Kaunda of Zambia and Festus Mogae of Botswana have called for the decriminalization of sodomy statutes across Africa. The harsh penalties encourage anti-gay sentiment and dissuade gay men who are HIV positive against seeking treatment, said the former presidents.
"We're going to have to include these men sooner or later," an official with the Zambia Ministry of Health told me during a presentation at the 2011 International Conference on AIDS and STIs in Africa, which was held in Addis Ababa, Ethiopia. "It makes perfect sense from a public health perspective--but the politicians and clergy are opposed."
That would be an understatement. Recent months have seen an escalation in anti-gay rhetoric across Africa, particularly in Zambia. Two weeks ago, a prominent traditional chief called on "gay people [to] be caged," reports theZambia Daily Mail. Only days before, a police spokesperson announced that "homosexuality is a serious offence and [appealed] to members of the public to report anyone involved in it to the nearest police station." Former Vice President George Kunda made a similar plea in 2009.
In March 2011, clergy and politicians in Zambia threatened to campaign against Michael Sata -- formerly leader of the opposition Patriotic Front -- after he initially indicated a softened position on gay rights. Sata later won the presidency in September 2011. Sata's government has "acknowledged" that gay men are a "vulnerable risk group for HIV/AIDS"--but don't expect any major changes in the near future.
Zambia is a devoutly Christian nation. Evangelical and Pentecostal denominations have exploded on the continent--particularly in Malawi, Nigeria, Uganda and Zambia. Churches across Africa have opposed condom use and distribution . Some Zambian government officials have even publicly criticized condom use. "I don't believe in condoms because it is a sign of weak morals on the part of the user," former President Frederick Chiluba infamously said in 2001.
Some pastors have gone even further. "A trend is emerging in southern Zambia of preachers claiming to be able to cure HIV/AIDS and telling followers to stop taking medication to prove their faith," Think Africa Press reported this week. This new trend is particularly worrisome because only an estimated seven out of 10 people in Zambia needing antiretroviral treatment have access to the life-saving meds.
The ailing human rights and HIV/AIDS activist Paul Kasonkomona was finally allowed access to his medications after four days of jail. His trial "for promoting indecency" is due to start on May 15 and will be closely monitored by gay activists across the continent. Meanwhile, Zambia will see an estimated 200 new HIV cases per day. Priorities, priorities.