Why Washington and Moscow Still Don't Trust Each Other
I left the USSR in 1991. Going back showed that Cold War stereotypes don't fade -- even with time.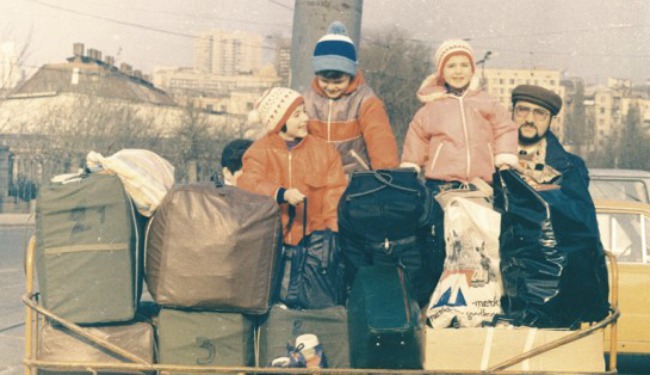 MOSCOW--The last time I was at Sheremetyevo International Airport, I arrived early for my flight, inched through a five-hour customs line, and napped on an inflatable mattress. It was March 1991, I was 3 years old, and my family had made the difficult decision to leave our home in the Soviet Union and move to America to escape the political and economic instability of the USSR, anti-Semitism, and the fallout from the Chernobyl nuclear accident not too far from our hometown of Kiev. Now, nearly 22 years later, I was at Sheremetyevo airport again, dark-blue American passport in hand, going the other way through customs. It was my first time in Moscow since 1991.
Back then, as a toddler, I didn't even have my own passport. I was a handwritten entry on my mother's Soviet one: "In conjunction with: daughter, Olga, 1987." It was a period of mass migration, and everyone in the country, from government officials to thieves, was using this moment to take advantage of emigrants. As advised, my parents hired a mafia van to take us to the airport and protect us from the robbers targeting emigrants, who traveled with all of their most valuable possessions. We were allowed to leave with only two suitcases and $150 per person; customs officers seized anything else that looked valuable, including two of four anniversary silver spoons, handed down in my family for generations, and several collectors' ruble coins from my older sister's wallet. The USSR dissolved nine months later.
This time, it's 2012, and I'm returning as an American journalist, much to the consternation of my parents and their friends, who bombarded me with admonishments: Don't get into gypsy cabs. Keep a low profile. Don't write anything political. Don't talk to strangers. By way of exhorting me to dress warmly, my mother even sent along a Wikipedia article about how many military invasions had faltered during the long Russian winter. And, anyway, why would I go back to a country they had given up so much--family, friends, possessions--to escape?
The occasion was a bilateral journalism exchange, sponsored by the Knight Foundation, designed to smash stereotypes for the 12 reporters from each country. Surely, after all this time, the people of these two great nations should realize just how little divides them--and then, perhaps, their governments could follow suit? America is not a nation of materialistic cowboys and fat, ignorant imperialists; Russia is not the arctic criminal melodrama depicted in James Bond films or etched into my parents' memories. Bears do not wander the streets here. Gypsy cabs and strangers aren't so bad.
But my prodigal return did not always go the way the organizers had hoped. Despite a fabulous swap of ideas with our Russian counterparts, the trip failed to disabuse of us certain notions. The early-winter freeze was, in fact, nearly intolerable; my colleagues and I were regularly offered vodka at all hours of the day. More broadly, though, the two nations are not really any closer to understanding each other. The Cold War may seem like a distant memory for Americans, but it feels much closer here. A deep cultural and political chasm still separates the two nations, and the official declaration of a diplomatic "reset" is not going to bridge it. We'd come to dispel the stereotypes, but the trip confirmed some of the worst ones.
***
In 2009, President Obama had vowed to improve relations strained during the Bush era by the U.S. invasion of Iraq, Russia's invasion of Georgia, and disagreements over missile defense. Obama and then-President Dmitri Medvedev promised a "fresh start" that would "move beyond Cold War mentalities." Secretary of State Hillary Rodham Clinton and her counterpart, Sergey Lavrov, pressed the infamous red, plastic "reset" button. They agreed on a New START pact, promised to cooperate on Iran and Afghanistan, and pledged to get Russia into the World Trade Organization.
The good feelings began to sour in the fall of fall 2011, when Vladimir Putin announced that he was ready to return to the presidency. He campaigned on an anti-American, anti-Western platform, accusing foreign powers ("Judas," in his telling) of meddling in Russia's internal affairs and funding opposition groups. "It would be better if they used this money to pay off their national debt and stop conducting an ineffective and costly foreign policy," he said before a return to power that will probably keep him in office until 2024. Washington's response to Putin's election was subdued: "The United States congratulates the Russian people on the completion of the presidential elections," State Department spokeswoman Victoria Nuland said in a statement. Then Putin snubbed Obama by opting out of a Group of Eight summit at Camp David. His first state visit was to China.
A month later, in June 2012, Putin signed a bill tightening control over foreign-funded NGOs, branding them as "foreign agents." In September, the Kremlin ordered the U.S. Agency for International Development out of Moscow, saying it had meddled in Russia's internal politics. In October, it said it would not renew its 20-year nuclear-disarmament pact with the United States, the Nunn-Lugar Cooperative Threat Reduction Program, which is set to expire this spring. Meanwhile, members of Congress were mulling a bill targeting human-rights violators in Russia, which Obama eventually signed in October, and the countries divided over Syria's civil war. (Russian officials see Americans as buttinskies.) When I arrived in Moscow in late November, most experts were already declaring the reset's demise. "As for the 'reset,' " Putin said at his annual marathon press conference in December, which I sat through for four and a half hours, "this is not a term we use."
By the time I returned to the United States, around Christmas, Putin was readying Russia's response to the U.S. human-rights measure. Named after Sergei Magnitsky, a Russian lawyer who died in prison in 2009, the law set travel and financial restrictions on Russian human-rights violators. Moscow's answer parallels the Magnitsky legislation by sanctioning U.S. citizens involved in human-rights violations against Russian citizens, banning them from entering Russia and freezing their Russian assets and investments. On top of that, the measure suspends the activities of nonprofit organizations that receive money from the United States and bars Americans from adopting Russian children. Russians see Washington's Magnitsky law as a political move, and they accuse the U.S. of casting the first stone. Americans see the Russian response in much the same way--as pure politics.
***
On the day my family left Moscow in 1991, we drove to the airport at 4 a.m., yet we still passed a long bread line on a snowy street. My mother looked out the van window, sanguine she would never see something like that again. In California, she never did. But 13 years later, during a visit to modern Russia, she found herself in another endless line. The hot summer sun beat down on us as my family stood with other obedient foreign tourists waiting patiently to enter the amber room at Catherine the Great's Tsarskoye Selo palace on the outskirts of St. Petersburg. Then something snapped in my mother. She remembered where she was. She grabbed some dollar bills, and after a short "conversation" with the guards, we had an exclusive tour of the palace. In Russia, some things never change.
Small reminders of corruption are still sprinkled everywhere, because at this point the graft is a way of life. During my visit, my American colleagues and I wanted to see the Bolshoi Ballet. One day, a fellow reporter e-mailed me, disappointed: "called Bolshoi box office ... all tickets are sold out until January." I knew better. "Sold out" in Russia doesn't always mean sold out. I asked around at my host publication, an editor made a few calls, and suddenly I had second-row tickets waiting for me at the Bolshoi box office. We saw Spartacus. Written by Armenian composer Aram Khachutarian and choreographed by Yury Grigorovich, it is one of the most iconic Russian ballets because its fallen revolutionary hero was an appropriate figure for Soviet propaganda.
The next week, in Lubyanka Square, I witnessed another failed revolt. Muscovites took to the streets for an unsanctioned rally on the one-year anniversary of large-scale anti-Putin, anti-Kremlin protests. In 2011, many thousands had braved subzero temperatures to shout across the street from the headquarters of the FSB, the KGB's successor. Afterward, Putin's government cracked down on pro-democracy groups, election watchdogs, and opposition figures. This time, despite rumors, warnings, and a massive police presence, the rally was calm. Police officers with megaphones gently asked protesters to "please" make their way to the Metro. Only opposition leaders were targeted, arrested, and fined. The almost-civil reception enervated the crowd.
At dinner with my parents' middle-class Moscow friends a few days before the protest, I asked about the rallies. They had marched in a few in 2011, but they didn't see the point of going again. They live in an apartment just outside central Moscow and regularly griped about corrupt officials. They said everyone knows about the fraud in last year's parliamentary elections, which set off the protests. "None of us voted for [Putin]," Ira said, as she prepared dinner. "But," she added, shrugging her shoulders, "apparently we did." The system isn't just rigged for tourists; it's rigged for the people who live in it every day.
The Metro was closed at 2 a.m., so when three of us left an expat party across town, we needed a car. I walked out to Leningrad Avenue and stuck my arm out; within seconds, a dark sedan pulled over. "Arbat [Street], Hotel Belgrad, 200 rubles," I told the driver confidently, in Russian, as I opened the passenger door. (That's about $6.)
"200 rubles exactly?" the driver asked.
"200 rubles exactly," I confirmed, as my American journalist friends piled into the backseat. Taking my new role as gypsy-cab facilitator seriously, I sat in the front seat next to the driver and left my seat belt unbuckled, as I had seen others do before. I didn't want to arouse any suspicions that I followed the rules (and was therefore foreign).
The driver and I chatted in Russian, sticking at first to mundane, safe topics like traffic and the weather. Eventually, noticing the silence from my friends, our driver asked, "Where is your group from?" I cautiously responded that we were from America, gauging whether that was OK. "Oh, wow! And it's so easy to talk to you," he said, genuinely surprised at how well we got along. "Back in the day, if people knew I was talking to Americans, they would have accused me of being a Jew." I let him go on. For the rest of the ride, he told us how he had worked his way up in the Soviet bureaucracy and followed all the rules, stopping repeatedly to express his shock at how normal we, Americans, appeared to be.
This reminded me of a story my mother tells. Her first-grade teacher instructed the class not to take or accept any bubble gum, a symbol of America, from American visitors, because they put razor blades in gum for Soviet kids. Faced with a contradiction made flesh, a nighttime cab driver could shake a lifetime's brainwashing. But could an entire nation?
Distrust runs deeper than Americans realize. Russians see America's push for a missile-defense shield in Europe--designed to counter Iran--as a way to neutralize Russia's power. When Ambassador Michael McFaul, a Russia scholar, arrived in Moscow, he met with opposition groups as part of a "dual-track engagement" policy. In response, state media released a YouTube video of dissident leaders arriving at the embassy titled "Receiving instructions from the U.S. Embassy."
Partly that's because distrust resonates politically for Putin, a former head of the KGB. "It's a useful tool to kind of manage [and] promote the status quo," says Andrew Kuchins, director of the Russia and Eurasia program at the Center for Strategic and International Studies. "With the United States, he's really playing identity politics. He is doing it to score political points." The anti-American sentiment today isn't just a legacy of the Cold War; state-owned media have nurtured it carefully. One of my Russian counterparts, in an essay about her exchange experience, argued that an American would have trouble convincing a Russian that the State Department isn't trying to foment an anti-Putin revolution.
At the same time, Russia isn't solely to blame for the rhetoric of recent years. Just like my taxi driver, American lawmakers--who knew that the Magnitsky bill could worsen relations--grew up during the Cold War, which helps explain why they wanted to send a message about human-rights abuses in Russia. In December, then-Secretary of State Clinton accused Russia of trying to "re-Sovietize" Eastern Europe and Central Asia with efforts to create a Eurasian customs union. U.S. discomfort over Russia's relationship with its neighbors sometimes verges on paranoia, says Samuel Charap, senior Russia and Eurasia fellow at the International Institute for Strategic Studies.
Still, among most Americans, Russia is no longer, in Mitt Romney infelicitous phrase, "enemy No. 1." (Obama used the line to argue that Romney was stuck in the past.) Our movie and TV villains are no longer the fat, accented spies and computer hackers of the Soviet Union; now they're likelier to be Islamist terrorists. Even The Americans, a new drama about deep-cover KGB agents, takes a self-consciously nostalgic view of the 1980s.
This shifting focus isn't just evident in the culture. Obama made rapprochement a priority in his first term because of Afghanistan, his nuclear-disarmament goals, and Iran's nuclear program. Now operations in Afghanistan are winding down, Russia is not too interested in nuclear-arms reduction (let alone "global zero"), and Moscow seems hopelessly immovable on Iran and Syria. With a fragile recovery, a pivot to Asia, and so many fires to put out in the Middle East and North Africa, the White House doesn't see Russia as an urgent problem. "There's not a compelling reason for the administration here to invest a lot of political capital in Russia," says Kuchins. Which makes it hard to change cab drivers' and lawmakers' minds.
***
The weather's still cold, but Russia is a very different country than the one my family left nearly two decades ago. Almost every coffee shop, restaurant, and even movie theater in Moscow has free Wi-Fi. McDonald's, Le Pain Quotidien, Pinkberry, and Wendy's lined the street near my hotel. There's even a Jewish Museum and Tolerance Center in Moscow, something unheard of when my family left. Lines aren't as long, food isn't as scarce, and people are mostly happy, thanks to the basic stability provided by an energy boom. Globalization and capitalism have seeped into everyday life, making the country's isolationist past an impossible future.
Still, when I think about what my life would have been like had my family stayed, I know I never would have had certain opportunities. Even if I'd become a journalist, I would not have had the same freedom to write what I want, to do what I want. I found out only when I began studying journalism in college that my mother, too, had wanted to be a journalist. Growing up during the Brezh­-nev era, she listened to my grandfather's advice to find a more objective profession--something straightforward, safe, and far from the dangers of the political world. She became a mathematician.
Journalists in Russia today are not as handcuffed as before. They can ask Putin controversial questions, write about his answers, and cover anti-Putin (or any kind of antigovernment) protests. But in my effort to report in Moscow, I found that access is much more difficult and transparency much more elusive than I expected. Guards at the state Duma at first turned me away when they saw my American passport, despite a previously arranged pass to attend a briefing. Vechernaya Moskva(Evening Moscow), a city newspaper, is partly funded by the government. During a newsroom tour, I asked a spokeswoman how that aid affected its coverage. She told me simply that the paper has a "government page," and that if something controversial happens, reporters just wait until the issue is resolved to write about it. In another newsroom tour, the politics editor of Komsomolskaya Pravdasaid that the paper's "position" is to support Putin. "It's just like The New York Times supports Obama," he said. The coverage does seem largely independent, but a massive photo of Putin in dark shades hangs over the paper's conference room.
During Putin's press conference, one question came from a journalist who had been shot twice in the head because of a story he had reported. He asked Putin what can be done to make his case less common. The Russian leader promised to look into the issue but told the reporter that journalism is a rough industry and that people should know what they're getting themselves into. My exchange had aimed to disabuse Americans of the idea that journalists in Russia are in danger or don't have the freedom to write what they want or should. Yet there was the country's president, giving credence to the idea. Although there are plenty of ways for Russians and Americans to understand each other better, sometimes stereotypes exist for a reason. As I returned to Sheremetyevo airport at the end of my trip, I realized why I could see those tropes at a distance. Russia had become, for me, merely a place of origin. Now I was going home.
***