Vietnam: Flawed on Human Rights, but a Leader in Gay Rights
The country is chastised for its record on a range of freedoms, but it may well become the first Asian country to legalize same-sex marriage.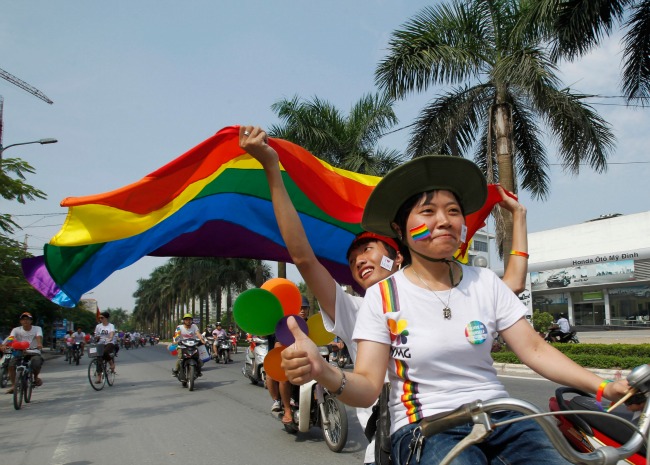 Vietnam's burgeoning gay rights movement got a major boost recently when the country's Ministry of Health came out in support of legalizing same-sex marriage. At a hearing to discuss marriage law reforms on April 16 in Hanoi, deputy minister of health Nguyen Viet Tien proposed that same-sex marriage be made legal immediately: "As human beings, homosexuals have the same rights as everyone else to live, eat, love, and be loved," he said, according to local media.
Surprisingly tender language from a government functionary--but then, much about the LGBT community in Vietnam defies expectations. Chastised for its human rights record and near the bottom of international surveys of press freedom and government corruption, Vietnam may well become the first Asian country to legalize same-sex marriage. Lawmakers have been actively reviewing the issue since July of last year. In addition to the health minister's statement, several other provincial governments and unions have publically expressed support for either full marriage rights or some form of legal recognition of same-sex partnerships.
Just as surprising is the speed at which the gay rights movement in Vietnam has developed. Marginalized only a few years ago, the LGBT community is not only finding support in the legal sphere but has been winning broad acceptance in the media and in public life. From Vietnam's first gay parade last August in Hanoi to an openly transgender contestant on last season's Vietnam Idol (an American Idol franchise), it's as if the closet door has exploded off its hinges. International attention grew in February of this year when Vietnamese photographer Maika Elan won a World Press Photo Award for her series The Pink Choice, documenting the lives of Vietnamese gay couples.
"I'm very proud of this movement," said Le Quang Binh, director of the Hanoi-based Institute for Social and Economic Environment (iSee), a non-profit group supporting the rights of minority groups in Vietnam. "The public opinion of LGBT [community] was very negative in the past. It has become very, very supportive and positive today. So I think that's a huge change just within five years. I think that's a really fast change for Vietnam, or even compared with any other country."
Perhaps the best example of the mainstreaming of the LGBT community is the Youtube-based sitcom My Best Gay Friends, which has become a legitimate viral hit in Vietnam, often garnering more than one million views per episode. Written, directed by, and starring 21-year-old film student Dang Khoa (Vietnam's own Lena Dunham?), the show chronicles the lives of young gay, lesbian, and transgender characters in Ho Chi Minh City in a breezy style, complete with canned laughter.
Shot on a Canon 600D with no budget and Khoa's friends as actors, My Best Gay Friends is not quite HBO-ready, but it's precocious and clever. Most significantly, the characters on the show aren't struggling with their identities in any way--being gay is just a matter of course.
Khoa said that he created the show because he was tired of the way gays had been portrayed in films and on television in Vietnam, where they're generally relegated to being either tragic figures or mincing comic-relief sidekicks. "I see my life as very normal," he said. "I see gay life as very normal. The gay community also has family, has friends, has love."
So why has Vietnam been so receptive to gay rights? Partly it's been the result of good, old-fashioned activism by groups such as iSee and Saigon-based Information Connecting and Sharing, an LGBT rights NGO. Tran Khac Tung, director of ICS, says that his group and iSee specifically aimed to improve the representation of gay issues in the media.
"We worked a lot with the media right from the beginning. We analyzed the newspapers to see how stigmatizing and discriminating their articles were," said Tung. "We engaged the media, and step by step they became familiar with the issue and then a lot of their reports were not so negative and more neutral and more ethical."
Tung says the issue of marriage rights came into focus last year when informal same-sex wedding parties were broken up by local authorities in the provinces of Ca Mau and Kien Giang. The media covered the stories extensively--and sympathetically--and gay rights have remained in the spotlight ever since.
"This is the result of a long process--the fruit that we've been cultivating so far. I'm surprised at how fast it is, but I'm not surprised that we've reached here," he said.
Another reason for the acceptance of the LGBT community, suggests iSee's Binh, is that Vietnam's predominant religions aren't outspoken against homosexuality. According to some estimates, over 80 percent of Vietnamese identify as Buddhist and around 8 percent are Christian, mainly Catholic, but the influence of the church in public affairs is muted.
Also, there has long been at least some LGBT presence in the entertainment world. Vietnam has a well-known transgender singer and actor, Cindy Thai Tai, and several other celebrities are widely considered to be gay, even if they haven't officially come out. "They do not go public at all and it is not necessary because people just take for granted that they are gay," is how one Vietnamese friend puts it.
Still, it's slightly ironic that a country with an "abysmal human rights record," according to Human Rights Watch, is simultaneously a leader in the region in advancing gay rights. HRW's 2013 World Report singles Vietnam out for repression of political dissent, curtailing freedom of expression and religion, and lack of an independent judiciary. It's a bit like coming home with four Fs and one A+ on your report card.
Clearly, gay rights are not seen as a serious threat to anyone in power. Whether the issue remains compartmentalized or if there will be some kind of spillover into other areas of human rights will be interesting to watch. But for now, the march towards LGBT equality is starting to feel inevitable.
On the legislative front, the next key indicator will be coming soon. In May, Vietnam's governing body, the National Assembly, holds its semi-annual meeting. On the agenda this time are revisions to Vietnam's constitution, and Binh says they are pressing to have current language, which defines marriage as between a man and woman, changed to gender-neutral. He says that will be a bellwether of how far the country is ready to go.
Most observers believe the marriage issue still won't come up for final legal review until next year. But Binh is confident some progress will be made, even if same-sex marriage is not fully legalized. "I'm quite sure that they will drop the article that prohibits same sex marriage in Vietnam," he said. "But what recognition there will be, we don't know. I think they might provide some legal protection in terms of property, in terms of representation and probably in terms of children, like adoption. They may not legalize same sex marriage yet, but some kind of legal protection will be provided for same sex couples. That's my expectation."
According to Tung of ICS, no matter what happens with same-sex marriage this time around, gay rights activists are playing the long game. "I always say that when you win, you win--and if you lose, you still win," he said. "This is a great opportunity for us to educate our own community and educate this society. The law actually is not the goal. The goal is to reach equality so we wouldn't face any discrimination--so you can live as who you are."
In Vietnam, no less.