Turkey's Camps Can't Expand Fast Enough for All the New Syrian Refugees
The horrific statistical realities of the two-year conflict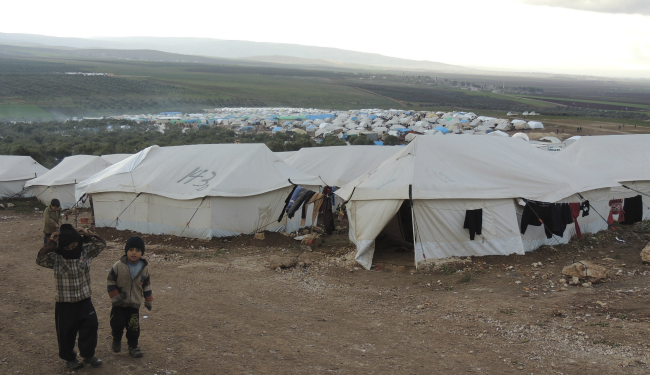 The Syrian conflict escalated far faster than any of the world's decision-makers anticipated. In January, a pledge conference in Kuwait raised $1.5 billion in humanitarian funding commitments for the conflict's next six months, with the assumption that the war's one millionth refugee wouldn't be created until the middle of 2013. That grim threshold was cleared in March, which turned out to be the two-year-old conflict's deadliest month .
Just six weeks later, there are 1.3 million Syrian refugees, although the international community seems to be adjusting its estimates to account for a situation that has slipped beyond any one actor's control -- and that likely wouldn't be resolved even with president Bashar al-Assad's ouster. In late March, Antonio Guterres, the UN's High Commissioner for Refugees, told a Congressional hearing that there might be as many as four million Syrian refugees by the end of 2013. In March, the UN estimated that there were 3.6 million internally displaced persons (IDPs) in Syria; the UN's Office for the Coordination of Humanitarian Affairs is likely to revise that number upwards -- perhaps as high as 4.5 million -- in the coming weeks.
But the conflict's severity doesn't necessarily translate into greater political will, and it's becoming apparent that the conflict has accelerated beyond the international community's current ability to address it. "We are sleepwalking into a major disaster," said Kristalina Georgieva, the European Union's Commissioner for Humanitarian Aid and Civil Protection. "The capacity to cope is outstripped by the intensified fighting ... even if we all deliver on our pledges, it is now reaching the point where handling [the conflict] goes above and beyond humanitarian budgets."
Simply, refugees are being created faster than even the best equipped of Syria's neighbors can accommodate them. The starkest example of this is along the Turkish-Syrian border, where 100,000 people are estimated to be living between the conflict's northern front lines and Turkish territory -- partly because Turkey can't expand its humanitarian capacity at the rate that refugees are arriving at the country's doorstep. "The border remains fully open," says Georgieva. "But it is not as freely possible to cross into Turkey as it was in the first months, or even the first year, of the conflict." There are currently nine sizable (i.e., in the 15,000 inhabitant range) IDP camps on the Syrian side of the border. But by all accounts, the amount of aid reaching IDPs is less than what is available at official, UN-apportioned camps in neighboring countries -- working across the border can be politically sensitive, as well as dangerous, for some governments and relief organizations. In total, the international community's humanitarian safety net covers about 2 million people out of a total IDP and refugee population of nearly 5 million.
Turkey isn't turning away refugees, which would represent a violation of standard humanitarian practice and perhaps even international law. But the country is currently in the process of building six new refugee camps, on top of the 17 that already exist. "Turkey for security reasons and absorption capacity reasons is now being more selective, prioritizing crossing for those who are at highest need," says Georgieva, categories which include women, children, and the wounded.
Still, it's notable that Turkey, which is both more developed and politically stable than Lebanon and Jordan, is facing these kinds of challenges with refugee absorption. "The Turkish border has at times seen numbers so overwhelming that they've had to slow down the flow in terms of accepting those crossing at the time," says Kelly Clements, a Deputy Assistant Secretary at the U.S. State Department's Bureau of Population, Refugees, and Migration. She says that at least some of the IDPs along the border don't want to enter Turkey at the moment. "They're in a place where they can seek and obtain assistance more easily than in some of the more heavily bombarded and conflict-ridden communities," she says. "So they've moved closer to the border. But not all of them have actually wanted to cross." Overall, she says, "Turkey's been managing exceptionally well."
Even so, the full ramifications of a massive and perhaps semi-permanent population displacement in the heart of the Middle East might not be known for decades. For now, the numbers are jarring and suggest a resettlement of potentially historic proportions -- for instance, the 440,000 refugees in Jordan represents about 6.5 percent of the already-fragile country's population. The strain on neighboring states is an immediate, political problem with clear humanitarian consequences. The borders with Jordan and Turkey remain open. But it might not remain that way. "Jordan is now very close to saying, we cannot cope anymore, close down the border, create a buffer zone inside Syria," says Georgieva. "A buffer zone is not an impossibility, but who's going to protect it?"
It's not just that more funding is needed -- although the pledges from the Kuwait conference are proving worryingly inadequate. The humanitarian situation also has a clear diplomatic element to it. It might get to the point where keeping borders open and protecting Syrian refugees means reaching some kind of multilateral political accommodation with Jordan and Turkey -- something that addresses concerns over the social and economic strain of hosting a large and perhaps long-term refugee population.
Humanitarian-related tensions between the international community and Syria's neighbors might lie another couple million refugees in the future. But if the past year has proven anything, it's that such moments could come sooner than world leaders want or expect them to. With such little cause for optimism in an increasingly violent and multi-faceted conflict, it's possible to see the backlog of refugees on the Syrian side of the Turkish border as a portent of bigger problems to come. At least for Clements, it's difficult to overstate the anxiety of the present moment. "We're already at worse case scenario," says Clements. "We're there."