The White House's Secret Diplomatic Weapon
Democrats and Republicans heap generous praise on the deputy secretary of state, but the Foreign Service struggles to find the next Bill Burns.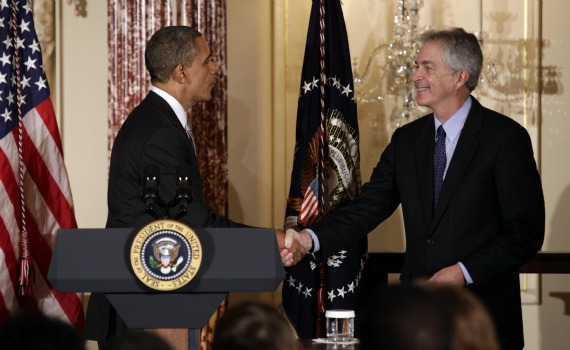 William J. Burns has been the secret weapon of U.S. secretaries of state for more than two decades, serving consecutively under three Republicans and three Democrats. So it came as no surprise that John Kerry wanted to be the seventh chief diplomat to lean daily on Burns, currently the country's highest-ranking career diplomat, by keeping him on as deputy secretary of state, a position to which Burns was appointed by Hillary Clinton.
"Bill is the gold standard for quiet, head-down, get-it-done diplomacy," Kerry said of Burns. "He is smart and savvy, and he understands not just where policy should move, but how to navigate the distance between Washington and capitals around the world. I worked with Bill really closely from the Senate Foreign Relations Committee, and I'm even more privileged to work with him now every single day. He has an innate knack for issues and relationships that's unsurpassed."
Denis McDonough, President Obama's chief of staff and former deputy national security adviser, called Burns "the quintessential diplomat." He is "steady, calm and always clear in what he is setting out to accomplish," McDonough said. "We are lucky to have him."
Republicans were equally flattering. "What makes Bill so special is that he is calm, unflappable, informed, with an absolute steel core. He is a man of principle who will not bow to expediency," said Richard Armitage, who was deputy secretary of state during President George W. Bush's first term. James A. Baker, President George H.W. Bush's secretary of state, called Burns a "top-notch public servant" who "speaks truth to power in an understated way." He is "not ideological, calls it like he sees it, and everybody has confidence in him," Baker said. "I don't know anyone who thinks ill of him, and if you look at the results of his work, you will know why."
Several others said that Burns' careful but masterful handling of the bureaucracy and his lack of desire to grab the limelight -- he rarely gives interviews -- have been as important to his success as his diplomatic skills. "Whenever we are hunting for talent, I tell people I want to find the next Bill Burns," Kerry said. "He embodies exactly the combination of capable and agile thinker and doer that the career Foreign Service was envisioned to produce."
It may have been so envisioned, but is the Foreign Service actually producing "the next Bill Burns"? I asked hundreds of career diplomats and political appointees that question during the research for my recently published book America's Other Army. Most of those interviewed, including Burns himself, said that identifying promising young Foreign Service officers and nurturing them to become strong leaders and top-notch diplomats has been a weakness of the service.
"Here the Foreign Service could learn from the military," said former Secretary of State Condoleezza Rice. "The military identifies early on people who they think are going to make it to the higher ranks and gives them a series of experiences that make sure they are ready. They actually do career planning with their people."
Cameron Munter, a former career ambassador to Pakistan and Serbia, agreed. Top military leaders "look at the captain and major levels and pick the winners," he said. "Maybe someone wants to go drive tanks, but he has to go spend a year in Tennessee instead to learn about logistics -- not because they need a guy to learn about logistics, but because they need a leader with the specific training necessary for future jobs the service needs. We don't do anything of the sort."
Eliot Cohen, the State Department counselor under Rice and a Johns Hopkins University professor, said that effective leadership in the Foreign Service remains a challenge despite positive efforts made since Colin Powell was secretary of state during the first half of the last decade. "If you come across good leaders, they just happened to be born that way," he said. "The institution doesn't do enough to develop good leadership, as far as I can tell. There are leaders like Bill Burns, but that's because of whatever magic was in his DNA."
Burns joined the Foreign Service in 1982, and his career "didn't exactly get off to a rocket-propelled start," he said. In 1983, with a war raging between Iran and Iraq, he volunteered to drive a truck with communications equipment across the desert from his first overseas post in Amman, Jordan, to Baghdad. But as soon as he reached the Iraqi border, he was arrested and held for two days before being escorted to the capital by police.
Three years later, Burns began his first assignment outside the State Department -- in the Middle East office of the National Security Council in the Reagan White House. That office was soon shaken by a huge scandal that became known as Iran-Contra. A more senior staff member on detail from the military, Lt. Col. Oliver North, had devised a plan to sell weapons to Iran and use the money to fund illegally Nicaraguan anti-communist rebels known as Contras. The plan had been approved by Reagan's national security adviser at the time, John Poindexter -- no evidence has been found suggesting that the president himself authorized it -- and other staff members had helped to implement it. Within months, most on the NSC staff, including Poindexter, were replaced.
Burns, who had no idea about Iran-Contra until it was publicly exposed, was one of the few to survive. "I was so junior, I don't think anybody took any notice," he said. At the end of 1987, Colin Powell became national security adviser, and the following year he put Burns in charge of the Middle East office. "I thought more senior people should do it, but Powell said, 'I wouldn't ask you if I didn't think you could do it.' It was dumb luck. I was 32," Burns recalled. "In the Foreign Service, how well you do depends a lot on who you work for and what you work on. I was really lucky, but I know people who weren't so lucky."
Having bosses who entrusted Burns with significant responsibilities helped him get promoted to the senior Foreign Service in 10 years, which is half the time it takes the average officer. He urged fellow senior officers to "pay more attention to the mid-levels" in particular, where assignments should be taken more seriously, because those are the formative years for most diplomats. "We need to make a conscious effort to put the right people in the right places," he said.
A former ambassador to Russia and Jordan, Burns has lived through his share of political controversies. As assistant secretary of state for Near East affairs during the run-up to the Iraq war, he was in the middle of "fairly fierce debates" in the George W. Bush administration "on how important it was to have a lot of company" going into Iraq.
"The argument [the State Department] tried to make was that the importance of having company going in had little to do with the immediate military challenge of removing Saddam Hussein from power," he said. "The biggest challenge was going to be the day after, and it was very obvious that the more company we had, the better we could manage the situation. It wasn't a question of marginalizing ourselves, but about expressing concerns honestly. Sometimes, those concerns were being read as trying to slow down movement toward a [war] decision, or to avoid the decision altogether. The result was, you ended up with a pretty dysfunctional bureaucratic process."
Although the State Department had prepared a 17-volume project called "The Future of Iraq," the department's perceived distaste for a rush to war led to a decision to put the Pentagon in charge of post-war planning and management. "It's probably fair to say that the department was shunted to the side, but I don't buy the argument that it was somehow an abdication on the part of Powell or anyone else," Burns said. "I don't think that's true. He fought hard."
Despite Burns' close association with Powell, Rice promoted him to undersecretary of state for political affairs in 2008, a post in which Clinton kept him until 2011, when she made him her deputy. "He personifies the very best of our Foreign Service and is a model of dedication to our country," Clinton said.
Burns has the rank of career ambassador, the highest in the Foreign Service. According to the State Department's Office of the Historian, only 53 officers have received it since it was first conferred in 1956, the year Burns was born. So what does he think makes a good diplomat in 2013?
"You have to find wherever the ball is rolling on the field, and with a sense of vision and strategy, move it down the field," Burns said. "While we can't escape from the nuts and bolts of traditional diplomacy, what's most important today is getting concrete things done. We need people who are as good at getting things done on the ground overseas as they are in the Situation Room at the White House, driving the policy debate. That's not a common combination, but it's what we need to aim for."