Subject of Femen's Topless Jihad Questions the Group's Tactics
The Tunisian woman who sparked the feminist group's nude protest last week says it was the wrong approach. But was she speaking freely?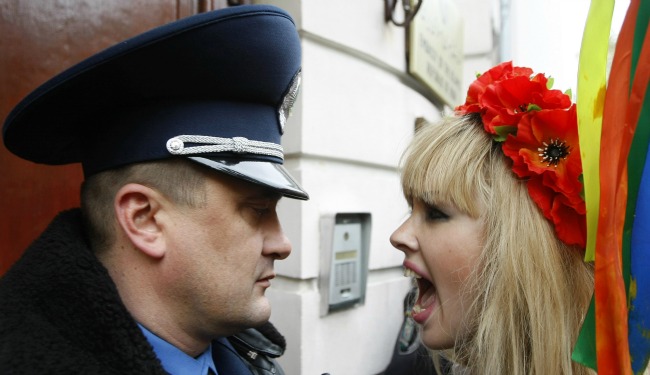 For the first time since her disappearance after posting topless photos of herself on Femen's Facebook Tunisia page almost three weeks ago, Amina Tyler, the 19-year-old Tunisian aspirant to Femen, spoke to the press, granting, on Saturday, a brief interview to the French satellite television station Canal+.
Dressed in a v-neck sweater and looking ill at ease, she thanked those who have supported her, her speech at times sounding hesitant and impaired.
"Only their words of encouragement have encouraged me to be strong," she said in French, adding that "everything with me is fine, I'm doing fine with my family." She has been threatened at the public school she was attending, but would like to return to finish her studies "possibly in a private school. But nothing is certain. Private schools might not accept me."
She professed to have no regrets, apparently in reference to her topless postings, but "I don't know what will happen in the future . . . I have to leave Tunisia, because I've received a lot of death threats, and I'm afraid for my life and for my family here, especially since there are a lot of rumors about what the Salafists and Islamists are going to do to me." Menacing messages, she said, have come via telephone and her Facebook page. "'You're going to die! We're going to throw acid on your face,' things like that."
Had she in fact been kidnapped by her family, as was widely reported, after uploading her pictures to Femen's page? She implied as much.
"My family found me in a café and took me home. My cousin broke my cell phone and beat me." She was then moved "to another city in Tunisia." Had she been forced to stay with her family? "Yes, of course. I don't want to stay in Tunisia . . . I hope to leave Tunisia and leave my family and all these threats." Now and then she smiled uncomfortably, her voice sounding mostly flat and expressionless.
She declared that she still supported Femen. "I encourage their acts, as I have ever since I saw the first Femen photos on Facebook and up till now."
She then complained that Femen had "carried out a protest" - on April 4, which Femen declared Topless Jihad Day in support of Amina - "during which they burned the flag of Islam in front of a mosque in Paris. I'm against that. It will do me harm, since they had written Amina on their bodies." (In fact, her name figures nowhere among the slogans the three activists involved painted on their chests and backs; and the flag was the Salafist banner inscribed with the Shahada, or the Muslim profession of faith.) "Everyone will think I encouraged them to do that." Tyler found it "unacceptable" that Femen would "insult . . . Muslims who are extremist . . . they have insulted all Muslims. It's not acceptable."
FIRE OF REVOLUTION! by femen_org
She concluded saying that "I want to become a journalist, so one way or another I'll join Femen . . . even if I'm eighty years old. Because they are the real feminists."
A man sitting with his arms crossed at a table next to Tyler then appeared in the frame, his face blurred to protect his identity. Tyler said, "I was really lucky, because another father would have killed his daughter for this act. But my father was rather open with me. He has every right to think what he wants to think. He thinks I'm still watching cartoons . . . I've grown up and he'll believe it one day or another."
Her presumed father then spoke in heavily accented French. "We fear for her and for the threats on Facebook and for what has happened at the mosque in Paris." He added, "we can express ourselves in favor of women's rights, but an image that can shock society, it's an image that scares us and hurts us."
Tyler then livened up, smiling and squirming in her chair.
"During the past days she wasn't smiling," he said. "Only now is she beginning to smile. She's very cute when she smiles."
I spoke by Skype today with Femen leader Inna Shevchenko in Paris and asked for her reaction to Tyler's interview. "It's clear to us that she was not speaking freely," said Shevchenko. "We know that she's been constantly under the supervision of her family, and, as far as we know, they've been making her take some sort of anti-depressants," which could account for her halting speech. That Tyler incorrectly described Femen's mosque protest "proves to us that she has no independent access to the media. Her family is telling her things to make her stop her 'playing around at being free.' That she's at home with her family in no way means she's free or safe."
Shevchenko added that videos posted by Tyler's family members give her reason to think they themselves may kill Tyler and then claim that her death was an act of suicide.
What would set Shevchenko's mind at ease? "Only if Amina finds a way to contact us directly and tell us she's okay will we believe she's out of danger."
Shevchenko herself has been dealing with the fallout from Femen's Topless Jihad Day, during which she and her colleagues conducted protests across Europe, in Brazil, and even in San Francisco to show solidarity with Tyler. "A man has posted a video online in Arabic calling for us to be beheaded for our mosque protest." This and other threats have prompted her and other Femen members to take measures to conceal their identity when outside. (Femen's France headquarters is located in a mostly Muslim neighborhood in Paris.)
Angry denunciations, many from Muslim women, of Femen have flooded twitter. In an open letter to Femen, a group calling itself the Muslim Women Against Femen (MWAF) accuses Shevchenko and her cohorts of being "white colonial feminists" spewing "colonial racist rubbish disguised as 'women's liberation,'" and ends with a call to "SMASH THE WHITE SUPREMACIST CAPITALIST PATRIARCHY! POWER TO THE MUSLIMAHS!"
Shevchenko answered immediately. In a Huffington Post (U.K. edition) blog post , she reminded the MWAF that she was born not in the West, but "in a post-USSR country [Ukraine]. I know it's a common trait of dictatorial countries to promote the official position of the government pretending that it's backed by the people," a clear implication that her detractors were not, in reality, speaking freely, but had been brainwashed. She then struck a conciliatory note (well, conciliatory for Shevchenko, in any case): "So, sisters, (I prefer to talk to women anyway, even knowing that behind them are bearded men with knives). You say to us that you are against Femen but we are here for you and for all of us, as women are the modern slaves and it's never a question of color of skin."
She then went on the attack again, declaring that "we care when your fathers, brothers and husbands are raping and killing, when they call to stone your sisters, we care a lot when they burn embassies and all that for Allah!" and that Femen takes aim not at religious people per se, but at "the one who are constantly oppressing women, covering them, disrespecting them, raping them, beating them whether they are religious or not. But if they do it in name of religion then we can do nothing but tell them their religion is worth nothing. We would never talk about Allah or Jesus and other fantasies if those fantasies did not affect human rights."
Shevechenko flatly rejected charges of cultural imperialism. "You claim that we bring you our idea from our part of the world and you don't need it. The idea of freedom doesn't have anything to do with nationality or color of skin. There is no set of human rights for Europeans and another for Arabs or Americans, it's universal. And we are going to keep fighting for all of us, for our right for freedom."
She ended her address with a call for feminine solidarity. "See you on the battle lines!"
One thing is for sure: this battle, for Femen, has only begun.