Obama's Budget Fixes America's Wacky Food Aid Program—Sort Of
The reforms are good for starving people and bad for shippers.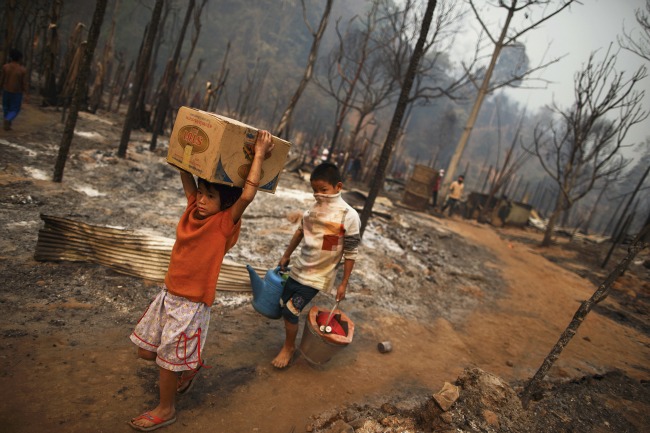 Last week we delved into the weird world of U.S. food aid, in which almost all (90 percent) of the grains that starving people abroad get from U.S. relief groups are grown in the States, then packed, shipped, and distributed in disaster-stricken countries.
This is fairly inefficient, costing precious time as bags of American rice and corn make their way across the ocean, and ratcheting up costs for cash-strapped aid groups. Studies found that buying food locally shaves 14 weeks off the delivery time, and most relief food is cheaper when it's bought in the country where it's used.
However convoluted, this system did help Americans -- specifically the farmers and shippers who grew and packed the food -- to the tune of $523,000,000 in earnings for households and 13,127 jobs (which were concentrated in Texas for some reason. Here's the chart, from an industry-funded report):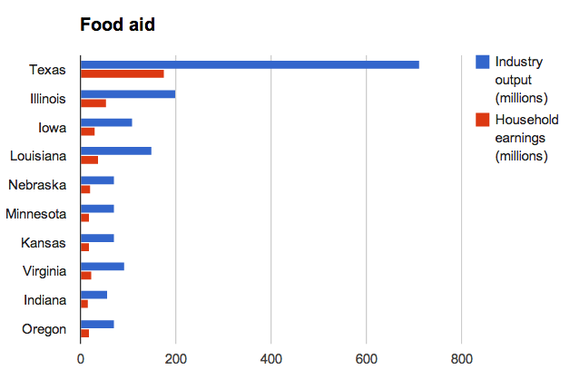 But tucked into President Obama's proposed 2014 budget is a total overhaul of the $1.5 billion program, which will allow aid groups to instead buy up to 45 percent of their food in local markets -- that is, in the countries or regions closest to the disaster areas they're intended for -- a major change that aid groups and politicians have been urging for more than a decade.
The reforms would also end monetization, or the practice in which NGOs sell their leftover, American relief food in local markets in order to fund some of their non-food programs, like clinics and school books. The GAO says monetization is wasteful -- it costs an average of 25 cents on every taxpayer dollar spent on food aid. Instead, the 2014 budget proposal offers a lump sum of $330 million for programs that were formerly funded through monetization.
Many aid groups are heralding the overhaul as a step that would allow them greater flexibility in how they use their relief money. Not only will they save by buying the less expensive, local food, many NGOs say the new system will prevent farmers in developing countries from being pushed out of their local markets by an influx of monetization-food.
"If you were a Haitian rice farmer, you had no market for your rice in 2010," said Ruth Messinger, president of American Jewish World Service. "To buy food regionally rather than shipping it overseas will double the impact of our dollars. Over time, these countries will become less and less dependent on our aid."
Some organizations said they were hoping the budget plan would allow all -- rather than some -- food aid to be bought locally rather than shipped. But they admitted that might be too ambitious for a food program that's been basically immutable since its inception in the 1950s.
"The absolute flexibility would be having no percentages specified, but the split recognizes that there is going to be a shift," said Helene Gayle, president of CARE USA.
Of course, there's a good chance this part of the proposal will meet pushback in Congress. A bipartisan group of senators has already tried to block the change by arguing that American farmers and shippers need all the help they can get in this economy.
"American agriculture is one of the few U.S. business sectors to produce a trade surplus, exporting $108 billion in farm goods in 2010," the senators wrote. "During this time of economic distress, we should maintain support for the areas of our economy that are growing."
And the old way was also a form of soft diplomacy, with big canvas packages stamped with "From the American people" piled up in devastated villages -- a positive externality that was also not lost on the reform's opponents.
"It's definitely going to be a battle," said Kim Elliott, a senior fellow at the Center for Global Development, adding that past attempts to change the system have resulted in drawn-out political feuds and, ultimately, nothing more than tiny pilot programs. "The whole point of our food aid budget is to help foreigners first and foremost and help the U.S. in the long run. Is this really the right way to subsidize the maritime industry and the farmers?"
The maritime industry, as it happens, did get something out of the deal. The budget plan provides $25 million a year in subsidies "for militarily-useful vessels and incentives to facilitate the retention of mariners." In other words, "sorry about the food aid, here's a small token to help the medicine go down."
And the shippers, as perhaps could be expected, are none too pleased:
"We continue to view this proposal as shortsighted and seriously damaging to both national security and merchant mariner jobs," said U.S. Maritime Chairman James L. Henry in a statement. "The Administration's proposals to shift...purchases of food aid to allegedly cheaper foreign suppliers instead of donating wholesome commodities grown by American farmers will be harmful to our U.S. Merchant Marine, harmful to our national defense sealift capability, harmful to our farmers and millers, and bad for our economy."