Jon Stewart vs. the Muslim Brotherhood
While it's tempting to avert your eyes from Egypt's post-revolutionary political train wreck, no Arab country is more important to the United States.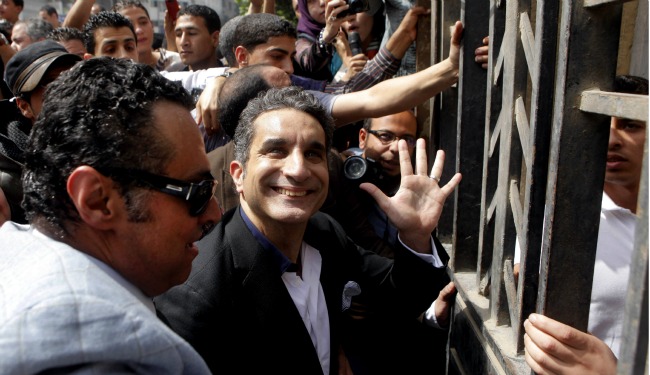 For Americans, it was Jon Stewart as national treasure. In a virtuoso performance Monday, the American satirist ridiculed the Egyptian government's crackdown on Cairo comedian - and Stewart protégé - Bassem Youssef. If you haven't seen it, you can watch Stewart's mock conversation with Egyptian President Mohammed Mursi here.
"What are you worried about, Mr. President - the power of satire to overthrow the status quo?" Stewart deadpanned. "Just so you know, there's been a grand total of, uh, zero toppled governments we've brought about."
In Egypt, members of the ruling Muslim Brotherhood saw Stewart's bit differently. The comedian's skewering of Mursi was the latest insult from a nation that backed Egypt's pro-American dictators for decades. Told that cracking down on comedians was playing poorly in Washington, a usually moderate senior Brotherhood member argued that Western notions of free speech were being used, yet again, to denigrate Islam.
"Yes, the same West that supported the burning of the Koran!" the member told American journalist Lauren Bohn this week. "We need to draw red lines."
Egypt's political polarization is intensifying. Crucial parliamentary elections have been delayed until October. Both sides are increasingly engaging in street violence and vitriol. Opposition leader Mohammad ElBaradei compared the government to "fascist regimes" on Twitter this week. Mursi vowed to "break the neck" of anyone who throws a petrol bomb on the street.
"I'm worried," Nathan Brown, a George Washington University professor and leading Egypt expert, said in an interview. "This is a broken political system. It's a system that can't reach a consensus."
While it's tempting to avert one's eyes from Egypt's post-revolutionary political train wreck, no Arab country is more important to the United States. The Arab world's most populous nation, Egypt is the Middle East's cultural capital and the site of an epic power struggle between conservatives and liberals that will influence the region's politics, culture and faith for decades.
Opposition members have seized on the Youssef case as the latest example of overreach and intolerance by the Brotherhood. But the group's political Achilles' heel is its handling of the Egyptian economy and growing lawlessness, including a spate of sexual assaults that have polarized the country. Showing extraordinary bravery, Egyptian women have publicly described horrific gang rapes in a series of stories broadcast by Egypt's newly independent news media, theNew York Times reported. Religious ultraconservatives have cravenly blamed the victims.
Inflation has nearly doubled since November, the country has lost $4 billion a year in tourism revenue since the revolution and unemployment is officially 13 percent ‑ but actually far higher. To receive a $4.8 billion International Monetary Fund loan, Mursi must cut government food and fuel subsidies for average Egyptians. As Stewart dryly put it, post-revolutionary Egypt is "a work in progress."
It's a stretch, but there are silver linings. The Youssef case, for example, is a testament to the indomitable spread of globalization and technology. A Cairo surgeon-turned-comic has created a wildly popular Egyptian version of The Daily Show that skewers the country's political elite on one of Egypt's 30 new satellite television stations.
Since the 2011 fall of President Hosni Mubarak, criticism of authority has exploded across Egyptian society, a trend that the Brotherhood is now clumsily trying to stem. Youssef's case is one of up to 33 filed against comedians, activists, politicians and bloggers in just the past two weeks. Last month, protesters attacked television stations and at least three prominent journalistsafter Mursi criticized the press.
The response from the Obama administration - like its initial response to Egypt's revolution ‑ has been confused. The U.S. embassy in Cairo initially tweeted a link to Stewart's monologue.
When Mursi's office tweeted in reply that it was "inappropriate for a diplomatic mission to engage in such negative political propaganda," the embassy shut down its Twitter account without conferring with Washington, according to Foreign Policy . The embassy Twitter account later reappeared, without the offending Stewart tweet.
In Washington, meanwhile, State Department spokeswoman Victoria Nuland stated the tweet was "inappropriate." Yet she also bluntly criticized "growing restrictions on the freedom of expression "in Egypt.
The mixed American response confused Egyptians, according to Bohn, the American journalist. In interviews this week, several Egyptians said they don't know what Washington wants.
Emboldened Muslim Brotherhood members, meanwhile, vow to press ahead. In the Youssef case, Brotherhood members filed formal legal complaints with prosecutors accusing the comedian of breaking antiquated laws that criminalize insulting Islam or the head of state. They are demanding that prosecutors, who are nominally independent of the government, fully prosecute Youssef.
In a blunt statement on its website, the group dismissed State Department calls for free expression.
"They will have only one interpretation in the Egyptian street," the group predicted, "the U.S. welcomes and defends contempt of religion by the media."
Peter Hessler, in a telling posting for the New Yorker on Thursday, suggested the Brotherhood may be right. Hessler described how his Arabic language teacher viewed the dispute. Angered by a wildly inaccurate description of Stewart's monologue in an Egyptian newspaper, the teacher saw Stewart as part of a Jewish conspiracy.
"Do you know who this Jon Stewart is?" the teacher asked Hessler. "He's a Jew, isn't he?"
The teacher also argued, however, that the Brotherhood was using the case against Youssef to distract Egyptians from the country's dismal economy.
For now, it's unclear whether the Brotherhood is losing the broad support that allowed it to sweep post-revolutionary elections. Public opinion polls show Mursi losing popularity in urban areas and among youth -- but retaining strong approval in poor, rural areas.
Brown, the George Washington University professor, argued that the Brotherhood is politically vulnerable. He said Egypt's transition would be best served if the opposition ended its current boycott of the parliamentary vote and ran hard.
"The opposition has an opportunity here," he said. "They're not going to win the next elections but they could win the ones after that."
A free and fair parliamentary election must be held as soon as possible. Opposition groups should follow Brown's advice and begin the long, slow process of building political organizations. Washington should make $1 billion in promised American aid contingent on democratic norms. And Jon Stewart like satire should not be a crime.
Egypt is awash in conspiracy, distrust and despair. Mursi has miscalculated over and over. So have his opponents. Egypt's best hope is that they resolve their differences at the ballot box - not in court and on the street.
---
This post also appears at Reuters.com, an Atlantic partner site.