In the Wake of a Deadly Fire, Garment Workers Push for Stronger Protections
Many factories in Bangladesh lack basic safety standards, but workers fear driving away crucial foreign investment.
When a fire engulfed the Tazreen Fashions garment factory in late November, Sumi Abedin was resigned to die. Defying orders from floor bosses to stay at her sewing machine after word got around that a blaze was spreading down below, she and her co-workers ran to the two "women's" exits, only to find them padlocked. Another "male" stairwell was choked with smoke and bodies, forcing her to retreat by the light of a cell phone. Amid the screams and confusion, a ventilation shaft offered a way out: a three-story fall to the ground, one that could also be fatal. "I did not jump to save my life; I jumped to save my body," says the 24-year-old, hoping her family could identify her remains.
Five months after the deadliest fire in Bangladesh's history, Sumi stands on a Washington, D.C. street corner at rush hour. Her purple salwar kameez strikes a sharp contrast with the drab office buildings and business suits that shuffle past her. She walks with a limp, the result of broken leg sustained from the fall. (A friend who jumped with her was less fortunate; he died on impact, becoming one of the 112 who perished.) But her purpose is unfaltering: to secure compensation for injured workers and the families of those killed in the fire, and to convince more big box retailers to agree to a legally-binding safety agreement that would help prevent factory fires that have killed an average of 100 workers a year since 2006. "I've come to America to tell people that we deserve safe working place, that factories in Bangladesh are no safer for workers than before," says Sumi.
While global attention has subsided, deadly fires continue in the world's second-largest apparel producer. According to the Solidarity Center, an AFL-CIO training office in Dhaka that tracks fire-related accidents, as of mid-April at least 41 have taken place in Bangladesh since the blaze at Tazreen, a facility in the capital that made garments for Walmart, Disney, Sears and others. On Wednesday, tragedy struck again: more than 80 people perished when an eight-story building housing garment factories collapsed, a day after some workers reported seeing cracks in the structure. The alarming frequency of such incidents attests to systemic problems that still conspire to make the country's garment industry one of the worst for workers. Poverty and overpopulation ensure that many will work for less than the national minimum wage of about 18 cents an hour, for employers liable to cut corners on safety to boost profit margins.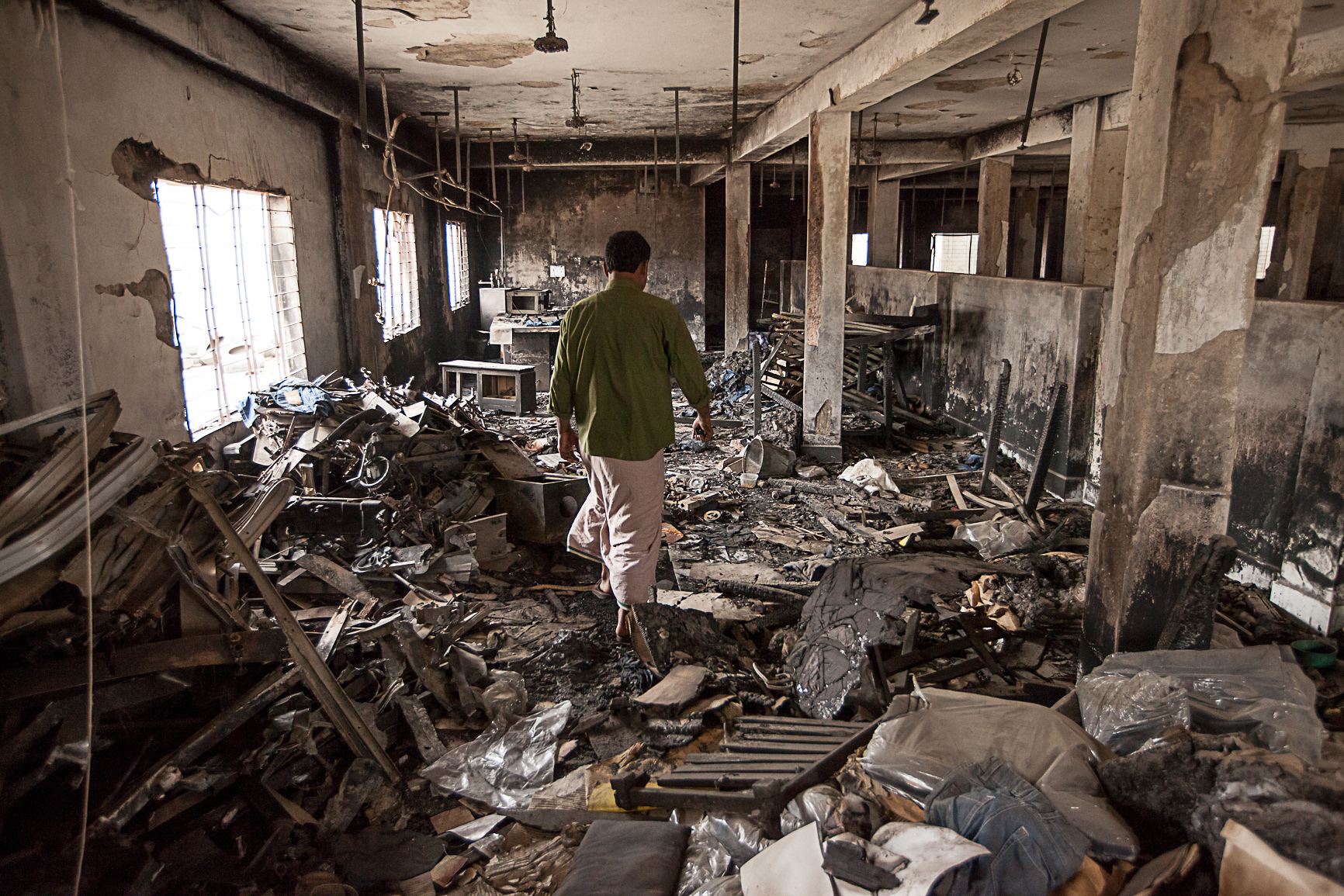 "The Bangladeshi ready-made garment industry is built on a low-wage, low-cost strategy, which has enabled them to grow the industry quickly and remain one of the cheapest places in the world to produce apparel," says Judy Gearhart, executive director of the International Labor Rights Forum. Rights groups contend that Western buying houses know full well that high volume, low cost orders will be farmed out to sweatshops with no incentive to respect fire codes or workers rights. When things go horribly wrong, degrees of separation give them deniability. Phil Robertson, deputy director of Human Rights Watch's Asia division, calls it a "cynical situation" where "big brands are prepared to let things go."
American giants like Wal-Mart are adamant about their efforts to improve fire safety and training in Bangladesh and elsewhere. But as Scott Nova, director of the Washington-based Workers Rights Consortium, points out, even "frontline" factories where audits and inspections are conducted have not prevented deaths from piling up. A September factory fire in Pakistan that killed 289 workers had received a clean bill of health from industry inspectors just three weeks prior , while a 2010 blaze in Bangladesh that left 29 workers had been previously inspected by the Gap and other customers. Tazreen itself had received audits by Wal-Mart and other buyers, yet no investments were made to address obvious fire hazards.
An analysis by WRC estimates the garment industry would have to spend some $3 billion over five years to bring Bangladesh's roughly 4,500 factories up to Western standards. That amounts to less than 10 cents a garment. Or, three percent of the $19 billion the Bangladesh Manufacturers & Exporters Association (BGMEA) says Western companies spend each year on manufacturing in the country. It also requires making "long-term commitments they don't want to make," says Nova. "Short term contracts define the relationship." So far, only PVH Corp, an American company that owns Calvin Klein and Tommy Hilfiger, and a German retailer, Tchibo, have signed an agreement that requires independent fire inspections, workers' input on safety measures and financial responsibility to cover safeguards. For its part, Wal-Mart is alleged to have blocked plans to underwrite fire safety upgrades in Bangladesh.
Meanwhile, Bangladeshi manufacturers say foreign orders have increased in the wake of Tazreen. Omar Chowdhury, managing director of Syntex Knitwear, a registered company that employs 4,000 workers, notes that a limitless supply of cheap labor gives his country an edge over its main competitors, China and India, which are cutting back on ready-made exports as per capita GDP increases. His mostly European customers have a "zero tolerance" policy for backdoor sub-contracting and lax fire safety, and his adherence is borne out by a walk through his modern, multi-storied operation on the outskirts of Dhaka. Still, he concedes, in the past he has been "compelled" to enlist smaller factories to cover larger orders to avoid losing clients in a hyper-competitive market. "The buyers don't want to hear excuses," Chowdhury says.
And neither do the workers. Until the Tazreen fire nearly killed her, Sumi pulled eleven-hour shifts, six days a week, for almost two years. She earned about $65 a month, including overtime. Most of what financial assistance she has received since the fire (from a buying house and private donors) has been spent on her medical bills and living expenses, but a critically damaged leg and arm will leave her unable to support her family in the future through garment work, a job she has performed since the age of 13. To date, Wal-Mart has refused to pay victims any compensation on grounds that a supplier had sub-contracted the order to Tazreen Fashions without its knowledge.
Her friend and escort on the tour, Kalpona Akter, a labor organizer and former child worker herself, said that while meetings with congressmen and interest groups in Washington were helpful and "people were moved," this was not the first time she'd traveled halfway around the world to raise awareness. Her advocacy work dates back to the early 1990s, shortly after she escaped a major factory fire. In her view, a groundswell of public pressure is the best means of holding big companies accountable and bringing lasting improvements to worker safety. In the days ahead, she was scheduled to lead protest "actions" at the headquarters of Wal-Mart in Bentonville, Arkansas, and the Gap in San Francisco.
Yet her zeal is tempered by a hard truth: garments account for about 80 percent of Bangladesh's export economy. For all the industry's shortcomings, millions depend on the meager investments made by foreign companies. What activists like Kalpona and Sumi are asking for is a little bit more to be earmarked for fire safety. "[Foreign] consumers should be conscious of what they buy and where it's from. But," she adds, "even though conditions are bad in Bangladesh, please still make purchases. If you don't, that will be like a boycott, and a suicide for our country."