Former Tahrir Square Star Now Sings Against Morsi
Ramy Essam got his start putting Arab Spring chants to song. Now he's rewritten the lyrics to take down the man he says is worse than Mubarak.
When Ramy Essam turned up in Cairo in January 2011 he was just another angry Egyptian. A student from the small town of Mansoura, he joined thousands in Tahrir Square chanting for freedom from the 30-year rule of president Hosni Mubarak.
The only difference was that Essam brought his guitar, and the songs that he wrote and performed in Tahrir soon secured his role as the voice of the revolution. Within two weeks of arriving in Cairo, the 23-year-old had millions singing along.
"Irhal, Irhal (Leave, Leave). The people demand the fall of the regime," Essam had written, sitting in a tent in Tahrir at the end of January 2011. In the days that followed, Irhal became an anthem, so much so that when Mubarak finally stood down on February 11, 2011, and the square erupted in celebration, Essam was not with them. He was crouched behind a speaker, thinking fast.
"I was on stage when Omar Suleiman said Mubarak had stood down, and all this time I had been singing: 'Leave Mubarak, Leave Mubarak'. Now, there is no more Mubarak and people are waiting, looking at me to sing," Essam recalls, smiling.
"But I did it. I changed a few words, and instead of Mubarak, I sung against the army, I called for civilian government. It was very easy, actually."
Two years later, it is new president Mohammed Morsi who is the target of Essam's rage, as well as the rage of so many others still demonstrating on the streets of Cairo, Port Said and other Egyptian cities. For them, Morsi and his Muslim Brotherhood backers are little better than the autocrats who came before them.
"Even now, the songs I used to sing against Mubarak, I simply change the name to Morsi. The situation is the same. Nothing has changed, and that is why we are still on the streets," he says.
Essam was not always a radical. As a pony-tailed student, rock music fan and amateur musician, he was greeted with some hostility in Tahrir when he first arrived in 2011, with the hardened protesters sceptical of the motives of a young man with a guitar wandering into the middle of a revolution and playing songs.
"You should have seen the way they looked at me," he says, "I thought people were going to attack me."
But the crowd soon warmed to him, and after a few days he found himself on a makeshift stage in Tahrir, playing to hundreds, then thousands, then hundreds of thousands of people.
Two years on, Essam remains a celebrity in Cairo, known for his uncompromising stance towards Morsi, as well as the Egyptian army, who he regularly attacks in his songs.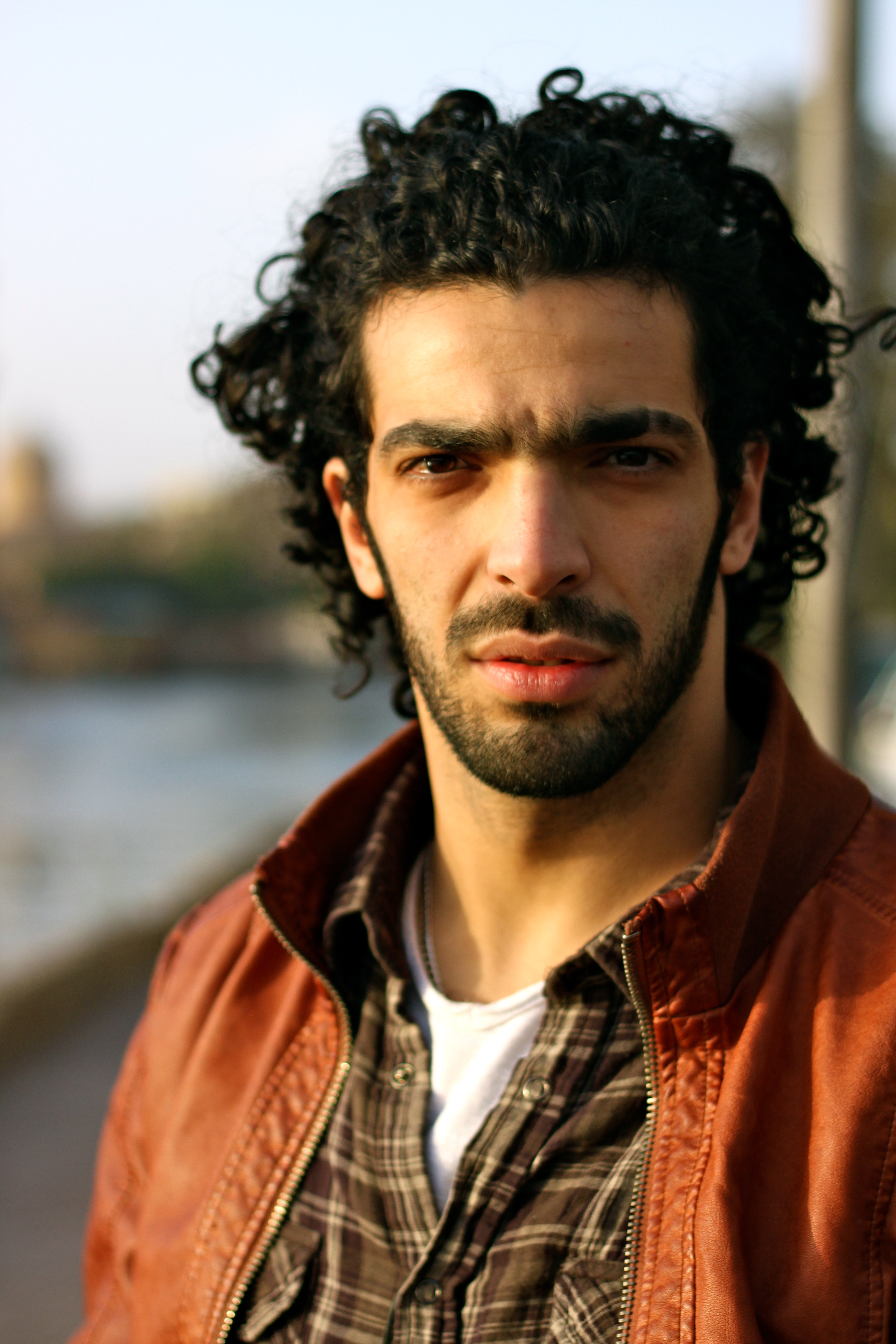 On March 9, 2011, Essam was one of hundreds of protesters detained and tortured by the Egyptian military, who were trying to clear Tahrir Square.
"They tortured us very badly, especially me, they took off my clothes and beat me with sticks. Some soldiers and officers jumped on my back and head," Essam says, noticeably stiffening in his chair.
"Then they cut my hair with broken glass and electrocuted me until my back was burned.
"A lot of people were outside the museum, calling for me to be released, then they took me out the back door and put me in a taxi. They let me go."
After a brief stop with friends in Cairo, Essam went back home to Mansoura, where he recovered for ten days before heading back to Tahrir. But his confrontations with the army did not stop there.
Since the revolution, he has been refused permission to leave Egypt to play gigs, most recently in January 2013 when he had to cancel a U.S. show because he couldn't get an exit visa.
"There is a problem between me and the army," he says, acknowledging the understatement.
"Since I was tortured, I have changed my lyrics to target the army. I wrote a song especially for them, so it is very difficult for me to get permission to leave Egypt."
He says he's only been allowed to travel three times since the revolution.
"Maybe they don't want me to go because they know I am not scared of anyone. Everywhere I go I will talk about what is happening in Egypt."
And what is happening in Egypt? Morsi's government, while unpopular, was elected. Isn't it fair for some to say that the protesters should go home and wait make their feelings known during April's parliamentary election?
"I don't accept that," Essam says.
Like thousands of others in Egypt, Essam has myriad problems with Morsi and his government, not least the president's controversial decree in November 2012 that exempted his own decisions from judicial review. The move, which Morsi later backtracked, confirmed suspicions of protesters that the president and the Brotherhood were using the revolution as a tool to boost their own power.
Essam also believes that Morsi and the Brotherhood's handling of both domestic and international issues - not least Egypt's spiralling economy - has been ineffectual and embarrassing. He says the death of protesters since Morsi was elected president demonstrates that he is little better than Mubarak.
"There is no plan for doing anything to improve Egypt. The people have realized that Morsi is a liar in everything that he has said," Essam says.
It's getting dark now, and Essam has to get over to the other side of town to play his first gig in a few months at the Goethe Institute, a stone's throw from Tahrir Square.
He finishes up his tea and we walk out on to the street to get a cab, but not before he is stopped for a photograph with a middle-aged man and his wife.
At the show, even more pictures are taken and autographs given as Essam paces, waiting for his time to climb onto the stage and play.
Down the street in Tahrir, a few hundred people mill about the smattering of tents that remain, banners hang from street lamps, graffiti adorns every wall.
In a street-side restaurant, a TV shows live scenes of protesters outside the presidential palace, defying police water cannons and tear gas.
"I am against those that see the protesters as people who love violence," says Essam, when I ask him about the scenes, as well as the growing frustration some Egyptians feel toward the on-going protests.
"No one wants to live always in a fight. No one wants to watch his friends get injured, arrested, tortured or killed."
When the time comes, the crowd shuffling impatiently in plastic chairs, Essam strides towards the stage, eyes down, guitar case in hand.
He lifts out the instrument, climbs onto the stage and as he smiles, faces brighten.
"Irhal, Irhal," he sings. "The people demand the fall of the regime."