Bolotnaya: The One Incident That Symbolizes Putin's Crackdown
The upcoming Bolotnaya trials, which are named after the square that hosted some of Russia's fiercest protests, have come to symbolize the brutal tactics employed by the Kremlin.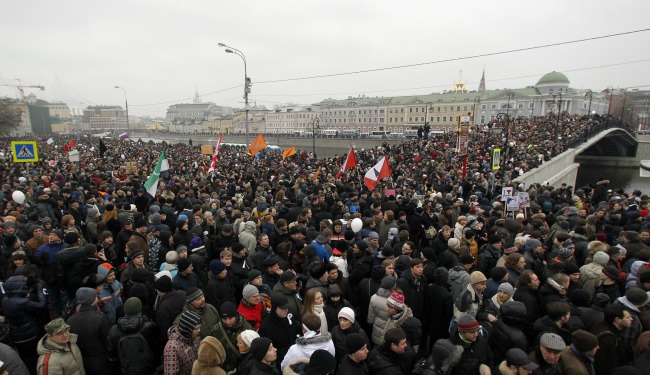 A helmeted policeman drags a woman down a barricaded street, one arm tightly locked around her neck. Dozens of riot police in full gear look on as the young woman, wearing a short black dress, gasps for air.
The scene is captured in a dramatic snapshot taken at a sanctioned opposition rally in Moscow in May 2012 that erupted in violent clashes with police and led to hundreds of arrests.
The woman in the now-famous picture, 19-year-old Aleksandra Dukhanina, made it home unscathed that day.
Three weeks later, however, she was detained for allegedly hurling rocks at officers during the protest.
She has since been under house arrest pending trial, unable to receive visitors, denied access to the Internet, and unable to use the telephone or even write letters.
She faces up to 13 years in prison if found guilty.
Dukhanina is one of 22 protesters charged with participating in "mass unrest" and assaulting police at the May 6 demonstration on Moscow's Bolotnaya Square.
The so-called Bolotnaya case has come to symbolize the brutal tactics employed by the Kremlin to quash protests as President Vladimir Putin faces the biggest show of opposition to his 13-year rule.
It comes amid a broader crackdown on dissent that has included repressive new laws and a string of raids against civil groups across the country.
"This trial could become the culmination of the attack against civil society and nongovernmental organizations that began with Bolotnaya Square," political analyst Nikolai Petrov says. "The May 6, 2012 protest is a very serious turning point, an apex in relations between authorities and the active part of society. How these relations will evolve, I think, will depend largely on the stance authorities will adopt on this matter."
Of the 22 people charged in the case, 15 remain in pretrial detention and four are under house arrest.
One defendant has been battling prosecutors' attempts to intern him in a psychiatric hospital. Another protester is on an international search warrant.
The first demonstrator to be tried, Maksim Luzyanin, was sentenced to 4 1/2 years in prison after cooperating with investigators and pleading guilty. Many see the stiff sentence as a sign that heavy jail terms await the rest.
***
Investigators say their probe is nearing completion, suggesting the next trials could take place in coming weeks.
The Bolotnaya affair is likely to further grow in scope.
Investigators are still tracking down some 70 other protesters they suspect of disruptive behavior on May 6.
In December, they merged the case with an ongoing inquiry into opposition leader Sergei Udaltsov, whom they accuse of scheming along with two associates to overthrow the Russian government.
The authorities claim the plot was financed by Georgian politician Givi Targamadze and involved provoking riots on Bolotnaya Square.
The investigation spread beyond Moscow for the first time earlier this month, when several civil activists connected to Udaltsov were raided and questioned in the central Russian city of Orel and in Novosibirsk, Siberia.
***
With the "Bolotnaya" case gathering pace, supporters, too, are stepping up their efforts to free the defendants.
Respected writer Vladimir Voinovich recently spoke up in defense of Dukhanina in an online video, part of an ongoing campaign titled "One Day - One Name."
WATCH: Vladimir Voinovich speaks up for activist Aleksandra Dukhanina
"As far as I understand, there is simply no evidence to prove that she did it," Voinovich says. "There is a blurry photograph. And when the policeman, at whom she supposedly threw something, was asked if she had caused him any harm, he said she had not. And anyway, how could a girl harm a policeman in full riot gear? With all that gear on, he was like inside a tank."
The campaign is spearheaded by the May 6 Committee, an independent organization set up to conduct its own investigation and defend those charged in connection with the rally.
The committee squarely pins the blame for the clashes on police, who they say blocked the protesters' path and initiated the confrontations - a claim backed by numerous witnesses as well as the Kremlin's human rights council.
***
"People were being grabbed from all sides, it was terrifying. I'm an old person, but I've never seen such abuse against people as was committed by the OMON riot police," Turana Varzhabetyan, a pensioner who attended the demonstration, tells RFE/RL. "I'm not afraid of saying it, let them jail me: it was a provocation from law-enforcement agencies. People went to the protest holding flowers, cheerfully. We had no idea we would end up in the middle of such violence."
Varzhabetyan herself was struck on the head with a police truncheon after trying to rescue two young protesters from a police beating.
Footage of the rally shows her and other protesters being pushed back by riot police. She is then seen lying on the ground, screaming in pain (near the 1-minute mark):
The pensioner was later diagnosed with a concussion that, she says, left her groggy for weeks.
Authorities have rejected her formal request to look into the incident.
Despite an abundance of videos documenting alleged police brutality, authorities insist only law-enforcement officers came to harm on May 6.
Several officers who reported injuries have received free flats as compensation, further fueling public outrage.
The looming "Bolotnaya" trials promise to draw intense scrutiny in Russia and abroad.
The odds of the 22 defendants walking free appear slim. But political commentators already warn that harsh prison sentences, instead of taming Kremlin critics, risk stoking a fresh wave of protests.