Bhutanese Refugees Are Killing Themselves at an Astonishing Rate
How unemployment, depression, and a lack of family ties lead to extreme desperation.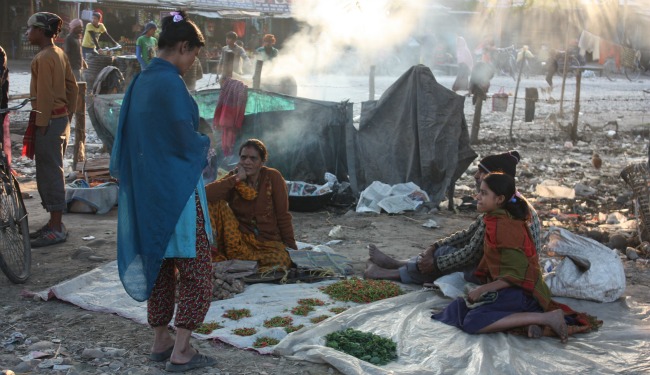 Jai Subedi still doesn't know why Mitra Mishra killed himself. Subedi, a case manager for Bhutanese refugees at Interfaith Works Center for New Americans in Syracuse, NY, was with the 20-year-old Mishra at Schiller Park the evening of July 3, 2010.
"We played soccer just the previous day until 6 p.m. and he was totally fine," Subedi said of Mishra, who was not a client of the center. "He played with me and I drove him back to his home. There wasn't any indication. Nothing was wrong."
On Independence Day, early morning walkers found Mishra's body hanging from a tree at the soccer field.
Laxmi Dulal received the news of his childhood friend's death by phone. Dulal, now 21 and studying at Penn State, was still in Timai refugee camp in eastern Nepal, where Mishra had lived next door before leaving for Syracuse with his grandmother almost a year before. Mishra's father had died and his mother had remarried in Nepal. Dulal's own move to the U.S. with his family was looming. Dulal had no idea his friend had been struggling. "I was in Nepal and he only sometimes used to call me and he never shared [those] things [with] me," Dulal says. "What's going to happen to their family after that, I was thinking. He was the only person who spoke English in their family."
Mishra's death is part of a troubling pattern among Bhutanese refugees resettled in the U.S. In August of 2010, about a month after Mishra's death, Dan Maya Gurung committed suicide in Buffalo, according to the Bhutan News Service. Gurung was in her late 30s and had been in the country just two weeks. The next month, Nirmala Niroula, 35, also living in Buffalo, hung herself in her apartment. Niroula had moved to the U.S. three months earlier. That December, 20-year-old Menuka Poudel was found dead in her Phoenix apartment, hanging from a noose fashioned from the shawl Bhutanese women wear with their traditional clothing. She had been in the States just two months.
The federal Office of Refugee Resettlement (ORR) began to notice a pattern. Ultimately, 16 suicides were confirmed among U.S. resident Bhutanese refugees as of February 2012. The International Organization for Migration (IOM) had noticed a similar trend among the Bhutanese in the camps in Nepal. IOM documented 67 suicides and 64 attempts between 2004 and 2010. The numbers were high, but without a statistical comparison, it was hard to know how bad the problem was.
ORR tasked the Center for Disease Control and Prevention and the Refugee Health Technical Assistance Center of the Massachusetts Public Health Department with investigating. By interviewing close contacts of the deceased (typically family members), the study team performed "psychological autopsies" on 14 of the 16 U.S. suicide victims. They also did a broader survey of the general Bhutanese refugee population to determine the rates of suicidal thinking and mental health conditions.
The study team confirmed the government's suspicions; the problem was endemic. The global suicide rate per 100,000 people--how suicide rates are calculated--is 16, and the rate for the general U.S. population is 12.4. The Bhutanese rate is much higher: 20.3 among U.S. resettled refugees and 20.7 among the refugee camp population. A handful of suicides were reported among other refugee groups during the same period as the CDC study, but nothing like the number among the Bhutanese.
The rate of depression among the Bhutanese surveyed was 21 percent, nearly three times that of the general U.S. population (6.7 percent). In addition to depression, risk factors for suicide included not being the family's provider, feelings of limited social support, and having family conflict after resettlement. Most of the suicides were within a year of resettlement to the U.S. and, in all cases, the victims hanged themselves.
Hanging might be common because few other methods are accessible to a poor immigrant with little English literacy. Firearms are too difficult to obtain. Medications are too, and they require a knowledge of the English language few of the victims likely had.
Sharmila Shetty, one of the study's lead authors, says the study can't pinpoint why the suicides are happening, per se, but it did shed light on the reasons for suicidal thinking.
Post-migration difficulties that the victims faced offer clues about their possible motivations. Most are unable to communicate with their host communities. Many were also plagued by worries about family back home and over the difficulty of maintaining cultural and religious traditions. Most of the victims were unemployed. While few had previous mental health diagnoses, mental health conditions were probably significantly under-diagnosed in the camps where medical care was basic at best.
---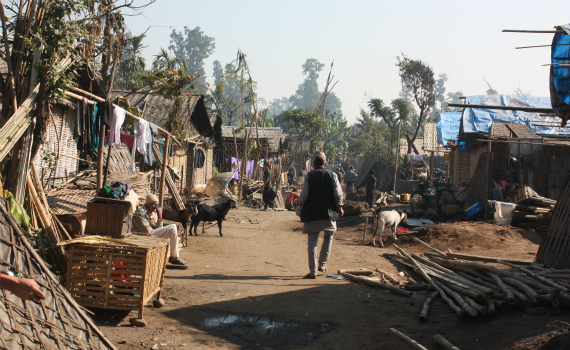 ---
But few refugee camps anywhere boast high levels of medical care. And most refugees face language and cultural barriers. Still, it seems the Bhutanese community is unique in how many choose this irreversible decision.
"Money, money, money," Som Nath Subedi offers as an explanation. Subedi, a Bhutanese case manager in Portland, Oregon and one of the first community leaders to bring attention to the suicides, says the intense poverty of the Bhutanese population may be a factor. "Iraqis, when they get here, they start looking for a house or a car," he says. "We start looking for a job, how to pay rent, how to get bills paid."
The CDC study noted that Bhutanese resettlement coincided with the financial recession, making the typical refugee problem of unemployment especially bad. But economic factors are just part of the story. Burmese, Somali and Iraqi refugees (the other three groups that top the list for recent refugee arrivals) also entered the U.S. during the downturn. These groups may have been protected by what Shetty describes as different "cultural perspectives" on suicide. Of these groups, most are Muslim, except the mainly Hindu Bhutanese.
Though both Shetty and Subedi were careful to avoid saying suicide is accepted by Bhutanese culture or Hindu religion, Subedi explains it is tolerated more. "For Bhutanese, suicide by hanging is a solution," he says, explaining that for Somali refugees, Islamic prohibitions are effective deterrents. Hinduism is more ambiguous on the subject.
The severity of the conflict the different groups experienced may also be a factor. While no one disputes the trauma of displacement and decades in limbo in refugee camps, the conflict the Bhutanese refugees escaped from was relatively non-violent compared to other global conflicts. In the late 1980s, ethnic Nepalis were forcibly removed from Bhutan and traveled to Eastern Nepal, where camps were eventually established. Many were in the camps nearly 20 years until resettlement to third countries--mainly the U.S.--began in 2008. Stories of imprisonment, torture and rape are not uncommon. But, for the most part, younger people--those more likely to be suicide victims, according to the study--did not experience much of this violence.
The intense violence refugees faced in countries like Iraq or Somalia may have led to a greater resiliency to trauma, explains Jennifer Pincus, who used to work with Bhutanese and other refugees through the Catholic Family Center in Rochester, New York. "They were sheltered, I think, in a way, and so as a culture they tend to be much more sensitive to anything that goes on," she says of the Bhutanese.
Despite meager food allowances, the camps in Nepal had better facilities than refugee camps in most other countries, says Lok Regmi, who was a community medical assistant with the World Food Programm at Beldangi-2 refugee camp before moving to Syracuse. And stressors like violent crime were basically non-existent. In some ways, Syracuse has been harsh by comparison. "I was beaten more than four times in Syracuse and it didn't happen ever in my country," Regmi says.
In June 2010, he was attacked by six men while on the way to the pharmacy. The experience left Regmi with a bitter taste. "I know how much I have passed my time for caring my family, depressed wife, and I was going to bring medications ... I was going to the drugstore to get medications and they beat me without any reason," he says, his voice rising slightly with indignation.
The attention brought to the suicides by the CDC study may be the first step to figuring out how to best tackle this incredibly complex problem. Suicide remains a poorly understood phenomenon; in unique cultural contexts it's even more so.
But few concrete conclusions have been drawn from the investigation. And the problem is not over just because the study period has ended. Nine more suicides have been reported to ORR since. The numbers may actually be higher, says Som Nath Subedi, the Portland caseworker. He says the community is reluctant to discuss suicides out of fear of how the news might affect resettlement, which continues today.
On December 14, Subedi got a phone call that someone was on the verge. Subedi rushed to the house. After talking the man down, he helped him figure out a way to take care of his bills. He also put together images of Hindu gods and goddesses for the man to hang up at home. But Subedi worries that little is being done to effectively stop the tide of suicides from rising. "It's ongoing," he says "I'm getting calls every day."