Beyoncegate: The Real Problem With Travel to Cuba
The Carters' jaunt brought unprecedented publicity to the complex and, some say, flawed travel licenses that allow Americans to visit the Caribbean nation.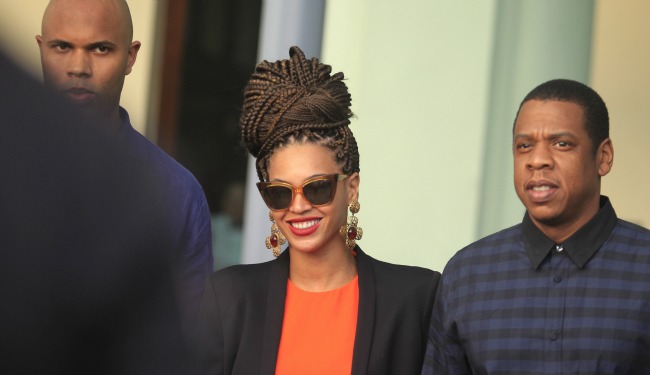 In March 2003, a tourist lost his U.S. passport somewhere between the men's room and the cacahuete vendor at a Havana baseball game while on an illicit trip to Cuba, and the potential repercussions were frightening. During the George W. Bush administration, there was no way to travel there legally as a regular person. But the enforcement was still patchy; most illicit Cuba visitors wouldn't have known exactly what was in store for them if they were caught. Sanctions were so tough that the same year the U.S. Treasury fined 240 individuals, most of them just for attempting to import Cuban cigars.
Eric -- a photographer from Olympia, Washington -- was travelling with a Cuban baseball tour run by a Canadian group. The mostly American guests had traveled to Havana via Mexico or Canada. The story had a happy ending. Eric never found his passport, but getting it replaced with the help of the U.S. interests section in Havana was blessedly uneventful, and fine-free -- which at that point made him lucky.
As Beyonce and Jay-Z's recent government-licensed visit proved, there is now a way to travel to Cuba with a clear conscience. The couple used government-sanctioned licenses, implemented by President Obama in 2011, didn't exist just a few years ago, and the Bush administration was more vigilant about enforcing the ban.
And while in Washington the same arguments simmer over whether to engage or to isolate Cuba, as changes begin to take root outside of government policy, it is possible that soon voyaging to the island nation could get easier still in coming years.
Tom Popper, president of Insight Cuba, a licensed travel agency, said the Carters' visit had sparked a huge interest in his organization and the trips it offers. "The awareness level has been raised [and] the future for people-to-people travel has never been brighter," he wrote in an email three days after the news broke.
The Carters' trip was also only weeks before April 30, when Secretary of State John Kerry will make his recommendation on whether Cuba should be removed from the list of state sponsors of terrorism. In the Senate, Kerry supported unilaterally easing Cuba sanctions. Removing Cuba from the list may, along with a bolstered profile of 'legal' Cuba travel, begin to reset bilateral relations.
Cuba is still the only country in the world that U.S. citizens are in some way restricted - by their own government - from visiting. Travelling there is not illegal; the embargo applies to doing business in Cuba, including any "travel-related" transactions. And Americans have gradually come around on Cuba travel restrictions of any sort.
A 2009 Gallup poll found that while attitudes on the trade embargo are split along ideological lines, with Republicans generally opposed to liberalization, there is greater convergence on the travel issue; 57 percent of Republicans, 74 percent of Democrats and 60 percent of independents polled were in favor of removing travel restrictions. A 2011 Florida International University poll made a similar conclusion.
In response to a letter from Florida lawmakers requesting clarification of the nature and legality of their trip (critics of the travel system believe that any kind of tourism helps the Cuban government, because the tourism industry is state-owned) The Treasury Department's Office of Foreign Asset Control (OFAC), which oversees the U.S.'s trade sanctions, including those for Iran and North Korea, confirmed that the Carters' visit had been authorized under a people-to-people license, part of a set of liberalization measures that Obama implemented in 2011 with the hope of increasing contact and strengthening civil society in Cuba.
Unlike general licenses issued to individuals like journalists or doctors, people-to-people licenses are issued to organizations (in Beyonce's case, the New York-based non-profit Academic Arrangements Abroad) who can then take ordinary folk (or celebrities, in this case) on cultural or educational trips.
A FOIA request by blogger Tracey Eaton revealed that OFAC had issued 431 Cuba licenses in 2011. To be approved, organizations must present full-time, detailed itineraries to show how each traveler "has a full-time schedule of educational exchange activities that will result in meaningful interaction between the travelers and individuals in Cuba." There is a also list of "prohibited persons" in the Cuban government and the Communist Party with whom US travelers are actually allowed to meet--they just can't spend a " predominant portion" of activities with them.
They must also explain how the activities result in "meaningful interaction." All trips must have a chaperone from the licensed organization, who must also write a report detailing all people-to-people activities during the trip. Attendance and participation at all events -- and a grueling schedule -- is mandatory for travelers. All this is meant to create as light a "tourism" footprint as possible, but in addition to the difficulties of legislating meaningful interaction, this elaborate system operates in a reality where, particularly in Cuba, culture is never far from politics. This has drawn ire from critics of the program, who think it's naïve. In a 2011 Senate speech, Cuban-American Republican Senator Marco Rubio fumed that an Insight Cuba trip, by meeting "Cuban hosts" and visiting monuments and museums dedicated to the Revolution, bordered on "indoctrination." And when he learned of a Center for Cuban Studies trip called "Ethics of the Cuban Revolution," which includes a forum on U.S.-Cuba relations and a visit to a literacy museum, Rubio commented that it would only attract people who are "at best, curious about Cuba and at worst, sympathetic" to the Cuban government.
Rubio and other pro-embargo lawmakers want to abolish the current travel policy because they believe the conditions are not enough to prevent the Castro regime from benefiting, but others say the restrictions on U.S. travellers are the problem. John McAuliff, founder of the non-profit Fund for Reconciliation and Development, argues that tightly controlling activities not only reduces the likelihood of genuine meaningful interaction but, paradoxically, gives the Cuban government a measure of control over its U.S. visitors.
"People should be able to travel freely within Cuba," he says. "Not to demean what they are doing with this travel program, but the U.S. government is funnelling people into that model, this restricted version of Cuba. People who go on these trips are forced into these controlled channels with which the Cuban state is happy to cooperate."
Kevin Johnston was a graduate student in journalism at San Jose State University when he went to Cuba in 2012 on a specific educational license. Although under the license rules his group was not allowed to leave Havana, some of them ventured outside the city limits one night.
"The next day, our professors got called to the Immigration Department and were questioned about why some of the students had left Havana."
How did the officials know? "That's what I'd like to know!" he says.
Before the group left, his professor got in touch with Yoani Sanchez, the Cuban dissident blogger who recently toured the United States. Johnston ended up producing a video piece on Sanchez with one of the broadcast students on his trip.
"To be completely honest, it felt like our group was on close watch when some of us began meeting with Sanchez," he says. "Maybe it was paranoia, or lack of sleep, but I started to see more and more police after my second visit to her home," says Johnston.
On people-to-people trips, U.S. citizens are prohibited from withdrawing money from ATMs, renting cars, picking up hitchhikers, or taking public transport. They have a per diem spending limit of $84. They also cannot stay in casa particulares (private homes).
McAuliff calls this "absurd."
"Allowing U.S. citizens to do these things would remove the element of control that Cuban government has," he says.
There is also the argument that a ban is an infringement on U.S. freedoms. "We should be thinking about the embargo in terms of U.S. citizens' rights to travel where they want," says Sandra Levinson, director of the Center for Cuban Studies. "We're being imposed-upon too. I can't believe that this is something the ACLU hasn't thought of taking up."
Cuba's own recent changes, including scrapping exit visas, no doubt have more to do with economic pragmatism than openness, and granting Yoani Sanchez permission to travel was likely a calculated move to gain international credit.
There is still a valid concern about the ethics of visiting repressive countries. Cuba has a dismal human rights and press freedom record. American development worker Alan Gross 's continued imprisonment -- for importing illegal computer equipment -- is a major a blow to observers who believed a thaw was imminent.
However, while other small concessions -- cell phone use, some private enterprise, and developing private property -- may not signal any government-level shifts, they may eventually lead to societal ones, and Cubans travelling abroad may eventually render Cuban government's demonizing of the U.S., which has been crucial for the regime -- less credible domestically. Yoani Sanchez and many others have noted that the embargo actually bolsters the Cuban government, and the isolation approach seems to be losing favor. Blogger Anya Landau French noted, using data from OpenSecrets.org , that Rubio's pro-embargo U.S.-Cuba Democracy PAC is seeing dwindling cash donations.
For all its flaws, the travel policy is undoubtedly achieving some of its purposes. This is reflected by the growing number of Americans visiting Cuba, thanks in large part to the program, and it is also opening other doors. In 2012, for the first time the Cuban Interest Section in Washington, D.C. and the State Department's Cuba Desk rushed through business visas to allow three Cuban travel representatives to attend the New York Times travel fair. Two of them returned in 2013.
It is unlikely that any of these things developments alone would do much to normalize bilateral ties - but combined with Cuba's own developments and possible rethinks in Washington, it's a start. In the meantime, the fact remains that the embargo won't budge without Congressional approval. Something big has to change in Cuba or in the U.S.
It remains to be seen what long-term effects, if any, Beyonce and Jay-Z's visit will have on U.S.-Cuba relations and travel - but that it was possible at all is surely evidence that the people-to-people policy has, despite its flaws, already enabled some change.