Bahrain Is Becoming Even More Repressive Because of the F1 Race
Reports that police are arresting and intimidating those living closest to the race tracks add to the kingdom's already worrying situation.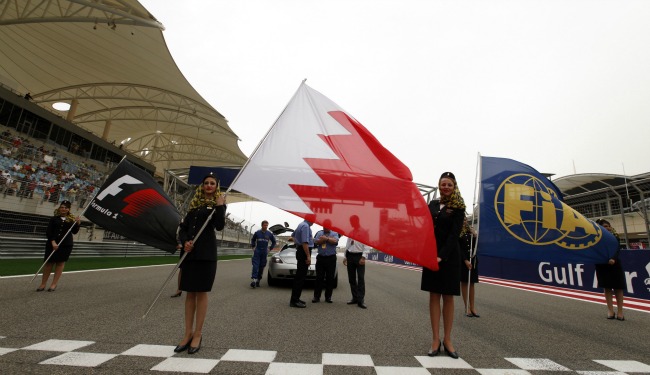 The promoters of Bahrain's Grand Prix urge you to "Imagine your moment." It's a great slogan. It's supposed to reflect "the excitement from all Formula 1 fans... as well as all the memorable moments people create during the enjoyable time they have at the race."
The Bahrain Grand Prix will occur later this month despite the controversy of holding the race amid a fierce government crackdown on political dissent and increasingly violent protests. The 2011 race was cancelled due to the country's turmoil, but last year's Grand Prix went on anyway.
There are the familiar arguments about whether countries with dismal human rights records ought to be rewarded with prestigious international sporting events - how it's impossible to have normal sport in an abnormal society, and the important role the sporting and cultural boycott of apartheid South Africa played in the downfall of that regime.
But there is another strand to the "sport and politics" discourse, too, which is the responsibility of the organizers and participants in addressing human right violations that take place because their sporting event is happening. Think of the women trafficked into Athens for the 2004 Olympics, or the dozens of dissidents rounded up in Beijing before the Olympics there in 2008, or the communities facing forced eviction to make way for the huge infrastructure projects for the Rio 2016 Games. These things only happened because there were sports events taking place.
In Bahrain, there have been reports that villages near the F1 track are being attacked by the police. "There is a heavy security presence creating fear in the nearby villages," said Said Yousif Al Muhafda of the Bahrain Center for Human Rights. "Villages are being attacked with tear gas and sound bombs and so far at least 14 people have been arrested."
Whether or not the sponsors of the F1 are happy with Bahrain as a venue, they should be concerned at human rights violations being committed because their event is coming to town. British media reports suggest that Vodaphone's recently announced decision to withdraw its sponsorship of the F1 was tied to what happened at last year's Bahrain Grand Prix, although the company denies that.
In 2012, in an attempt to showcase a country that had a rocky 2011 but was enjoying relative normality, the Bahrain government welcomed sports media in to cover the event. The PR plan largely backfired as journalists used their access to the country to report on widespread human rights violations, just as soccer writers had done during the 1978 World Cup in Argentina.
Bahrain's rulers are invested financially and psychologically in the F1. It brings international prestige to the tiny kingdom, where the ruling family keeps tight control of power and the king's uncle has been the unelected prime minister for over 40 years. The Bahraini Mumtalakat Holding Company, which boasts several members of the ruling family on its board of directors, co-owns McLaren, one of the leading F1 teams.
But during the crackdown against democracy protestors in 2011, workers at the F1 track were targeted; dozens were dismissed from work and some report being tortured in police custody.
Now it seems that fresh human rights violations are being committed in anticipation of the race, presumably to dissuade protests. One woman told me masked men had seized one of her family members in a dawn raid a few days ago without an arrest warrant. "We live so close to the track we can hear the cars racing. Masked men came and took him and we've heard nothing since about his whereabouts or what the charge is. He was taken because of this F1."
It's not as though such arrests or attacks by police using tear gas are rare in Bahrain - unfortunately they're only too common. But the reports of these attacks on people appear to happening as a direct result of the F1 race. Sponsors, organizers, and participants should speak out against them. Former F1 world champion Damon Hill said this week that "We would like you to enjoy Formula One. It has lots of positive things to offer. But please don't, on our behalf, round people up and brutalize them...I would not want to go to Bahrain if people are going to be treated extra bad just so a race can go ahead. What we don't want to have is F1 being responsible for making life worse for people. The question is whether F1, by going to Bahrain, is actually going to enable or further brutal repression."
For many in Bahrain the hoopla around the race will be irrelevant as they work to end a government crackdown on dissent that shows little sign of abating. They're more concerned with reaching a time when political prisoners will be freed and those who tortured them are held accountable. It will be interesting to see if they will ever be able to live that moment instead of just imagining it.