A (Temporary) Lifeline for Morsi
The Egyptian president has been promised $5 billion in loans from his biggest Arab backers, but the money won't stave off disaster in the country for long.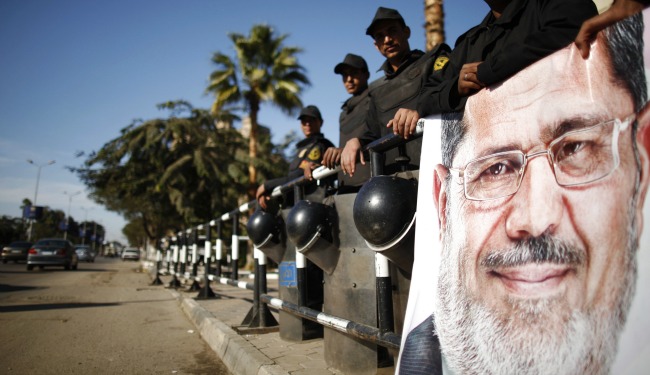 Mohammed Morsi is finally getting a break. The Egyptian president, who after widespread condemnation pulled back on his campaign against activists and satirists this week, has been promised a loan of $3 billion dollars from his movement's biggest Arab financial backer, the state of Qatar.
Also on its way: a $2 billion check from the government of Libya, under a five-year, interest-free loan agreement and a three-year grace period.
Qatar's announcement that it would buy $3 billion in bonds from Egypt comes on top of a previous check for $5 billion, all help the Egyptian government desperately needs to stave off economic disaster as rioting on the streets continues to claim lives.
Until Egyptian Prime Minister Hisham Kandil took up the money in Doha on Wednesday, authorities everywhere -- from the Middle East, to the U.S., to the IMF -- were watching for signals from the Muslim Brotherhood stalwart that he had a plan to shift course and right a wobbly economy with real fiscal action.
Right now he is resistant, preferring instead to appeal to his Arab brethren -- even Iraq -- to lend Egypt a hand. Yet as The Economist recently noted : "Even should they cough up, this would improve only the numbers, not the reality."
Egypt's economic woes appear endless: a sliding currency and aggressive monetary action by the central bank to stop it is hampering trade and investment at a time when wheat harvests appear t0o thin to feed everyone. At least 4,500 factories have shut down since the revolution began and unemployment is now 13 percent.
Egypt's courts are overturning privatization deals from the Mubarak era, questionably corrupt agreements with foreign investors who are now being retroactively hit with the bill.
The subsidies that keep the poor fed -- bottom-rung prices for bread and diesel fuel -- cost the government $20 billion, and changing that is part of the conditions Egypt must meet to demonstrate to the IMF that it is serious about economic reform if it's to get at least $4.8 billion in aid along with generous terms dangling like a carrot in front of them.
At the heart of all this is Morsi. In an interview with TIME last year he acknowledged that the decision was all his. "Now that we don't have a parliament, so I am responsible for issuing laws, which is a big responsibility, serious one. I don't like to use it unless I do have to. If I don't, if I am not obligated, then I don't like to use it."
With difficult economic choices like these before him, it's no wonder Morsi has shifted his focus to one course where he needn't beg anyone for help -- political action, even if it came with negative results. The constitutional furor that erupted over the changes his Muslim Brotherhood shoved through the legislature last year still steams on the streets. Protesters planned "day of rage" demonstrations for April 6, events overtaken by Muslim and Coptic Christian violence that ended in even more deaths.
Now, seemingly in response to the religious violence, Morsi's government is reported to have called in independent legal experts to propose changes to the constitution. Reuters quotes the state news agency MENA saying a committee will study at least 10 articles of the new constitution that was rammed through parliament last year over protests from opposition parties over the Islamic slant in the charter and the changes to the treatment of women and religious minorities.
The proposed amendments won't be binding for the new legislature expected to be elected later this year, Reuters reports, but Morsi would receive them and was expected to make a decision on their application.
And the political actions of the Muslim Brotherhood continue, even after an Egyptian court threw out the case against satirist Dr. Bassem Youssef earlier this week. Calls for political leader Mohamed El Baradei to be put on trial for his work at the International Atomic Energy Agency came from the Brotherhood's deputy leader Essam el-Erian on his Facebook page.
Earlier this week El Baradei called on Morsi to embark on the unavoidable: bring about greater political unity and a broad-based government that would satisfy both his domestic and global audience.
"We are waiting for Morsi to understand that without national reconciliation, Egypt will not rise," El Baradei said at a conference on Egypt's economy this week.
"The state today is collapsing. It is a collapsing state politically, economically, socially and security-wise," said El Baradei. "And I don't think we have long to fix this."
The loans may have given Morsi room to breathe, but not that much.