'A Clear Setup': The Conspiracy Theory of the Boston Bombing Suspects' Father
"Tamerlan had no radical ideas whatsoever."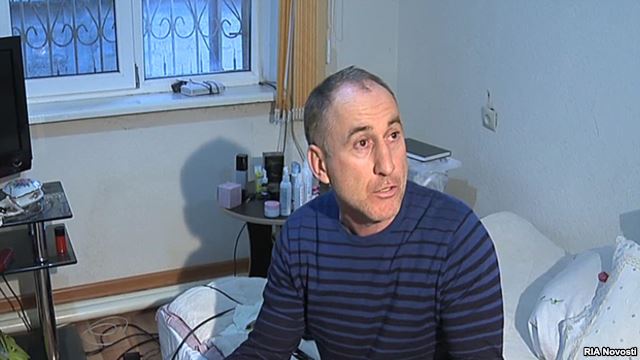 MAKHACHKALA, Russia -- As media outlets scramble to understand more about the suspected Boston Marathon bombers, Tamerlan and Dzhokhar Tsarnaev, many relatives linked to the family in Makhachkala, Daghestan, are declining to talk to journalists. Nonetheless, the men's father, Anzor Tsarnaev, spoke to me from an undisclosed location via telephone in Makhachkala on April 21.
We're trying to understand the chronology of events. Tamerlan seems to have left the United States for six months [starting January 12, 2012]. One shopkeeper near the family home in Makhachkala told RFE/RL that he was only [at your house] for a month or so. Where could he have taken on these [radical] ideas?
[Tamerlan] had no [radical] ideas whatsoever. I don't get it. Who could have come up with that? He was with me in Makhachkala and he used to sleep until 3 p.m. I even used to poke him, asking him if he came here to sleep only. I was taking him to visit our relatives, have some food there, this and that. Once back home, he would always go to bed.
How long was he in Makhachkala for?
Six months...
Did he frequent the mosques? Could [a terrorist organization] have worked on him there?
Of course he went to mosque on Fridays. Of course. He went to the main mosque. And we kept going there together. Nobody was trying to process him in any way. There is no such thing in Makhachkala. Local people stopped doing this kind of thing long ago. This is history. Those who brainwash people do not live in the cities anymore. Brainwashers live in the mountains.
You're planning to go to the United States. When do you plan to do this?
I want real justice. I have a lot of questions to ask the [American] police and secret services. I am a lawyer myself. I want answers to all the questions that I have on criminal issues, on terrorism. I need to know. I have questions to ask of the famous American secret services. They keep spinning their image throughout the whole world, they keep promoting themselves. I need to know how they worked, why, where, and so on. I need answers to make a clear picture. I also want to hire a lawyer. I need justice, do you understand?
People are saying that Dzhokhar Tsarnaev fell under the influence of [his older brother] Tamerlan.
[Dzhokhar] could not have possibly been under any influence of [Tamerlan]. Yes, he was his elder brother, but he would have never set his younger brother up. It would be against our customs.
[Tamerlan] used to tell [Dzhokhar], "Look at me, I got married and skipped on education. Go, get yourself some education, otherwise we'll make our father mad." Sure, I was mad. I used to nag [Tamerlan], telling him he would end up as a cheap laborer without education. He kept promising me he would get an education. He would assure me he could speak English. He knew his way around computers, and he was going to start some business. He knew some guys who went to China and would import stuff from there, open a shop, this and that. These are some plans he had.
Nothing makes any sense. The way [American] secret services worked makes no sense, nor does how the police handled it. They have no video footage, nothing. [...] Moreover, they kept him under surveillance while he would spend all his time with his baby. [Editor's note: Reports claim Tamerlan came to the attention of U.S. law enforcement via the Russian government in 2011 and was questioned by the FBI.] They ought to have known very well who he was in touch with had there been anything suspicious. And those explosives? Do you think it's so easy to get hold of explosives in Boston? The police itself had ordered exactly the kind of explosives that went off there. Why would the police get hold of this stuff? This just doesn't make sense. They simply picked a Chechen boy. What for? This is a clear setup.
Did Tamerlan visit Chechnya [when he was visiting Makhachkala from January 2012]?
He visited Chechnya twice with me. We went to see my uncles and aunts -- I have many of them there. All of them are clean people; they pray, everybody knows them. They never left Chechnya. My relatives had jobs there and they stayed there throughout the war.
---
This post appears courtesy of Radio Free Europe/Radio Liberty.