A Brief History of Radical Islamists in the U.S. Armed Forces
Eric Harroun was charged Thursday for fighting alongside Jabhat al-Nusra, but he's far from the first veteran to turn to terrorism. Nor is he likely to be the last.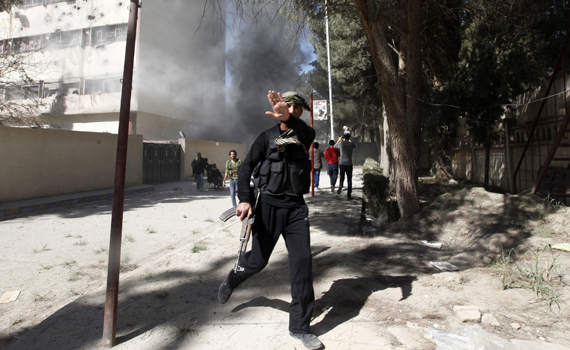 Over the last decade, U.S. Armed Forces have spent much of their time fighting against militants in distant lands. But something else has gone largely unnoticed during this time. Rather than trying to kill terrorists, some American soldiers have joined them.
The latest case was that of Eric Harroun, charged last Thursday for conspiring to use a destructive device while fighting alongside Jabhat al-Nusra - an alias for al-Qaeda in Iraq - in Syria. He grew up in Phoenix, Arizona, and served in the Army's 568th Engineer Company between 2000 and 2003, achieving the rank of Private First Class. He was discharged with full disability pay after suffering a head injury in a truck accident. Harroun eventually began identifying himself as a Muslim, with his Facebook page containing the quote, "The only good Zionist is a dead Zionist."
But Harroun was not a one-off. In fact, cases like his go back decades.
Ali Mohamed, who was involved with the Egyptian Islamic Jihad from the early 1980s, served as a Company supply sergeant with Special Operations Command between 1986 and 1989. After gaining permanent residency in the U.S., Mohamed even boasted of taking several weeks leave in order to join the mujahideen and "kill Russians" in Afghanistan. Mohamed was honorably discharged in November 1989 and, within two years, was providing assistance to Osama bin Laden as one of the integral, early members of al-Qaeda.
However, perhaps the most notorious example is that of Major Nidal Hasan who, in November 2009, shot and killed 13 people and wounded 28 at the Fort Hood military base in Texas. Between December 2008 and June 2009, he was in e-mail contact with the al-Qaeda cleric Anwar al-Awlaki.
A similar incident occurred in Kuwait. Sergeant Hasan Akbar had served as a combat engineer in the 101st Airborne Division. Yet, in March 2003, five years after joining the Army, Akbar murdered two fellow soldiers and injured fourteen others at Camp Pennsylvania in Kuwait, where members of his division had been due to travel to Iraq. Akbar threw grenades into tents containing troops and shot them as they attempted to escape. Akbar later said that he "did it because I'm Muslim. They were going to kill Muslims and rape Muslim women."
The prospect of deployment to Iraq also affected Ryan Anderson, a tank crew member of the National Guard's 81st Armor Brigade, who was due to be deployed in the fall of 2004. He had converted to Islam five years earlier, and in October 2003 wrote on an extremist website that he would soon join "the struggle against those who would oppress us." He then emailed an individual purporting to be an extremist (yet actually just a private U.S. citizen) the location of his unit's proposed deployment and expressed a desire to acquire a Kalashnikov and travel "across to the arms of our Muslim brothers and sisters." Anderson would eventually be convicted for attempting to aid al-Qaeda.
One Virginian cell alone contained three ex-Armed forces men who undertook paintball training in preparation for jihad. Islamic convert Seifullah Chapman, who led the training, had previously served with the Marine Corps before being honorably discharged as a disabled veteran. Chapman was training at camps run by the Pakistani terrorist group, Lashkar-e-Taiba, on 9/11.
Another member of the Virginia cell, Donald Surratt, began his path to conversion while serving with the U.S. military in Somalia in 1993. He had also been discharged, having been shot in the leg during an armed robbery.
A third cell member, Hammad Abdur-Raheem, converted to Islam while in the military after being honorably discharged in 1996. He was drawn into radicalism through a combination of the film Malcolm X and the fighting taking place in Chechnya. All three men were convicted for terrorist offenses relating to Lashkar-e-Taiba.
Soldiers in the Navy also went on to commit serious terrorism offenses. Hassan Abu-Jihaad enlisted in the Navy in 1997, having converted to Islam two years prior. While serving as signalman on the USS Benfold, he leaked classified information regarding a U.S. Navy battalion tasked with enforcing sanctions against the Taliban and partaking in missions against al-Qaeda. The information revealed navigational plans, crew composition and vulnerability to rocket attacks. However, this was unknown when he was honorably discharged from the Navy in 2002.
The information was found a year later on a floppy disk at the home of Babar Ahmad, a London resident due to face trial in the U.S. on terrorism charges and who had helped run Azzam Publications, an extremist website from which Abu-Jihaad had purchased jihadist videos. Between late 2000 and fall 2001, Abu-Jihaad had emailed Azzam Publications, with praise for al-Qaeda's "martyrdom operation" against the USS Cole in 2000 and for the "brave" mujahideen fighters.
Paul Rockwood, a former member of the U.S. Navy, created a "hit list" in 2010 of human targets for assassination or bombing. He had converted in 2001 and attended the Dar al-Arqam Islamic Center in Falls Church, Virginia at the same time that al-Awlaki preached there. Rockwood later claimed that he shared similar beliefs as the cleric, and was convicted in July 2010.
Semi Osman punctuated his time serving for the U.S. forces with extremist activity. He briefly served in the U.S. Army from 1998, before discharging and going on to host a terrorist training camp at his property in Bly, Oregon in 2000. A year later, he enlisted in the Naval Reserve and was part of the Supply Support Battalion One, Company F.
Some men had more fleeting careers with the military. Jeffrey Battle, member of a Portland cell that attempted to travel to Afghanistan in the period immediately after 9/11, had joined the U.S. Army Reserves in 1999. He had ten weeks of basic training and graduated in February 2000. Like Abdur-Raheem, Battle cited Malcolm X as crucial to his conversion.
Bryant Neal Vinas, convicted in 2009 for joining al-Qaeda in Pakistan and providing them with information about New York's Long Island Rail Road system in order to facilitate a terrorist attack, had joined the Army in 2002. However, he dropped out after three weeks, and converted to Islam in 2004.
It is impossible to find one single trend running through each of these cases that could shed light on why members of the U.S. military forces went from serving their country to attempting to destroy it. While some had left the Army at their time of offense, those who committed murder were still serving. Some converted prior to enlisting; others, during their service; and others afterward. Some had long careers in the armed forces, others a matter of weeks. There is also no one factor that pushed these individuals to turn against their country.
For those who committed offenses having been discharged, it was perhaps social disenfranchisement felt in leaving the Army. The high number of converts suggests that some individuals were searching for meaning - either in the Army or after leaving it - and found it in an extreme interpretation of religion. This is a plausible explanation for Harroun and Rockwood, while it is also interesting that a directionless individual such as Vinas, who had a troubled background, tried the Army before turning to Islam.
Others appeared to act in relation to potential deployment to Muslim-majority countries. Akbar, Hasan and Abu-Jihaad were all seemingly pre-disposed to extremism - yet all only acted when they felt their role in the armed forces conflicted with their religious or ideological duties.
However, this is not an exact science. Harroun was discharged in 2003, shortly after America had become embroiled in Iraq. Yet there is no evidence that he tried to fight there, or other jihadist hotspots, in the following years. So- why Syria, and why did it take a full nine years after being discharged? Harroun's father says his son's mood swings and depression were exacerbated by his 2003 truck accident. However, this still does not explain the length of time taken to join up with jihadist groups.
Ultimately, this may be impossible for the government to second-guess. However, it's clear this is an ongoing threat from within the very force designed to protect us. Killing your enemies abroad is useless if their ideology takes root in those tasked to do the killing.