Why the World Needs a Global Arms Treaty
War-torn South Sudan shows the terrible effects of unregulated weapons.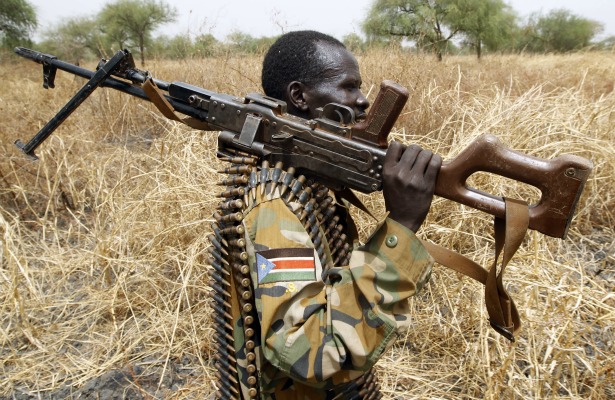 This month, from March 18 through 28, the international community will gather in New York City to vote on what would be the first-ever rulebook for the global trade in war-grade weaponry, the United Nations Arms Trade Treaty. The Treaty, if enacted, would establish basic standards for the global arms trade, such as licensing of brokers and blocking sales to terrorists and human rights abusers. Exactly one year ago, I was in a dusty capital in East Africa's newest nation, listening to stories from those at the lethal spigot end of an unregulated arms pipeline.
For those who play Geo Quiz, the city of Juba in South Sudan is 6,812 miles from Manhattan. It is the seat of government in a land now split from the north after the longest civil war in modern African history. In the absence of any system of control over the global arms trade, that conflict was amplified and extended by an unregulated flood of weaponry to both sides. Perhaps 2 million people were killed during the war, although no one is sure of the exact number.
In March of 2012, I came to Juba with a team of Columbia University researchers examining post-war security plans, including efforts to limit cross-border arms trafficking and critical decisions over military spending. The divided halves of Sudan are officially at peace. But the threat of resumed warfare looms large, as a north-south arms race continues to be fed by irresponsible foreign governments and unscrupulous weapons traders.
***
A plaster hodgepodge along a road of shanties and burning trash piles, the Logali House hotel is a hangout in the heart of Juba, where foreign wheeler-dealers and do-gooders mingle with local players and up-and-comers. In suit and tie, marked with forehead scars as a Lou-Nuer tribesman, Arthur (no real names are used in this article) joined me at the burrito buffet.
The director of an agency for infrastructure investment, Arthur enthused about South Sudan's future: solar power, agriculture, road projects connecting the nations of East Africa.
Eventually, however, recollections of his years as a guerrilla soldier surfaced. His was a youth defined by guns, and even more so, by bullets.
"I will tell you about the number 750," Arthur began. After each firefight, a soldier was given 750 new bullets. Snap inspections required counting those bullets. "If you have less than 750, even one missing, they shoot you." Would people lose their bullets, I asked Arthur? "Not usually," he reflected, "but sometimes the soldiers would trade them for a cup of milk." He once dropped a bullet in the forest: "It was a terrible thing looking through the brush, but then I found it."
The Logali made a useful basecamp, and we interviewed a colorful spectrum, from police to clerics, tribal chiefs to human rights workers. Everyone in Juba, in his or her own way, was engaged in the project to build a peaceful future. Some seemed intoxicated by the possibilities; others held hope in check. I found, however, all conversation inevitably led to one thing shared by everyone in Juba: bad memories.
We drank soda pop with a cadre of intelligence agents, our first step in a vetting process to access a security minister. The agent with haunted eyes who sat beside me had fought for independence. How long had he been in the bush, assault rifle in hand? His voice became soft, almost a caress: "21 years." He sipped his orange Fanta, "Yes, when I was 11."
Martha, who was helping to draft the new constitution, was a grand woman who filled her rattan chair like an undersized throne. As we snacked under a grassy awning, Martha revealed she had only recently returned to Juba. During the war, while in exile, she helped build a women's movement among the diaspora while living in refugee camps in Ethiopia and Kenya.
A religious music producer, Jacob bubbled with plans to remodel his house. Married with young children, he was gathering supplies to build an extra room and a water tank. Then he veered toward bleaker thoughts.
Recalling the worst days of the civil war, he told me, "Greg, I have seen bodies floating down a river."
***
In the weeks and months after we left Juba, an out-of-control global arms trade continued to wreak havoc, in Sudan and around the world. Unmonitored transfers of weapons to Libya wound up in Mali, sparking a coup and terrorist insurgency . Cross-border trafficking loads the guns of poachers in an "epic frenzy" of elephant and rhino killings . An out-of-control arms trade places assault rifles in the hands of child soldiers , and it fuels the slaughters of Syria.
Today, weapons covertly sourced from foreign governments bolster Sudanese President Omar al-Bashir's aerial attacks on refugee camps on the South Sudan border and military campaigns against his own citizens in the Nuba Mountains and Darfur. Gunrunning throughout the region also supplies terrorist militias like the Lord's Resistance Army and undermines civilian disarmament efforts by the government of South Sudan. Traditional quarrels in remote cattle lands, weaponized by traffickers into full-blown military battles, have forced thousands to flee their homes.
A majority of the nations of the world - no surprise - support common controls over transnational arms sales. Oversight to determine in advance, for example, if an official government-to-government sale of arms will likely service atrocities and grave human rights abuse is fundamental to the concept of the Arms Treaty.
During the two decades of civil war in Sudan, and in spite of humanitarian outcry and a patchwork of sanctions, the governing regime in Khartoum received warplanes, tanks, guns and ammo from dozens of providers around the world, including from China, India, Russia and Iran. Those arms were used to battle rebels in the south, where most of the civil war was waged, as well as to violently "cleanse" minorities in Darfur.
The world's weapons business is a kind of Wild West: law and order is not the rule, it's the exception. Even the worst profiteers like "Merchant of Death" Viktor Bout and his networks of partners and enablers, they get away with it for decades. Traffickers are contracted by the U.S. military and other nations who neglect due diligence in exchange for expediency and political cover. And the most successful profiteers can bank billions. A global licensing system that would track and blacklist brokers who arm terrorists and tyrants would be one obvious, and important, benefit of a robust Arms Treaty.
An attempt to establish the Treaty last summer, however, encountered an odd antagonist. UN delegates worked round the clock all July, but in the final hour, their efforts came to a halt.
Executives at the National Rifle Association spun conspiracy theories alleging the Treaty would somehow impact personal gun ownership in the U.S. These claims, though thoroughly debunked , nonetheless did their damage. Fearing election year heat , the Obama administration blocked the Treaty from coming to a vote.
***
One storm-washed afternoon, a week after I had arrived in Juba, I found some Brits in summer blazers leaning against the wooden bar at Logali. The youngest, Geoffrey, toasted me with a plummy chirp. A pack of South Sudanese big shots bustled in, suits dripping, gathered up the Englishmen, and they rumbled off in Landcruisers.
That evening, a tipsy Geoffrey revealed he and his cohort were U.K. military officers. They were here in the capital meeting with South Sudan officials, he said, "for a bit of business."
Awakened to the presence in Juba of a special brand of western visitors--military consultants, security contractors, foreign army officers--now I seemed to bump into them everywhere, hobnobbing with their South Sudanese counterparts over Nile Special beers and neon-colored Fantas.
Bar side at Logali, I was getting whispers about flights of guns and military gear into Juba airport. Local journalists and foreign correspondents would soon start reporting on government negotiations to purchase anti-aircraft missiles. And yes, the carpetbaggers of war were definitely in town. Observing the suits and uniforms huddled around private tables in cafés overlooking the Nile, hearing their hushed bargaining... it made my heart sink. For the long-brutalized people of this country, in their first year of hope, it was tragic to see storm clouds of the past gathering once again.
Nearing our last day in Juba, we received a call from the Ministry of National Security.
We piled into a van and plowed through midday traffic. En route, I reconfigured my questions. Foremost was a curiosity about these swarms of weapons peddlers. From a security standpoint, did this impoverished land, already armed to the teeth after generations of war, really need more gun power, more land mines, more tanks?
At that time, the nation was assailed by challenges: disease, famine and grinding poverty, to name just a few. National revenues had dropped almost to zero when a major cross-border oil pipeline shut down in a dispute with the north. But while South Sudan's budget was bottoming out, the trade in tools for killing seemed to be hopping. Even the U.S., lifting a longstanding arms embargo, was prepping to get in the game.
At the Ministry of Security, we were lead into a waiting room. Soldiers lounged against walls and passed in and out of doorways, hands on holsters, automatic rifles slung loose. Several grinned and reached to shake our hands as we passed. We were admitted finally into the minister's chamber.
The security minister sat behind a monumental desk. We were arranged at a different elevation, slouched low in pleather couches. Following exchanged courtesies, the minister explained there would be no interview, as we had no classified clearance.
He smiled. We smiled in return. Spiced tea arrived on a tray. Conversation slowed, the air conditioner rattled, we merely sat. I closed my notepad, filled with my questions, void of answers. After some time, the minister thanked us and we shambled out into the smoky glare of Juba.
***
In just a few days from now, international representatives will gather once again to try to vote on the Arms Treaty. For the countries and peoples of the world, it's a chance to bring rationality and management to a global business that has less oversight than the trade in table fruit.
Meanwhile, there remain no worldwide standards, no registry of weapons brokers, no system to track a tank or Kalashnikov or box of bullets in the winding international journey from factory to killing field. For irresponsible governments, gun smugglers and fat-cat profiteers, that means Teflon impunity... and rising stacks of cash.
And what does the freewheeling arms trade mean for those who have lived through years of conflict?
For resilient people in places like Juba - and in Goma, in Juarez, in Bogotá, in Homs - it may not mean the end of hope. It is likely to mean more brutality, more death, new nightmares.