What the Name 'Francis' Means for the Modern Church
The new pope's namesakes traveled and preached, but they also listened. Will the new pontiff emulate the two most famous Francises in Catholic history?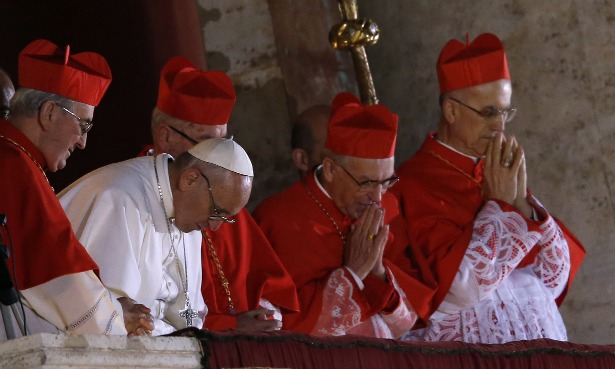 Annuntio vobis gaudium magnum: Habemus Papam ... Qui sibi nomen imposuit Franciscum. "I announce to you with great joy: We have a pope. ... Who has taken for himself the name Francis!"
There are two immediate messages to take away from the election of Francis. First, this quick vote reflects a clear unity of purpose among the cardinals. Second, his selection of the name Francis speaks volumes about his potential approach to the coming papacy.
First, while the median number of ballots cast since 1830 is only 6.5, and this time it only took 5, I and many others had the sense this time it might take longer. Pope Benedict's resignation was so unexpected and the scandals plaguing the church so acute, that here seemed a moment for a radical shift in direction. But history tells us that a conclave has to drag on for awhile so that the two (or more) camps reach an impasse and choose a radical new direction. That did not happen here. By report, Bergoglio was the runner-up at the last conclave and considered a "papabile" this time around, if perhaps a little old for a church seeking new energy and a change in direction. And that's exactly right. This is not a change in direction.
So why Bergoglio? He is a first-generation Argentinian, of Italian descent, who has been in Italy and involved in the governance of the Church for many years. He must have excellent relations with his fellow cardinals. He can simultaneously serve as a symbol for Catholicism in the global south and assuage any concerns of the Italian cardinals that they are losing control over the papacy with a third consecutive non-Italian pope. He is relatively old, but now that Benedict has set an example of voluntary retirement, Pope Francis can choose to follow his predecessor's path as needed. Whatever one thinks of Benedict's reign as Pope, part of his legacy will be that he enabled his successors to resign without drama.
Second, the choice of name reveals much about a new pope's state of mind as he steps out onto the balcony to address the world as pontifex. He chose his name, his spokesman revealed, in honor of St. Francis of Assisi, one of the great saints in Catholic history. Francis was the son of a cloth merchant who became a kind of living saint during his lifetime. He preached and practiced radical poverty, founded a new way of living a life in the church, embraced the presence of God in all living things, and left behind a vibrant (if sometimes divided) order named after him. These friars of St. Francis took vows and lived by a set of rules that Francis drew up, but were supposed to travel and preach to all. Cardinal Bergoglio embodied a kind of exemplary simplicity in his own life, riding the bus instead of in a limousine, living in a simple apartment instead of a palace, and cooking for himself. While this is a far cry from Francis' poverty, Bergoglio never lived as a grand prince of the Church. A pope named after St. Francis of Assisi might well focus on questions of social justice, poverty, and personal piety, as well as environmental justice.
But Bergoglio is a Jesuit, and one of the two most important saints in Jesuit history was also named Francis. St. Francis Xavier was a missionary and evangelist. He personally travelled to South and East Asia and died in 1552 just off the coast of China. By taking the same name as Francis Xavier, the epitome of the Catholic global evangelist, the new pope suggests he is ready to push the Vatican from a Eurocentric to a global position.
It is impossible to think that a Jesuit, now Pope Francis, wasn't thinking of his famous predecessor in the Jesuit Order when he chose his name. Catholic theology embraces the idea that multiple, even contradictory, principles can co-exist within the same object. Jesus can be both God and Man. The Host can be both body and bread. Pope Francis can draw inspiration from both Saints Francis as he enters this new phase of his life. Perhaps even more importantly, he can nod to his Jesuit tradition, while taking as his inspiration both the universality and the message of reform from St. Francis of Assisi. It's a savvy and meaningful decision.
The seeming ease with which the cardinals converged on this man and his choice of the name Francis gives me hope that Pope Francis will focus on healing wounds and living up to the promise of Vatican II. Both saints were men who believed in dialogue as opposed to diatribe. They travelled, they preached, but they also listened. They sought to rebuild and reinvigorate a church tangled up in secular concerns. I hope Pope Francis can live up to the best parts of the examples set by those whose name he has chosen to take.