Vladimir the Weak?
A shady smear campaign by Russia's elite signals that Putin may soon be a lame duck.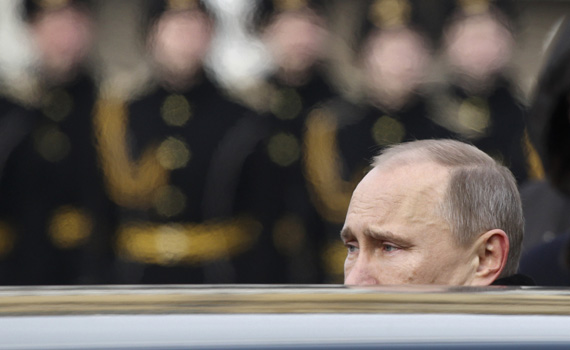 Maxim Shematov/Reuters
Vladimir Putin clearly likes to keep an eye on his enemies. Perhaps he should be taking a closer look at his friends.
Consider, for example, Kremlin chief of staff Sergei Ivanov.
The KGB veteran and was widely considered the odds-on favorite to be Putin's successor back in 2007 until he was passed over for the more pliant Dmitry Medvedev. Now Kremlin-watchers say he is gearing up for another round.
"Ivanov wants the throne," the Moscow-based political analyst Vladimir Pribylovsky wrote on his blog recently.
And the first step of "Project President Ivanov" is to get Medvedev sacked as prime minister and Ivanov appointed to that post. And toward this end, Pribylovsky writes , Ivanov and Rosneft CEO Igor Sechin have launched a stealth campaign against Medvedev and his close allies.
The main targets have included Deputy Prime Minister Arkady Dvorkovich, Medvedev press secretary Natalya Timakova and her husband Aleksandr Budberg, and others.
The main medium has been a series of online films released on YouTube, Live Journal, Twitter, and Facebook under the label " politmovies ," accusing Medvedev's allies of corruption and of collusion with opposition figures like Aleksei Navalny.
According to the daily " Nezavisimaya gazeta ," the campaign, which is aimed more at elite opinion than the general public, has already cost Budberg his job as an adviser to an adviser to the president of the state-owned bank VTB.
"According to legend, in the spring of 2007, Vladimir Putin promised Ivanov that he would be his successor and the next head of state. But it did not work out," political analyst Stanislav Belkovsky wrore recently in " Sobesednik ."
"Since becoming Putin's chief of staff, Ivanov has now decided to fight back."
It's not clear how successful Ivanov's campaign will be. But such succession maneuverings, which have been going on for months, are a signal that people in the elite's upper echelons are already thinking about -- and planning for -- life after Putin.
If this continues, and it is showing no signs of abating, it could quickly turn Putin into a lame duck. At the very least, it makes him look weak by comparison to the figure who towered over Russian politics from 2000-08.
The campaign to sack Medvedev is just one area where the siloviki wing of the elite is attempting to push the advantage it gained when Putin -- spooked by the protests that accompanied his return to the Kremlin -- threw his lot in with them and shunned technocrats seeking political reforms.
In essence, when Putin abandoned his traditional role as arbiter among Kremlin clans and sided with the most hard-line elements, he also became their prisoner.
Another area where the siloviki seem to be pushing Putin where he doesn't want to go is in the corruption case against former Defense Minister Anatoly Serdyukov.
In this case, according to analysts, it is an alliance joining Ivanov together with Sergei Chemezov, head of the state-controlled defense-procurement conglomerate Russian Technologies, and Deputy Prime Minister Dmitry Rogozin.
In the eyes of this cabal, Serdyukov's sins are many. As defense minister, he sought to purchase foreign armaments, angering Chemezov and Rogozin, who have an institutional (if not financial) interest in domestic arms procurements. His proposed reforms of the armed forces would have reduced the size of the officer corps.
And perhaps most significantly, he appeared to favor Medvedev staying in the Kremlin for a second term.
The 3 billion ruble ($95 million) defense-procurement scandal that cost him his job was, no doubt, easy for his enemies to dig up. Any Russian official at his level is bound to have plenty of skeletons in his closet.
In a recent interview , military analyst Aleksandr Golts noted that Serdyukov "led the life of any of Putin's high-ranking nobles and his sins can also be attributed to anybody else in the president's entourage."
Golts added, however, that Putin does not appear to favor prosecuting Serdyukov.
"I don't have the impression that Putin is behind this case," Golts said .
"Several times he has given signals to the effect that the case against Serdyukov should be stopped. But the way things are at this stage, the warring bureaucratic clans don't feel the need to listen to the supreme leader."
How the case turns out, Golts adds, will be a barometer of how much control Putin has over his courtiers.
"The Serdyukov story shows how dramatically the rules of the game have changed in the upper echelons of the state," he said.
And the new rules seem to indicate that Putin is losing the mojo that came with being the elite's indispensable arbiter.