Slum Priests: Pope Francis's Early Years
'Padre Bergoglio' once recruited clergymen to minister in Buenos Aires's poor, dangerous 'villas miserias.'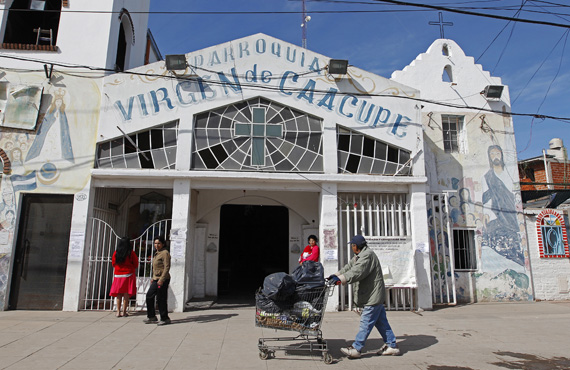 For Father Gustavo Carrara, a day's work might mean finding someone to accompany a pregnant drug addict to the hospital, seeking housing for a homeless orphan, or consoling a woman whose husband was killed in a narco-fueled gunfight. Carrara runs the Saint Mary Mother of the People parish, located inside Villa 1-11-14, one of Buenos Aires' largest and most dangerous slums. He was recruited personally to serve there by Pope Francis I, who was then Archbishop of Buenos Aires.
"Padre Francis, who was then Padre Bergoglio, came to me as I was working as a deacon elsewhere and asked me to work as a priest in one of the villas," explains Carrara. He knew that the job would not be easy. Far from the Buenos Aires of postcards, with its leafy avenues, sultry tango and Francophile architecture, the city's slums, or villas miserias, are so savage that even ambulances and police have refused to enter. Still, Carrara claims, "I did not hesitate."
Before he was elected pope, Francis I worked to expand and support the efforts of priests working in these villas. The Catholic Church has maintained a presence in Buenos Aires' slums since the 1960s, when a group called "Priests for the Third World" installed themselves in the impoverished neighborhoods preaching liberation theology and fighting for the rights of their parishioners. However, the movement had a tense relationship with the Church hierarchy and dwindled after one of its leaders, Father Carlos Mugica, was murdered in 1974 by an anti-communist paramilitary group.
At the beginning of the country's military dictatorship in 1976, two Jesuit priests working in the slums were kidnapped and tortured by the junta - a fact for which some have partially blamed Pope Francis I. Horacio Verbitsky, an Argentine investigative journalist, recently released a document which suggests Pope Francis I blocked one of the priests, Franz Jalics, from having his passport renewed in 1979, after he had fled Argentina to Germany. While Verbitsky, who was part of the leftist guerilla movement that fought the junta, admits that the document doesn't prove Francis I's complicity in the kidnapping of the priests, he claims it suggests a duplicitous modus operandi.
Many others, including academics with access to the church archives, have dismissed any such claims, and since assuming his post as Archbishop of Buenos Aires in 1998, Pope Francis I has worked to revive and fortify the Catholic movement in the villas. He grew the mission from 10 to more than 20 priests, arranged for the priests to live in pairs or groups instead of alone, and mandated bi-monthly meetings to foster a sense of community among the villero priests. Francis I often showed up to the city's various villas unannounced to talk with people in the streets, enjoy tea and cookies with churchgoers, and watch the priests deliver mass from a back pew. He helped find funding for certain projects in the villas and spoke frequently with the villa priests by telephone, helping them to resolve the problems of their parishes and sometimes their personal lives.
Father Juan Isasmendi, 32, one of four priests that works in Villa 21-24, says, "He was always very accessible. You would call his cell and sometimes stay on the phone for 10 minutes, sometimes 20 minutes, and sometimes two hours, just chatting and joking around. He has a very good sense of humor."
While most within the villa priests doubted that their Archbishop would be elected, Isasmendi claims he had an intuition. But he adds, "Even though I sensed it would happen, I couldn't believe it did."
In the election of Pope Francis I, the priests of the villas received a powerful confirmation of their work, which consumes most of their lives. Most villa priests work 7 days a week, rising early to pray before attending to their parishioners needs, sometimes working until midnight or later. Like priests in common parishes, they hear confessions, administer communions, baptize children, and oversee funerals. But the unique context in which they work presents unique challenges as well. Many of their parishioners are unemployed and hungry, relying on church soup kitchens for their survival. Teenage pregnancy is rampant. Paco, a cheap, highly addictive, smoke-able cocaine by-product has ravaged the villas, seducing its inhabitants and forcing violent crime levels up. In response, many of the priests have started rehab centers in conjunction with their parishes, frequently circling their neighborhoods on the look out for possible patients.
The work is not without its dangers. In 2009, after releasing a document denouncing the spread of Paco in the villas, a priest in Isasmendi's neighborhood, Villa 21-24, received a death threat. Isasmendi recalls how Pope Francis I helped the villa parish through that difficult time. "He showed up unannounced and walked slowly throughout the entire villa as if to say, if you touch them, you touch me. He even offered to sleep at the parish, but we assured him it wasn't necessary."
While the ascent of Pope Francis means he will be less accessible to the villa priests, they take comfort in the knowledge that he will continue fighting for their interests from Rome. His election has also bolstered the morale of the priests' parishioners. While most of the inhabitants of the villas are already pious, "The appointment Pope Francis I allows them to feel a more personal relationship with the church," explains Carrara. "They see him not just as Argentine, but as a fellow villero."
On Monday night, Isasmendi and 200 of his parishioners piled into three public busses to travel to the Plaza de Mayo, Buenos Aires' main square, where the Pope's inauguration would be live-cast the next morning at 5:30am. They pitched a tent, hoisted a sheet with their parish's name painted on it between two trees, and waited along with thousands of Argentine faithful, for the first glimpse of their "Papa Villero," or villa pope. The highly diverse crowd in Buenos Aires erupted when the screens showed Francisco I rolling into St. Peters square.
"Look at the time!" Isasmendi remarked to another priest from his parish, explaining that Francisco was always remarkably punctual. "And look, it's his normal mitre!" he said of the Popes papal headwear, "No gold like other popes."
As the Argentine anthem began to blare from the speakers, Isasmendi said wistfully, "Wow. Our old friend Padre Bergoglio, a pope. Wow."