Radical Islamists See an Opening in Bosnia
Politics and religion are becoming even more intertwined in a country already riven with ethnic and sectarian tension.
In one of Europe's poorest countries, frustration is fueling Islamic extremism.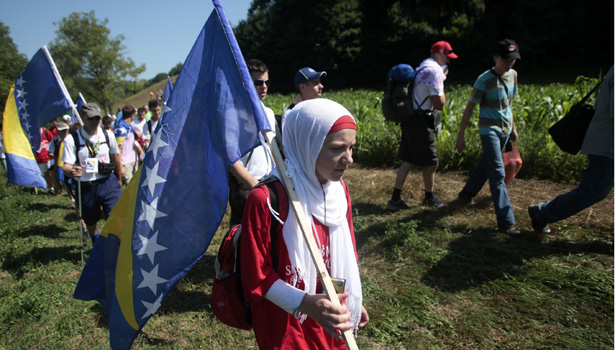 TUZLA, Bosnia-Herzegovina -- Nearly 20 years after the guns fell silent in Bosnia-Herzegovnia, a growing number of the country's Muslims have become frustrated with the democratic path their country has taken.
And that frustration is being exploited by Islamists.
Unlike ethnic Croats and Serbs in Bosnia, Muslim Bosniaks receive no economic, political, or moral support from neighboring countries.
Many Bosniaks feel alone in their effort to forge and maintain their own identity and political institutions. And increasingly, the argument that Shari'a law -- and not democracy -- is the answer for Bosnia is getting a broader hearing.
"Unlike secularism and democracy, we say there is only one truth -- law of Allah and Shari'a," Nusret Imamovic, the leader of Bosnia's radical Wahhabi community, told a standing-room-only crowd of some 500 people -- almost all of them young Muslim men -- at a posh hotel in the city of Tuzla earlier this week. "And it wants the people to accept that truth and surrender to that truth. Does Allah have right to request that? Well, He is the holder and the owner of everything."
Not About Religion
The event -- "The Advantage Shari'a And The Failure Of Democracy" -- was billed as a "summit." Although no resolutions or statements were adopted, the well-attended and highly visible meeting was a troubling sign for some in Tuzla, which has generally been known for its moderation and tolerance. Residents are proud that the city's Serbian Orthodox church was unscathed during the war.
But surprisingly, only about 30 people gathered outside the hotel to protest the meeting.
"My point of view is that democracy died in Germany [in the 1930s] when they allowed the extremists to rule. And this is pure extremism," one young protester told RFE/RL's Balkan Service. "This has nothing to do with Islam or religion."
Bosnia is one of the poorest countries in Europe. It is still contending with deep ethnic and religious divisions left over from the disastrous war of the 1990s. It inherited a fragile, often unworkable government structure from the war-ending 1995 Dayton accords.
"This country has for 20 years been in a state of institutionalized temporariness and temporary solutions," Vlado Azinovic, a Sarajevo-based security expert and former RFE/RL journalist who has written a book on whether Al-Qaeda has a presence in Bosnia, says. "And as long as it stays like that, as long as we are facing a deep political and moral crisis of all values in society, it will remain a fertile ground for the spread of various radical ideologies, among which [radical Islam] has stood out recently."
At the event in Tuzla, Imamovic was joined on the podium by Bilal Bosnic, an equally uncompromising Islamist and critic of democracy.
"In a democracy, one only has the right to say, 'Yes, I agree' -- the right to approve of whatever is served up to you," said Bosnic. "But, you know, a human being should not bow his head before anybody but the creator -- our Allah."
Both Imamovic and Bosnic were educated in the Middle East.
Gaining A Foothold?
Mevlid Jasarevic, who is serving an 18-year prison term for firing shots at the U.S. Embassy in Sarajevo in October 2011, spent the months before the attack in Imamovic's Islamist community of Gornja Maoca in northeastern Bosnia.
Just a few years ago, their kind of radicalism was truly a fringe phenomenon with little traction among Bosnia's Muslims. The official Islamic Community was headed by respected moderate Mustafa Ceric until he stepped down in the summer of 2012.
While the loss of Ceric's prestige has weakened the Islamic Community's authority, some analysts argue that his advocacy of Bosniak nationalism and his criticism of the post-Dayton system in Bosnia also created a potential foothold for more extremist views.
This week the Brussels-based International Crisis Group (ICG) issued a long report calling Islamism and nationalism in Bosnia a "dangerous tango." While the ICG report stresses that Wahhabist movements in Bosnia are small and fragmented, it adds that the environment in the country is conducive to their growth.
The ICG report notes, for example, that the mandate and the budget of the municipal government in Mostar have expired. But the city, which is divided between Muslim Bosniaks and Roman Catholic Croats, was unable to hold elections as expected in 2012. If the stalemate is not broken soon, public services may grind to a halt, providing a vivid demonstration of the kind of "failure" of democracy that the Tuzla Wahhabists were exploiting.
'Vulnerable Society'
For now, however, experts are divided on the urgency of the threat posed by Bosnian Islamists. Bosnian sociologist Srdjan Vukadinovic says Wahhabism is a "retrograde movement" that has no historical record of achieving anything "good or progressive." He argues Bosniaks have already rejected this path.
Vehid Sehic, of the NGO Forum of Tuzla, is not so sanguine, saying that the country has been dragged down by the siren song of intolerance in the past.
"In the 1990s, when ideas emerged urging intolerant behavior toward others, we said, 'They are fools; it's nothing,'" Sehic says. "However, they quickly moved from graffiti and pens to a situation in which hundreds of thousands became victims. So I am not among those who look at these current messages in an uncritical way, because in the present vulnerable Bosnian society they are very dangerous."