Occupy Paris: How an Elderly Radical Defined Europe's Left
Stephane Hessel's ideas are lived on by Europe's new, fringe political parties. Will they stain or sustain his legacy?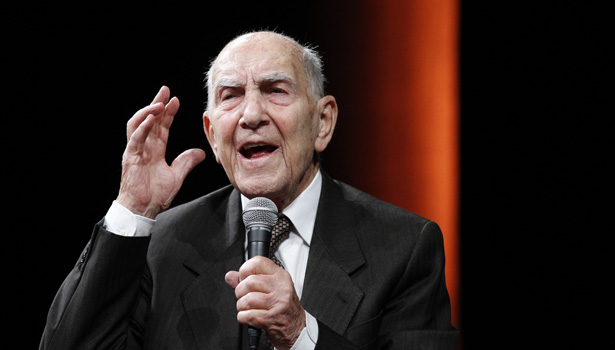 "Death is a great project." Serene but also mischievous, France's Stéphane Hessel made this observation shortly before passing away last week at the age of 95. He was right: No project is greater than one's own death. But as the celebrated author of "Indignez-vous" -- translated in the U.S. as "Time for Outrage" -- Hessel was our age's most inspiring defender of solidarity, urging Europe's youth to undertake the project of creating a society of greater political and economic equality.
Coincidentally, Hessel died at the very moment Europe (and the world's financial markets) witnessed the birth of Beppo Grillo's Five Star movement in Italy. The so-called "Grillini" channel the same outrage to which Hessel first gave voice in his three-euro pamphlet slapped together with staples and stacked like party favors at bookstores and supermarkets. That was three years, and several million copies, ago. Since then, throughout Europe, from Greece's Syriza Party to France's Front de Gauche (and, of course, our own Occupy Wall Street), political movements like the "Grillini," having taken the time for outrage, are shattering traditional political arrangements.

No one can say how the shards will be rearranged, or where this trans-European phenomenon will lead. But it might well be a future that Hessel himself, a true European, would not wish to recognize as his own. Though Hessel never offered a blueprint for the future, his own historical experience was one informed by war, occupation and resistance.
In March 1944, Hessel, a German-born and recently naturalized Frenchman who had joined the Free French in London, parachuted into occupied France in order to organize communication lines among resistance groups. Soon captured and tortured by the Nazis, Hessel was then imprisoned at Buchenwald. He eventually escaped and joined an American regiment that entered liberated Paris on May 8. Joining the French diplomatic corps, Hessel was sent to the United Nations, where he joined Eleanor Roosevelt's committee and helped shape the Universal Declaration of Human Rights. He subsequently served as an advisor to Pierre Mendès-France, the French prime minister who both won and lost office in the mid-1950s because of his insistence on speaking truthfully to his country.
As his memoir's title declares, Hessel had until then "danced with the century." But after he retired as a diplomat, Hessel began to lead the dance. In the mid-1990s, he became the official mediator between the French government and several hundred African sans-papiers (undocumented aliens) who had barricaded themselves in a Paris church to resist deportation. A surprise police sweep of the church, followed by the protestors' arrest and deportation, outraged Hessel.
"Being myself an immigrant," he declared, "I cannot help but take an interest in other immigrants."
No less important, this conviction, which subsequently led him to speak forcefully on behalf of the Roma in France and (to the great displeasure of many French Jews) of Palestinians in Gaza and the West Bank, was codified in a historical document, known simply as the "Charter," which always remained Hessel's touchstone.
Shortly before Hessel flew across the Channel in 1944 to parachute into France, he learned that the French Resistance published clandestinely a document titled "Program of the Council for National Liberation." In effect, this manifesto, quickly dubbed the "Charter," announced that France's liberation would only start, not end, with the defeat of the Nazis. Resistance, for these men and women, was the first step to revolution.
The CNL had a certain idea of revolution: the struggle begun against the Nazis had to be carried on against oppressive social and political forces entrenched in pre-war France. The Charter led off with grand principles -- "the respect of the human person" and the "absolute equality for all citizens before the law" -- and followed with a list of equally ambitious economic rights: the demand for a "true economic and social democracy," the guarantee that "particular interests obey general interest" and worker participation in the management of companies.
More prosaically, the Charter also called for health insurance, retirement pensions and the establishment of fair wages. All in all, the CNL made the short-lived Provisional Government under Charles de Gaulle an offer it could not refuse: the experience of occupation and liberation had been necessary to bring forth a society that would insure all of its citizens against illness and support them in old age. These are the very same droits acquis, or legal rights, which the European Union's austerity measures now appear to threaten not just in France, but most of Europe.
In 2004, Hessel, joined in an open letter with a dozen other elderly dignitaries of the Resistance. They urged France's youth to maintain the Charter's spirit, called for a "peaceful insurrection" against a world of "mass consumption" and "brutal competition that pits all against all," and warned against "the international dictatorship of financial markets." As these astonishing men and women passed away one by one, they left Hessel standing alone. In the time left to him he wrote Indignez-vous-- a reiteration, in effect, of the Charter.
"How lucky I am," he declared, "to be able to draw on the foundation of my political life: the Resistance and the National Council of the Resistance's program."
Hessel affirmed that if we "are to be the true heirs of the Charter," we would oppose the neo-liberal policies that are undermining the welfare state and the nationalist passions aimed at immigrants. Just as indignation heaved the Resistance into being, so too must indignation drive today's youth to resist these bleak trends.
Since the pamphlet's release in late 2010, it has sold well over two million copies in France. Beyond France, more than a million copies of the work, translated into nearly three-dozen languages, have been sold, transforming Hessel into a global celebrity. But will Hessel's legacy help shape the turmoil that is now seizing European politics?
It is not at all clear. Claimed as their spiritual mentor by the indignés of France, indignados of Spain, indigneti of Italy, the indies of our own Occupy movement in the US, Hessel nevertheless recognized the problem of building upon sheer indignation. Indeed, the waning (and occasional turn to violence) of the Occupy movements here and abroad suggests the problem is even greater than Hessel wished to believe. More ominously, there is the startling surge of populist movements riding the growing swells of popular outrage across the continent. There are, to be sure, important differences in the agendas and leadership of Syriza (not to mention the neo-fascist New Dawn) in Greece, the Five Star Movement in Italy, and the Front de gauche (and, yes, the extreme right wing National Front) in France, but they all share two qualities that would have appalled Hessel.
First, all of these are at heart nationalist movements that at best are wary of, and at worst deeply hostile to "Europe." Their collective reflex is to turn away from transnational institutions, which they decry for blurring national identities and frontiers; and many of them, even those on the left, embrace a politics tinged with xenophobia. (For example, Grillo's Five Star Movement wants to deny citizenship to the children of immigrants born in Italy.)
Second, nearly all the leaders of these movements are singularly incapable of dialogue. Far from dancing with their century, they instead seem determined to lash it to their narrow agendas. As France and the world prepare to honor Hessel's memory --he will be buried at Montparnasse Cemetery in Paris--he would want us to recall his belief that resistance must always be an act of creation. We will see if this moral axiom has much of a future in Europe.