Kumbh Mela: A Week at the Largest Religious Gathering in the World
The atmosphere is as much spectacle as spiritual, with flashing neon lights, lavish parade floats, and deafening loudspeakers broadcasting religious messages around the clock.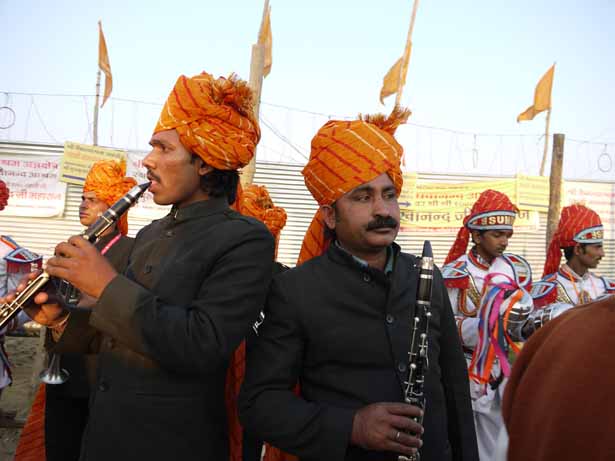 Every 12 years, millions of pilgrims gather for the Kumbh Mela at the confluence of the Ganges and Yamuna rivers near Allahabad, India. The pilgrims bathe in the holy waters to purify themselves of sin. The Kumbh Mela is one of the most important pilgrimages in Hinduism and the largest temporary gathering anywhere in the world.
Many observers describe the Kumbh Mela as a religious fair. This description is apt. The atmosphere is as much spectacle as spiritual, with flashing neon lights depicting scenes from the Mahabharata, lavish facades decorating wealthy ashram camps, and deafening loudspeakers broadcasting religious messages 24 hours a day.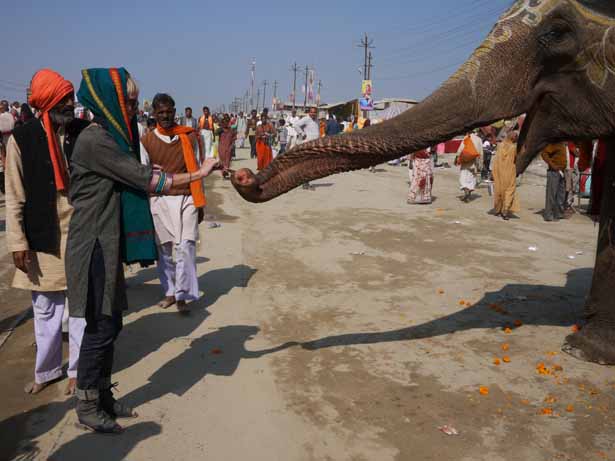 I spent a week at the 2013 Kumbh Mela with two friends. Rather than stay in nearby Allahabad or in hotel-like tents at the edge of the mela, we chose to embed ourselves in the event by staying in the temporary tent city itself. A series of chance encounters led us to stay first with representatives of a socialist political party, and later at the ashram of Swami Vivekananda Giri.
These photographs show day-to-day scenes within tent city, culminating with an insiders' view of the pre-dawn bathing procession of February 15, a particularly important bathing day.
8 February 2013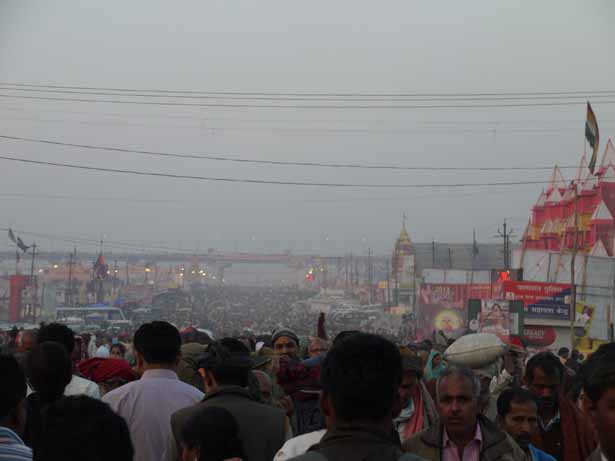 Sprinting alongside our train to Allahabad, we find every door in every car blocked by people. We can't board. Two days later, crowds at the Allahabad railway station stampede, killing 36 people and wounding several dozen more.
Finding a bus is easy. The cost? Only 105 rupees (about $2) per person. However, with pilgrimage traffic the 75-mile ride takes almost six hours.
Hungry and tired, we arrive in Allahabad at 11 p.m. and search for the accommodations we've booked. At 2 a.m. we find our camp--two canvas tents walled in with corrugated metal sheets. Nine people share our tent. The cost is 500 rupees ($10) per person per night. For a patch of straw on the ground, it seems expensive.
Strange and deafening public address systems abound at the Kumbha Mela. Beside our tent, a man's hoarse voice screeches and shouts from a loudspeaker, resembling the ravings of lunatic, sandwich-board-wearing street preachers. The loudspeaker is turned too high and shrieks with feedback and distortion. Still, I fall asleep instantly.
9 Feb 2013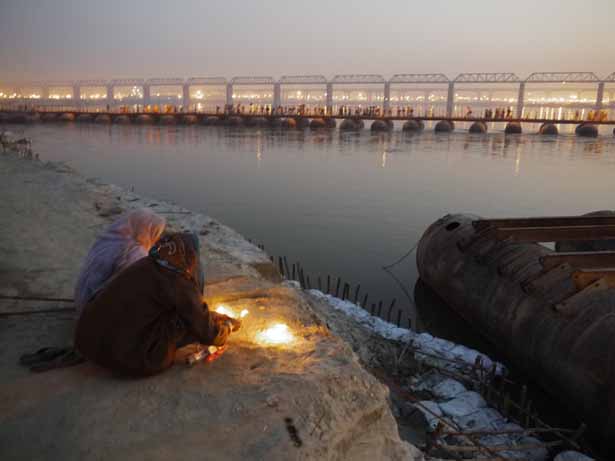 In late morning we leave, seeking food and better accommodations. We walk only a hundred feet before some men ask how we're doing. Very well, I tell them, but we'd feel better after lunch.
The men represent the Samajwadi Party, a socialist-democratic political group that have opened several very crowded tents at the Kumbh to offer pilgrims respite. They give us a very spicy lunch and invite us to spend the night. Later we learn their party leader is a former professional wrestler.
We wander all day to get our bearings. In the tent city, a grid of streets runs parallel and perpendicular to the Ganges. Metal sheets cover major roads so the mud-sand soil doesn't become rutted. Fifteen temporary pontoon bridges cross the Ganges, and two more cross the Yamuna. Police patrol every intersection. Water and electricity are piped to every camp. Vendors line major streets. At the heart of it all is the sangam, the confluence of the Ganges and Yamuna rivers. The most auspicious place to bathe, the sangam has no camps, only a large open area where bathers gather to dip.
10 Feb 2013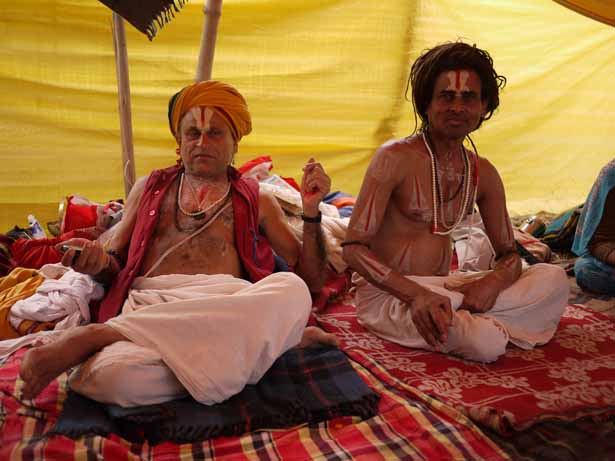 Mauni Amavasya Snan - the most important bathing day!
Our hosts wake at 2:30 a.m. to walk the five miles to the sangam. The crowds are already immense. The red and dusty world outside the tent looks the way Mars must during its world-encompassing dust storms.
We drink chai and eat 5 rupee (10-cent) samosas. Then we leave to bathe.
We find a calm-looking spot about half a mile from the sangam. Women bathe clothed, but men bathe in their underwear. I strip down and enter the water. Unlike Indians, I don't fully submerge. I don't want river water to get in my mouth. Hindus believe the Ganges is pure almost by definition because it descended directly from heaven, but I believe in germ theory.
Afterwards, we enjoy the post-dip ambiance. A man puts a red tilak on our foreheads. Someone gives us blessed sweets, called prasad.
In the evening, we photograph the ashrams' wildly decorated facades. Most Hindu organizations in India have a presence in tent city during the Kumbh. Some of these camps - called ashrams - are small, but some house many tents and dozens of disciples.
We pose before a particularly elaborate camp (with chandeliers!) and are invited inside to the meet Swami Vivekananda Giri. He invites us to stay as long as we want.
Being taken in by an ashram at the Kumbh is an honor, akin to being a guest in someone's home. During the Kumbh, ashrams don't charge for accommodations, like they usually do elsewhere. They offer free food to all guests and often to passersby outside ashram gates.
11 February 2013
I am sick all day from bad paan, a betel nut-based treat.
12 February 2013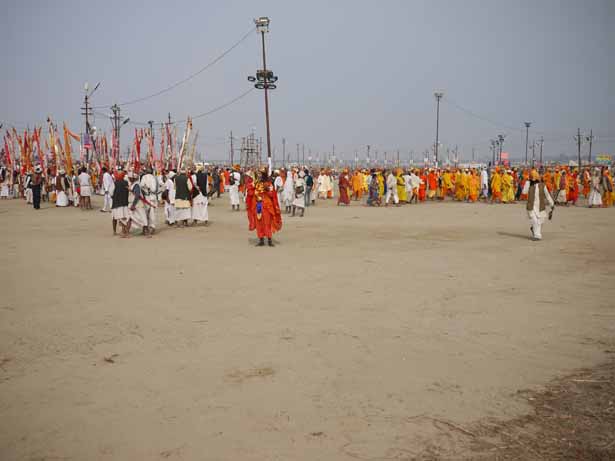 We drift into and out of camps and meet oddly decorated babas (holy men) and a guru from Bangladesh. Two of the babas have white and red sailboats painted all over their bodies. The guru tells us:
"Stop the clock,
ban the bomb,
milk the cow,
remember Ram!"
13 February 2013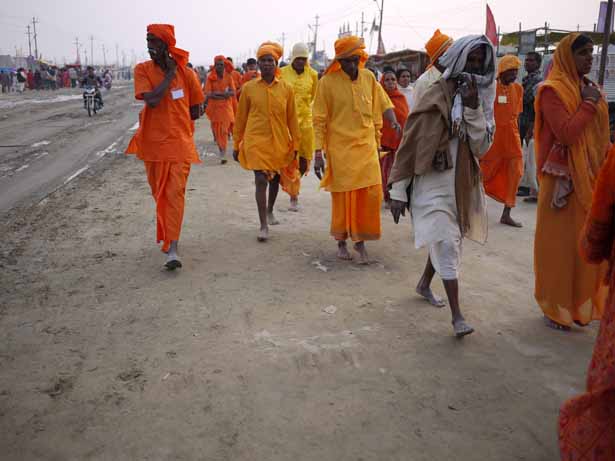 We are asked to attend a puja at 9 a.m. A puja is a religious ritual, performed as an offering to a particular god. In this case, the puja is for Durga, a goddess known for slaying the buffalo demon, Mahishasura. The puja is long and full contact. We get water in our hair, tilaks on our foreheads and oil rubbed on our hands. We throw rice on the Durga image and rice, sesame seeds, and ghee into the fire.
14 February 2013
We stop for a Coca Cola and run into Andrew, a friend from home. Every time a foreigner stops to buy Coke at that shop, the shopkeeper tells Andrew, who is staying nearby, that his friends are here. To humor the shopkeeper, Andrew always comes to look. This time, against mind-boggling odds, the shopkeeper is right.
15 February 2013
Another major bathing day. At 3:00 a.m., we awake, drink chai, and pack. A crowd forms in the ashram courtyard. Some disciples hold silver scepters. At 4:30 a.m., we and the chanting, shouting crowd walk out the main gate.
There are no chariots outside. We realize we must walk the four or five miles to the sangam.
We maintain a fast clip. Intermingling with other groups, our group breaks apart. We lose the front half of the ashram crowd. Soon we are lost, and the monk leading us doesn't know the rendezvous point.
We ask repeatedly for directions and end up on a road lined with naga baba camps. Naga babas are naked sadhus, or ascetics. They renounce material possessions, cover themselves in ash, and smoke charas (hashish).
Outside a tent we sit and drink chai. One naga baba wraps his penis around a pole. Two other naga babas stand on the pole, forming an inverted human pyramid. The first sadhu holds the pole: the other men's weight isn't actually on his penis, but he's in obvious pain. He smokes a pipe full of hash immediately afterward. A bizarre sight to see at dawn, this is actually a spiritual practice.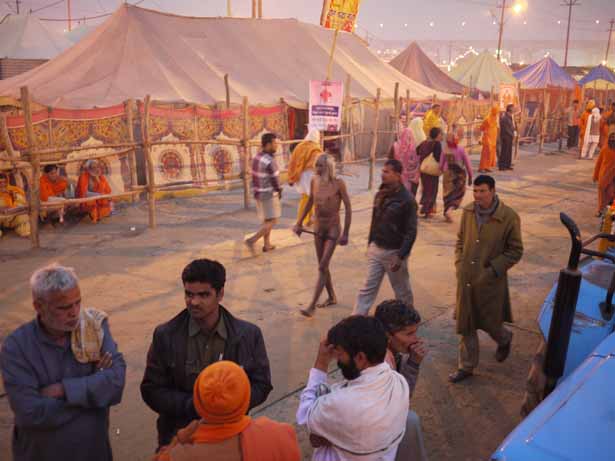 We find and climb into our chariot. Like a parade float, it's covered with banners, crepe paper, and tinsel. A trailer drawn by a tractor, each chariot boasts an ornate, metal throne. When the gurus climb in, attendants cover their heads with decorated umbrellas.
Our chariot holds half a dozen attendant ashram boys, the three of us and five older women. Another 20 disciples walk alongside.
Every guru at the Kumbh seems to be in the procession. After all the tractors fire up, we start rolling. Huge crowds line the road. Riot police wearing armor and carrying tear gas keep the crowd in check. We roll on, waving like celebrities. The swami's attendants shout call-and-response cheers. Everyone is in top spirits.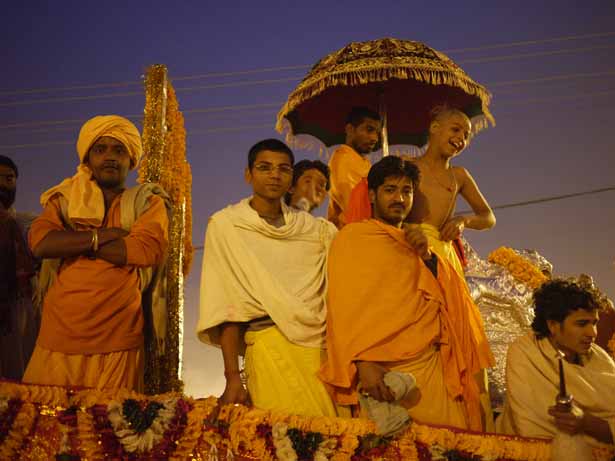 We drive about a mile to the sangam. The tractors park and everyone dismounts. Thousands of people shed clothes and run to the river. We must grab our luggage; we'd never again find this tractor. When we turn around, our ashram group is gone. At the water's edge we search but never find them.
We bathe on our own. I strip to my boxers and run in, submerging three times in the traditional manner. Then I guard our luggage and clothes while my friends bathe. We dress and then elbow ourselves away from the sangam, across the Yamuna on a pontoon bridge, and out of the Kumbh.