It's Tough to Start a Newspaper After 50 Years of State Censorship
On April 1, Burma's media will be free to print dailies for the first time in five decades. All they have to do first is figure out what journalism is.
On April 1, Burma's media will be free to print dailies for the first time in five decades. All they have to do first is figure out what journalism is.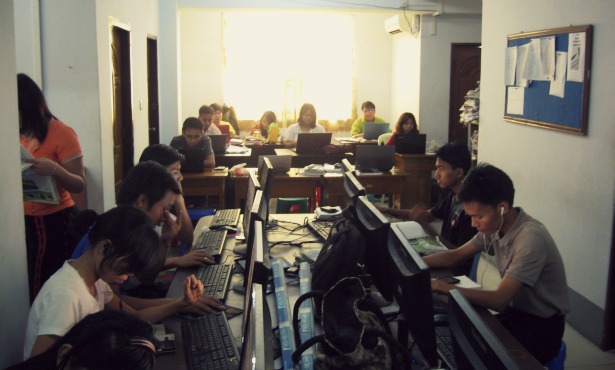 RANGOON, BURMA -- Six days a week, one of the world's most exclusive newspapers goes to print at 3 p.m. Two hours later, it's in the hands of just 50 white-collar Burmese: the same journalists who wrote it.
For now, only the staff of The Yangon Times can see their creation, as daily private newspapers remain illegal across Burma. For the last three months, the dailies have been written, edited and printed on photocopiers as practice for the day when that ban will be lifted. After five decades of military rule and strict media controls, that long-awaited day is fast approaching, and journalists around the country are up against the most exciting deadline they have ever faced: April 1, the first day in decades when daily newspapers can be sold freely. To prepare, media companies are now scrambling to figure out everything from how to write news on a daily basis to how much to charge for a daily issue.
Closed to the world since a military coup in 1962, Burma appears to have missed the news that the print media is dying. The democratically elected, although still military-dominated, government that came to power in 2010 has decided that media will be among the first areas of reform, driving massive hiring and investment in the industry. The government ended media censorship in August and soon followed by announcing that daily newspapers would be allowed in April.
The policy change will end the short-lived heyday of private weekly newspapers, commonly called journals, the most popular of which have only launched since 2000. Regulators under the military government had allowed weeklies, as they afforded censors ample time to pore over the papers for signs of dissension. A thriving group of more than 200 private weeklies arose during the last decade as the reading public sought an alternative to government-run dailies that read more like staid corporate newsletters than newspapers.
From the ashes of these weeklies will spring the new breed of daily publications. Ko Ko, chairman of The Rangoon Media Group which publishes The Yangon Times weekly, sees converting from a weekly to a daily as a necessity, not a choice. "We, the local media industry, are facing a do or die scenario ... If you don't publish daily newspaper, your business will be finished because once daily newspapers come in, who will read weekly newspaper?" he said in an interview at the media group's offices in Rangoon.
---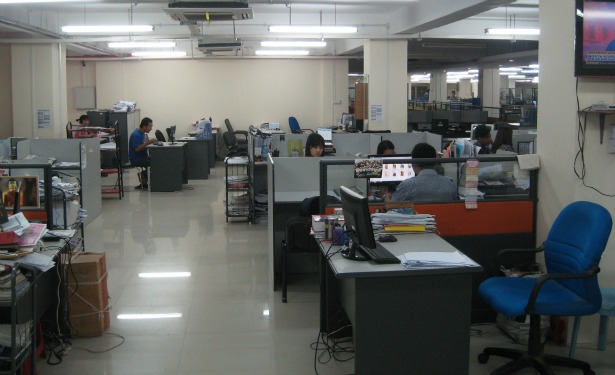 The newsroom at The Seven Day Weekly. (Jake Spring)
---
The crush of new daily newspapers - most in the industry expect up to 25 to launch - must first clear regulatory hurdles. According to local reports, media regulators announced on Saturday that of 17 media companies that have already applied for daily licenses, eight have been approved for publication starting next month, six were denied and three remain under consideration. Despite the rejections, the government has yet to signal that licenses will be used as a gatekeeping mechanism to shut out critical newspapers. Among the rejected was Eleven Media Group, which publishes one of the highest-circulation weeklies. The group reported on its website that the rejection was based on a technicality, the lack of an official revenue stamp and failure to specify what the language of the publication would be. The ministry advised the group to reapply. Media leaders in Rangoon like Ko Ko said in mid-February they were certain the government would approve all completed applications.
Licensed dailies must then overcome a litany of logistical hurdles in a country that still struggles to keep the lights on. "The people are now realizing that initially there is a big dream, daily newspapers is a dream. Now the dream's come true and they started to realize this is not an easy job," Ko Ko said. "This is not only the fourth estate, but this is a business."
Kyaw Min Swe, the chief editor of the news journal The Voice Weekly, is one journalist who professes to have long dreamed of publishing a daily newspaper. But like Ko Ko, Kyaw Min Swe has no illusions about the challenges that must be overcome to launch a daily and admits he knows little of how a daily newspaper operates. The Voice is also publishing a daily newspaper in-house to allow reporters and editors to practice on tighter deadlines. But delivering the newspapers to readers' hands will be the primary obstacle, Kyaw Min Swe said.
Internet connections, necessary to send design files to printers, remain slow and inconsistent. Much of the country lacks well-paved roads to bear newspaper-laden trucks. Burma still struggles even to provide consistent electricity. As Kyaw Min Swe discussed the challenges of launching a daily newspaper, the power failed several times in the downtown Rangoon building that houses The Voice. "We are just preparing, preparing," he said. "Hopefully we will publish daily paper, but we're not confident yet. We'll try to publish as soon as possible."
Many editors said they expect to lose money by launching daily newspapers. Ant Khaung Min, editor-in-charge of The Myanmar Herald, which plans to go daily, says that buying a newspaper press would cost more than $2 million, which is more than the year-old weekly that operates out of an apartment-turned office, can afford. He must therefore work with independent printers. Printing a daily newspaper will likely cost 360 kyat, or 42 cents. But Ant Khaung Min says the newsstand price cannot be more than 300 kyat, or the mostly impoverished Burmese people won't be able to afford it every day.
Those few cents lost per copy will pile up as thousands are printed. Ant Khaung Min only expects to turn a profit a year after first launching. "After one year most people will know about the newspaper and then we will get a lot of advertisement," he said, speaking through a translator as reporters and editors work shoulder to shoulder a few feet away. "There will be a lot of newspapers published, but I anticipate after one year Burma will have five newspapers left" with others succumbing to financial losses.
In the initial battle to survive, newspapers will need to hire an army of new journalists. Many say they will more than double the size of their staffs. But the country has too few journalists, editors say, as the only existing journalism courses follow a laughable military-approved curriculum. Many companies have resorted to offering their own in-house training programs, although even trainees can be hard to find.
---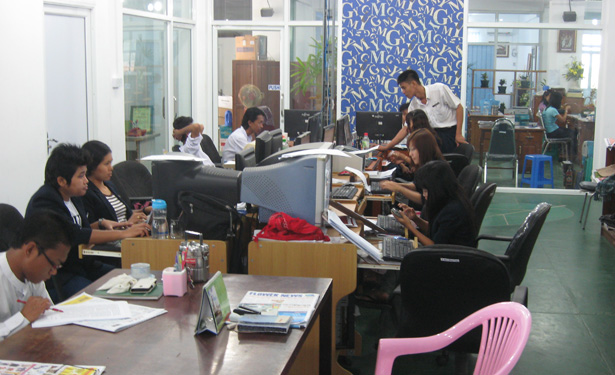 The newsroom at The Yangon Times. (Jake Spring)
---
Aye Mya Kyaw, an editor at Burma's largest newspaper by circulation, the 7 Day News Journal, said the newspaper interviewed 100 people for their 45-day training program, found 10 who were qualified and, in the end, only seven completed the course. With few job opportunities in the poor country, many people "just come in to get a job to earn the money. They don't really enjoy the journalist's work, so that's a problem here," Aye Mya Kyaw said.
Those embarking on careers in daily newspapers are likely to witness both the birth of the format and its eventual demise. Internet media is far from supplanting print, as web connections currently reach less than 1 percent of the population. But that number will likely expand rapidly as the country opens to foreign investment. Mobile internet has already surpassed the conventional variety and will likely expand faster as the astronomical price of sim cards, previously more than $1,000 and now about $150-$350, drops further.
Many publications are preparing for the internet news age even if it remains more than a decade away. Editors spoke of racing rivals to post news first to Facebook page, although none knew how that might translate into revenue. The 7 Day Weekly launched its Facebook fan page three years ago that now has more than 160,000 likes. The publication already posts its content online every week and has an app for sale on iTunes. The Voice has launched an iPhone app, eventually to be funded through advertising, and has experimented with an iPad app.
Ko Ko of the Rangoon Media Group already dreams of an integrated media empire churning out content for apps across all platforms and even creating an in-house video production unit. Dailies will only be profitable for about 10 years, he predicts, and he speaks as emphatically about the shift to online as he does of the launch of dailies. "Today, our big issue is not thinking about making money," he said. "Our main issue is try to find the best way to survive."