Iraqis Feel Safer Now That U.S. Troops Are Gone
Respondents to a new survey say security has improved since Americans left, but jobs, corruption, and political stability have all worsened.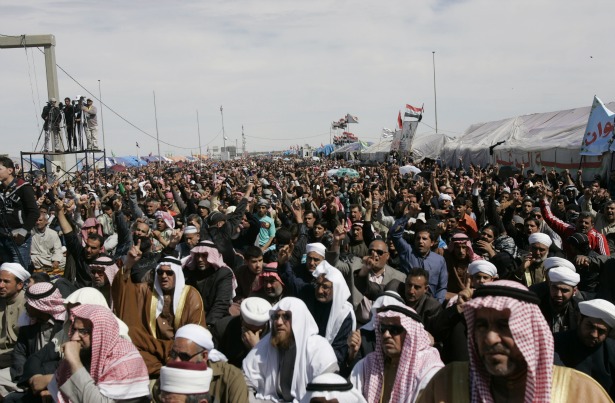 About 350 people were dying each month in Iraq as U.S. troops prepared to leave 
at the end of 2011
, and many in the international community feared Iraqi security forces wouldn't be able to contain the country's violence on their own.
But according to a survey released by Gallup Tuesday, more Iraqis report that security in the country has gotten better (42 percent) than worse (19 percent) now that U.S. troops are gone.
While some military analysts feared that Iraqi security forces would fail to fill the security vacuum left in the absence of U.S. forces, which numbered 170,000 at their height, many Iraqis now perceive security to have been positively impacted by the U.S. departure.
Meanwhile, far more Iraqis said political stability, corruption, and the jobs and unemployment picture has gotten worse since the withdrawal.

One explanation Gallup offers is that the U.S. presence artificially protected Iraq's economy by pumping more than $60 billion into the country's reconstruction. Now, Iraq must face its sectarian issues and chronic joblessness on its own. Meanwhile, security might have improved after the withdrawal because the U.S. troops were to some extent a force of instability in some areas, as many militia groups specifically targeted U.S. soldiers.
Another interesting datapoint shows that Iraq's minority Sunni community sees the country as having gotten worse across all of the metrics since the American withdrawal, while the Shia population has a more favorable view:
Sunni discontent with Iraq's direction may be a reflection of frustration with the country's Shia-dominated government, which major Sunni political parties have accused of engaging in sectarian politics following the departure of U.S. forces.
Reporting from Iraq over the past year reveals that although violence has dropped from its peak during the war, many people still die in regular bomb attacks and in shootings. In July of last year, Iraq saw its deadliest day in more than two years when 
at least 100 people were killed
in a wave of rocket blasts in 13 Iraqi cities.
In one
Washington Post interview
 last July, for example, Hameed Ahmed Al Hashim, head of the local government in Fallujah, said at least 20 or 30 police officers had been killed in the city since the U.S. troops left.
 But a couple of years ago, he added, that many were dying each day.